Narendra Modi sermon on struggle for 'new India'
PM urged students of AMU to set aside 'ideological differences' and align with the 'singular aim' of the nation's interest irrespective of 'belief and faith'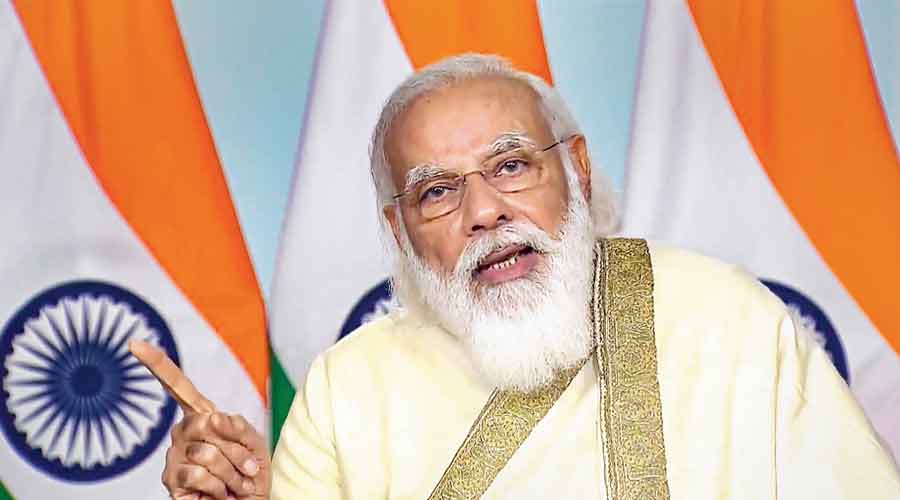 ---
New Delhi
|
Published 23.12.20, 01:05 AM
|
---
Prime Minister Narendra Modi on Tuesday linked his dream of a "naya Bharat (new India)" with the freedom struggle and urged the students and alumni of Aligarh Muslim University to set aside "ideological differences" and align with the "singular aim" of the nation's interest irrespective of "belief and faith".
Speaking at the minority institution's centenary celebrations via video link from Delhi, Modi hailed the role of the university in the freedom movement, termed the campus a "mini-India" and said its diversity was the country's strength.
He, however, side-stepped the consistent attacks on AMU by BJP members who do not miss out on any opportunity to hint at its "anti-national" bent. Neither did the Prime Minister refer to the brutal police attack on the campus last December on students protesting his government's new citizenship regime. Students had been assaulted on campus and inside the library and tear gas shells and rubber bullets had been fired.
"Today, our one and singular aim should be how to make India self-reliant. More important than where and in which family we were born, which belief and faith we grew up on, is how to link each and every citizen's aspiration with the country's aspiration," Modi said in his over 40 minutes virtual speech.
"Friends, ideological differences exist in society, it's normal. But when it's a matter of achieving national aspirations, then all differences should be set aside," he added, calling upon the youths of the university to come forward to build a "naya Bharat".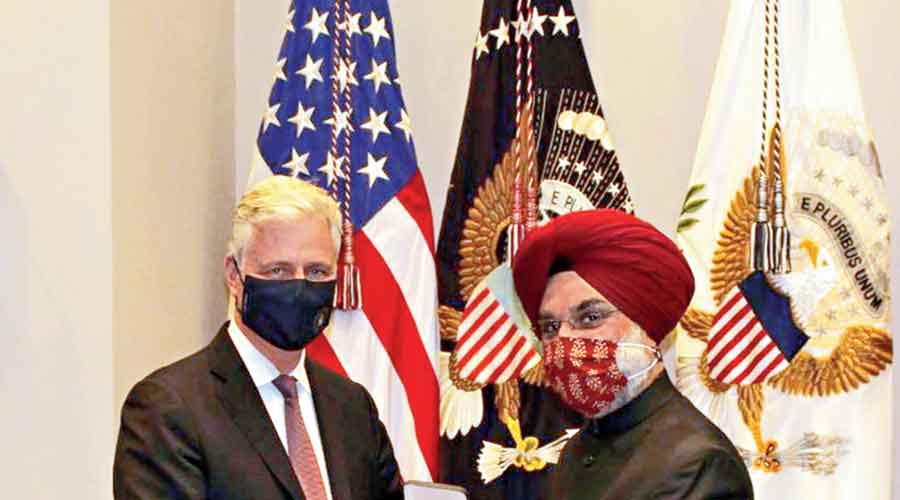 Vice-chancellor Tariq Mansoor pointed out that Modi was the first Prime Minister in the last 56 years to participate in a celebration of AMU. He hailed Modi as a "visionary leader dedicated to serve the country". Modi was silent on the fact that AMU has been repeatedly targeted by BJP leaders, including local MP Satish Gautam. The MP, after his re-election last year, had said his "first priority" would be to "send the portrait of Muhammad Ali Jinnah at AMU to Pakistan". Gautam had also backed the demand of a section of students to construct a temple on the university campus. BJP members have also demanded ending of the institution's minority status and slammed the students there for holding protests against the new citizenship regime and the abrogation of Jammu and Kashmir's special status.
Modi focused on stressing that the nation and its interests should be placed above everything else. He said that on issues like "rashtravad (nationalism)" and development, there is "no scope for disagreement in the name of political and ideological differences".
Modi recalled how people associated with AMU had participated in the freedom struggle, setting aside their ideological differences, and urged the same kind of commitment for building a "naya Bharat".
"What our forefathers did for Independence, the same work the young generation has to do now for a new India," he said. "Like Independence was a common ground, the same way we will have to work on a common ground for a new India," Modi added. He said a "new India" would be "self-reliant" and prosperous in all aspects and its fruits would be enjoyed by all citizens.