Trinamul Congress accused of trying to split Hindu vote in Goa
Prime Minister Narendra Modi did not name the TMC politician or the newspaper but urged voters to 'bury this kind of politics'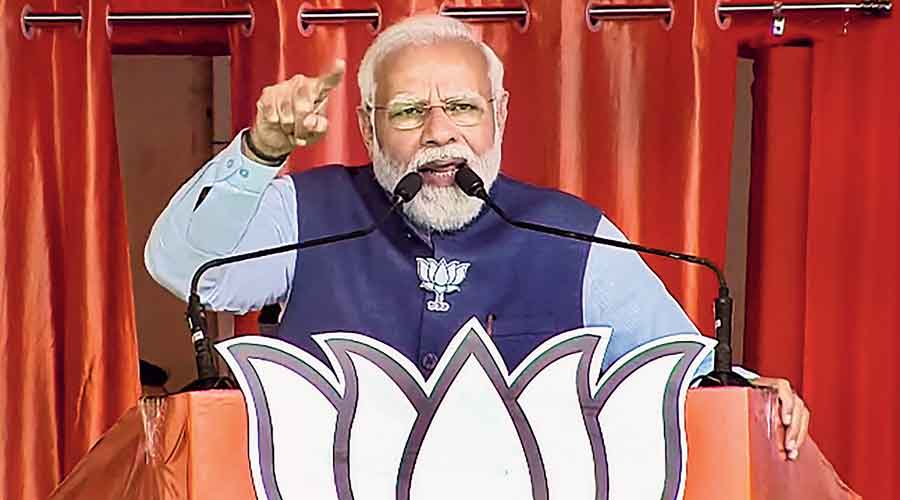 Modi at a rally in Kanpur on Monday.
PTI Photo
---
Lucknow
|
Published 15.02.22, 02:20 AM
|
---
Prime Minister Narendra Modi on Monday claimed that a Trinamul Congress leader had told a "Goa newspaper" that Bengal's ruling party was contesting the Goa polls to split the Hindu vote.
He did not name the Trinamul politician or the newspaper but urged voters to "bury this kind of politics". He said the Election Commission should take note of the Trinamul leader's purported comments.
"Yesterday (Sunday) I saw an interview in a Goa newspaper. Elections are going on in Goa (on Monday) and a leader of the TMC, the party of Mamata Banerjee, is contesting from there for the first time," Modi told a rally at Akbarpur in the Uttar Pradesh constituency of Kanpur Rural, which votes on February 20.
"His reply, when asked why he was contesting from there when his party had no presence in the state (Goa), should be noticed by the country and the Election Commission. The voters should also take note — voters of my Uttar Pradesh should take note. The TMC of Bengal, which is contesting in Goa, said it had forged an alliance with that party because it wants to divide the Hindu voters in Goa."
Trinamul is contesting from 24 of Goa's 40 seats in alliance with the Maharashtrawadi Gomantak Party.
"How dare they say this in a democracy? You are openly saying that you want to divide the Hindu votes. Then whose votes do you want to collect?" Modi said.
"Is this the language of democracy? I want to say to the voters of Goa, it's the time to bury this kind of politics."
Several senior Goa politicians including former chief minister Churchill Alemao are contesting on Trinamul tickets.
Trinamul vice-president and Rajya Sabha member Pawan Verma had in January said: "The TMC is with the real Hindu religion, which is inclusive and diverse. Unfortunately, the BJP's religion is to break the real Hindu religion."
While campaigning in Uttar Pradesh, Modi and chief minister Yogi Adityanath have relied mostly on fear-mongering about a spurt in hooliganism — presumably by Muslim criminals — if the Samajwadi Party comes to power.
On Sunday, Adityanath had continued in the same vein, tweeting: "Those fringe lunatics of Talibani thinking who have been dreaming of a Ghazwa-e-Hind (conquest of India) must keep in mind that whether they remain or not, India will work according to the Constitution and not according to the Sharia."
Modi on Monday repeated his claim that the BJP had accorded respect to women, particularly Muslim women. He mentioned the outlawing of the instant triple talaq but not the ban on the hijab (veil) by several government colleges in BJP-ruled Karnataka.
"Muslim sisters and daughters have been major beneficiaries of my government's measures," he said, claiming a crackdown on roadside sex pests in Uttar Pradesh.
Uttar Pradesh police had, however, arrested many young Muslim men and women who had married outside their religion after the Adityanath government promulgated an ordinance stipulating that a combination of conversionand interfaith marriage required prior permission from the district magistrate. Allahabad High Court struck the measure down last November.
Modi claimed that school and college enrolment by Muslim women had risen in recent years.
"Can you imagine — a woman is handed the triple talaq if she returns (to her in-laws' home) from her parents' home without bringing anything (wealth). She gets the triple talaq for not bringing a motorcycle, gold chain, mobile," he said.
"Think of the pain of her father. Now Muslim sisters and daughters have the protection of the triple talaq law."
Uttar Pradesh, however, also witnesses many dowry harassment complaints against Hindu in-laws.