Narendra Modi cites payroll data from EPFO to claim 1.2 crore jobs
According to CMIE report, India's unemployment rate is 7 per cent, steeper than the four-decade high of 6.1 per cent recorded in 2017-18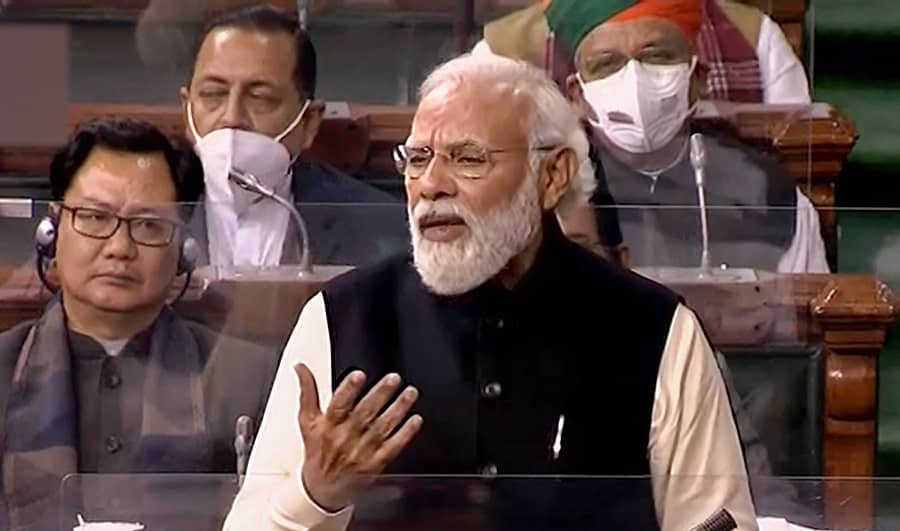 Narendra Modi.
File photo
---
New Delhi
|
Published 09.02.22, 01:40 AM
|
---
Prime Minister Narendra Modi on Tuesday cited payroll data from the Employees' Provident Fund Organisation (EPFO) to claim the creation of 1.2 crore formal jobs in 2021, but the Opposition pointed to eight lakh vacancies in the central government.
"The EPFO's payroll data is reliable. In 2021, 1.2 crore new members enrolled themselves on the EPFO portal. Of them, 60 to 65 lakh are in the age group of 18 to 25 years, which means it is their first job. These are all formal jobs. Reports show hiring has increased in recent times. The manufacturing sector has improved, creating more jobs," Modi told the Rajya Sabha while speaking on the motion of thanks to the President's address to both Houses of Parliament.
According to the private think tank Centre for Monitoring Indian Economy, India's unemployment rate is 7 per cent, steeper than the four-decade high of 6.1 per cent recorded in 2017-18.
After Modi spoke and the Rajya Sabha began discussing the Union budget, Congress leader P. Chidambaram presented before the Upper House data on the vacant posts in central government offices and agencies.
"Before we were obliged to walk out, the Prime Minister was speaking eloquently about jobs and employment. I want to humbly submit to him a statistic which he should use in his next speech. As on 31.3.21, there were 8,72,243 vacancies in the central government. And the almighty government of India recruited 78,264 persons to these vacancies, leaving nearly eight lakh posts vacant as of today," he said after the Congress MPs had returned to the House for the discussion on the budget.
Trinamul Congress MP Jawhar Sircar said the EPFO data could not be relied upon since the ground situation on employment was grim. He said the labour force participation rate, the percentage of people willing to work, was 40 per cent in India, the lowest in the world.
"Every year, 48 lakh people join the workforce but we are able to provide jobs to 12 lakh. Where will the 36 lakh go? The EPFO data are all manufactured figures," Sircar said.
During Zero Hour, YSR Congress MP Vijayasai Reddy and CPM parliamentarian V. Sivadasan referred to the vacancies in the government sector.
"It is ironic that amid rising unemployment in the country, the government sector is overflowing with vacancies. There have been serious delays… in filling up the vacancies. It is totally not justified," Reddy said.
Sivadasan said the vacant posts included 2,65,547 in the railways and 1,22,555 in the armed forces.