Nanoor women drive lynch bid on woman
The incident was unique also because eyewitnesses said men were concertedly not involved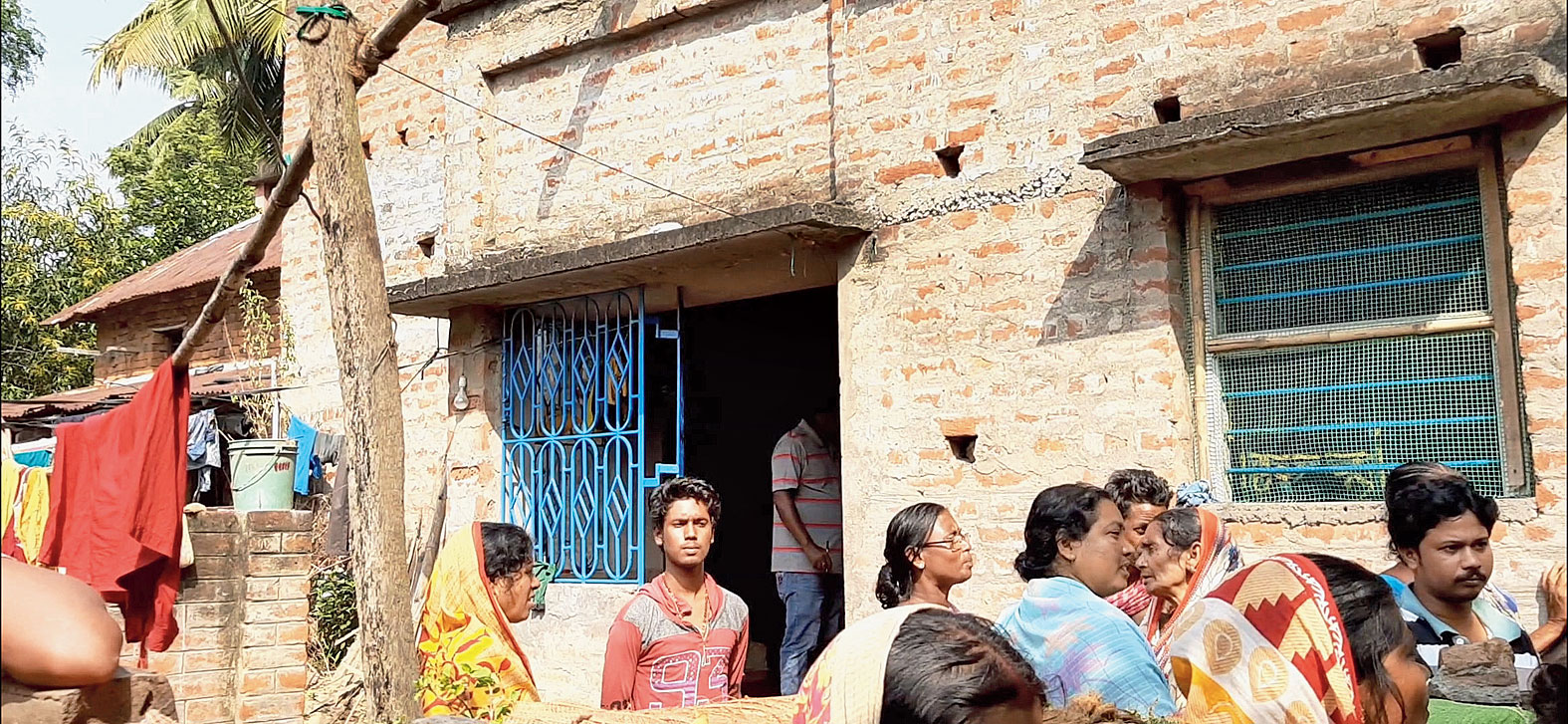 ---
|
Nanoor
|
Published 19.10.19, 07:23 PM
---
Mob mentality was in full display in Nanoor — a Birbhum village famed for being the hometown of 15th century devotional poet Chandidas — on Friday evening when a kangaroo court sanctioned a group of over a hundred female villagers to lynch a 29-year-old woman.
Sources said the woman, who was first stripped and then beaten in full view of more than a thousand villagers, had been accused of having a relationship with a local youth, who committed suicide by consuming poison on Thursday.
"I have never seen women behaving so ferociously. They dragged and stripped my daughter. If the police had not arrived on time, she would have died," the woman's mother said.
Sources in Birbhum police said a complaint had been lodged by the young woman. The wife of the deceased man has filed a counter-complaint accusing the woman of abetment of suicide.
"We have started a probe. No arrests have been made so far," said Shyam Singh, the Birbhum police chief.
While such incidents involving rogue justice have often been recorded among tribal communities in Bengal districts in the past, Saturday's atrocity, which occurred in a village with four schools, a high school, a degree college and a health centre, raises questions on how the spiralling mob mentality in recent times can be curbed.
"It is very uncommon for women to be involved in disgracing and injuring another woman like this. There are over 3,000 residents in this small village — where the literacy rate is over 60 per cent — but not one person stepped forward," a senior district official said.
Mob mentality and lynching have become significant topics in the country amid several incidents of people being targeted for their food habits or dressing. In an attempt to prevent such incidents in the state, the Trinamul government tabled the West Bengal (Prevention of Lynching) Bill, 2019, prescribing the death penalty for perpetrators of lynchings. It also laid down strong penalties for abettors.
"It's not only about arrests and penalties…. People's awareness regarding law and order needs to increase. They need to understand that kangaroo courts are no substitute for the law of the land, and the political parties need to play an active role in this," said a senior professor of economics at Visva-Bharati.
Sources in Nanoor said that on Friday, residents of the area — mostly women — decided to convene a kangaroo court in the evening to decide what punishment should be meted out.
"The court decided that the victim, as well as her husband and children, would be thrashed and expelled from the village," said a villager, adding that shortly after the meeting a group of women dragged the victim out of the home of a neighbour, where she was watching television.
"A few youths were inciting women in the area, saying that if they beat her, there would be fewer legal consequences than if men beat her," said an eyewitness.
Saturday's incident was unique also because eyewitnesses said men were concertedly not involved.
Police sources said the victim was still in police protection and that her family was in a different village.