Odisha minister death: crime branch begins probe
The state is observing three-day mourning as a mark of respect for the departed soul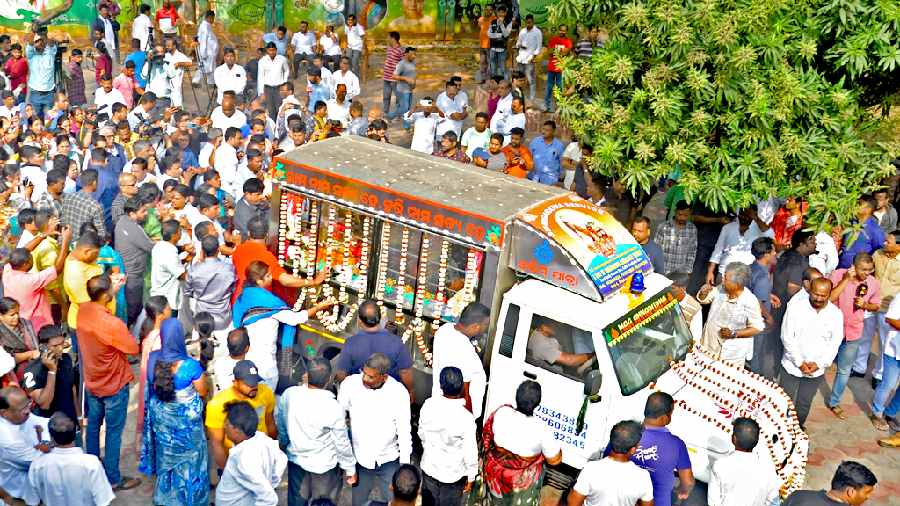 BJD leaders and workers gather to pay tribute to Odisha health minister Naba Kishore Das in Bhubaneswar on Monday.
PTI
---
Bhubaneswar
|
Published 31.01.23, 03:12 AM
|
---
Thousands of people turned up to pay their last respect to Odisha health minister Naba Kishore Das, whose last rites were performed in his home town Jharsuguda on Monday.
The mortal remains of Das, who was shot dead by a cop on Sunday, were consigned to flames with his son Vishal lighting the funeral pyre.
The state is observing three-day mourning as a mark of respect for the departed soul. Meanwhile, the crime branch team has launched a marathon interrogation of the assistant sub-inspector of police Gopal Das alias Gopal Krishna Das to ascertain the reason behind the killing of the minister.
ASI Gopal fired shots from his service revolver at close range when he stepped out of his car to attend a programme.
The minister dropped to the ground, bleeding from the chest. Later he was taken to Apollo Hospital Bhubaneswar by air, where he succumbed to his injuries. The crime branch will soon interrogate the ASI's wife Jayanti who claimed that her husband was under psychiatric treatment. The doctor, who is treating the cop, said he was suffering from bipolar disorder.
"Gopal Das visited my clinic for the first time about eight years ago. He used to lose his temper and get angry very easily. He was under treatment. If the medicines are taken regularly, the disease can be controlled. If the patient discontinues the medicine, there is a chance that it may reoccur again. I hope he must have taken the medicine regularly," said Dr Chandra Sekhar Tripathy, head of the psychiatric department at the MKCG Medical College and Hospital.
Assistant professor of psychiatry at the SCB Medical College and Hospital, Dr Seema Parija told The Telegraph: "I believe he had discontinued the medicine. It is a mental health condition that causes extreme mood swings. One needs constant medication, counselling and family support for its treatment."
According to the experts, when one's mood shifts to mania or hypomania (less extreme than mania), he or she may feel euphoric, full of energy or unusually irritable.
These mood swings can affect sleep, energy, activity, judgment, behaviour, and the ability to think clearly.
The crime branch is trying to find out what kind of provocation can make a cop kill a minister. During his stint at Jharsuguda, the ASI served as the minister's personal security officer. He was posted at Gandhi Chhak police outpost, Brajrajnagar.