My faith in India still strong: Kin of last J&K PM
Something Kashmiris felt was theirs has been taken away: Sadiq's grandson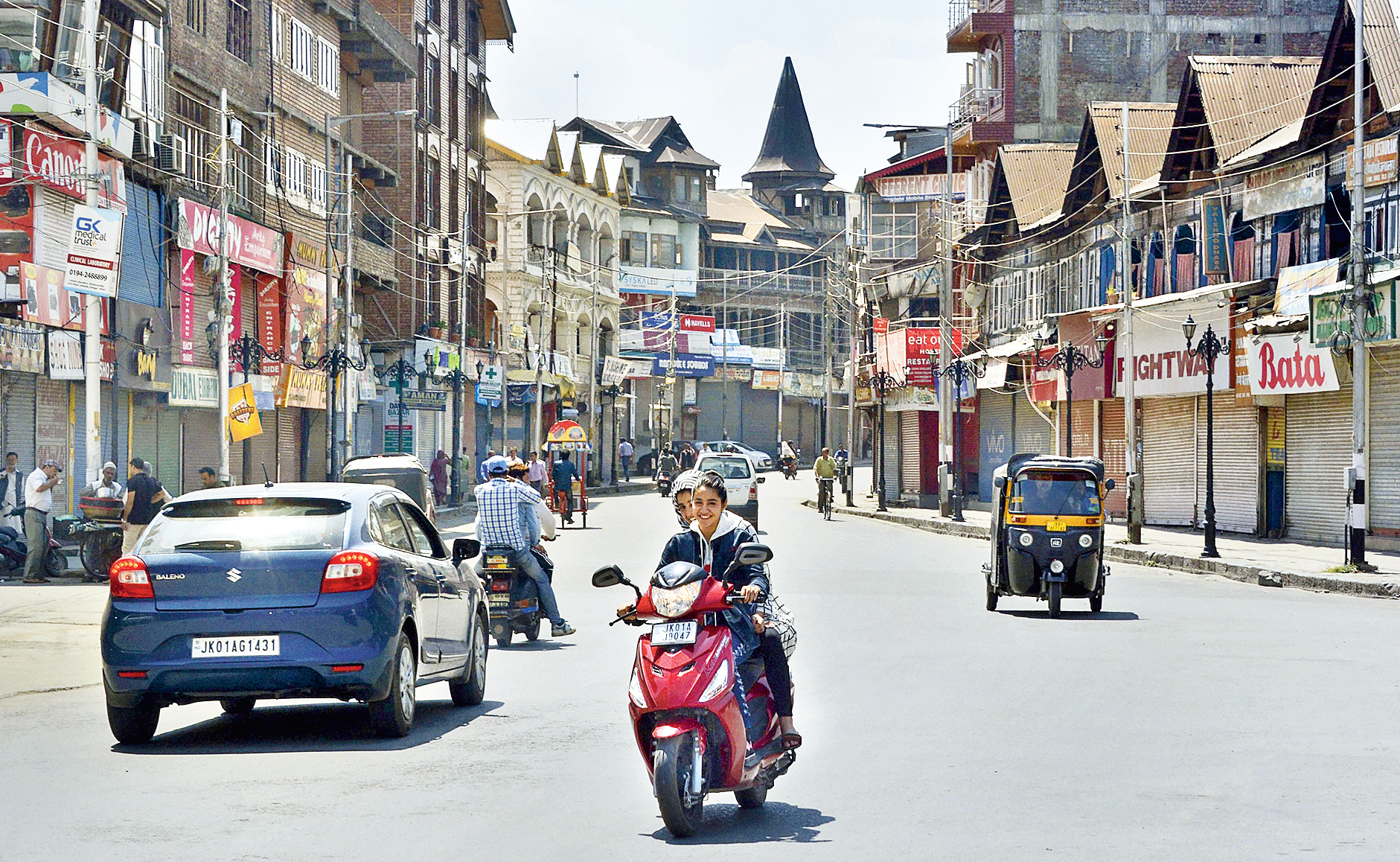 Commuters on a road near Lal Chowk, Srinagar, as the lockdown entered its 30th day on Tuesday.
(PTI)
---
Srinagar
|
Published 03.09.19, 11:04 PM
|
---
The saying "once an Indian, always an Indian" holds true for the family of Jammu and Kashmir's last prime minister Ghulam Mohammad Sadiq, who played a key role in the state's integration with the country.
The Sadiqs' is among the rarest of rare voices in Kashmir whose faith in India's democracy remains unshaken, but who believe the decision to cancel the state's special status has shaken the trust the people had reposed in the Indian Union, if "only to an extent".
"Everybody is worried. Everybody is in angst. People feel that something they had felt was theirs has been take away," Iftikhar Sadiq, grandson of Ghulam Mohammad, told The Telegraph.
Ghulam Mohammad was prime minister for 18 months from early 1963 and it was during his tenure that the nomenclatures of the prime minister and the Sadr-e-Riyasat (president of the state) were changed to chief minister and governor in 1964 amid massive opposition in Jammu and Kashmir. He took charge as the first chief minister of the state that year and ruled till late 1971.
The other key decisions taken during Ghulam Mohammad's tenure included the extension of Articles 356 and 357 to the state, which allowed the imposition of President's rule in Jammu and Kashmir.
Iftikhar, 53, a doctor turned businessman, calls himself a "proud Kashmiri" and a "proud Indian". He is the only son of Rafiq Sadiq, who was the only son of Ghulam Mohammad.
"My faith in India still remains strong because even today I feel that after what has happened in the last 70 years, our best bet was to remain with India," Iftikhar said at his ancestral home at Gagribal near Srinagar's city centre. The house is guarded by paramilitary forces and surrounded by concertina wire to prevent militant violence.
"Over the years, so many things have happened but still you as a Kashmiri are safer in this county…. We have always spoken in one voice (about their pro-India credentials), without any ambiguity," Iftikhar added.
The family denied having any political ambition, although many will interpret Iftikhar's remarks as an eagerness to gain political limelight. The Sadiqs now don't have a political base in Kashmir.
Ghulam Mohammad Sadiq was in Sheikh Abdullah's first cabinet from 1947 to 1953 and when Sheikh was arrested that year for espousing the cause of azadi, he was part of a splinter group led by Ghulam Mohammad Bakshi, who took over the reigns as prime minister of the state.
Three generations of Sadiqs have spent much of their time in the Congress. Rafiq and Iftikhar had briefly joined the BJP in 2006. Iftikhar said he was never removed from the BJP.
Iftikhar said Article 370 had created a "dream state with a dream association" with the rest of the country and it were the ideals of liberty, federalism, democracy and socialism that had prompted leaders like his grandfather to choose India "over theocratic Pakistan".
"Article 370 was not a bad thing. It was made to be a bad thing by a certain section of the society and a political class, where an average Indian doesn't know what is the history of Jammu and Kashmir. Although it was temporary in nature, it was in force for 70 years. All successive governments felt it does no harm," Iftikhar said.
"I personally feel that too much was done in one stroke (by scrapping the special status). It should have been done in a way where (Article) 35A would have gone first. Then there would have been some kind of a dialogue with the political leadership of the state," Iftikhar said. Article 35A gave exclusive rights to the state's citizens over land and jobs.
Iftikhar claimed that the efforts to scrap Jammu and Kashmir's special status had started during the rule of Lal Bahadur Shastri — when Ghulam Mohammad Sadiq was chief minister — but a fine balance was struck where the state continued to enjoy autonomy while it lost the posts of prime minister and president.
Iftikhar said the foundations of India were very "strong and deep" and if any force or individual was to try to erode them, it would not make much of a difference.
"I am as Indian and as Kashmiri as my grandfather would have been or my father would have been almost a century ago," he said.
Iftikhar said he was surprised by the "abruptness of the thing (government's decision on Article 370)" and pointed out that for the first time in independent India a state had been bifurcated into Union Territories.
Iftikhar said he was "progressive" and "not regressive". He said that by "progressive", he meant Jammu and Kashmir should get its statehood back as a first step. He did not elaborate what the next step should be.
"It would be very hard (for New Delhi) to give (Article 370) back but won't be hard to give us statehood," he said.