Muslim residents of the riot-ravaged parts of Delhi hide markers of their cultural identity in fear
The identification by beards and skullcaps is a grisly reminder of 1984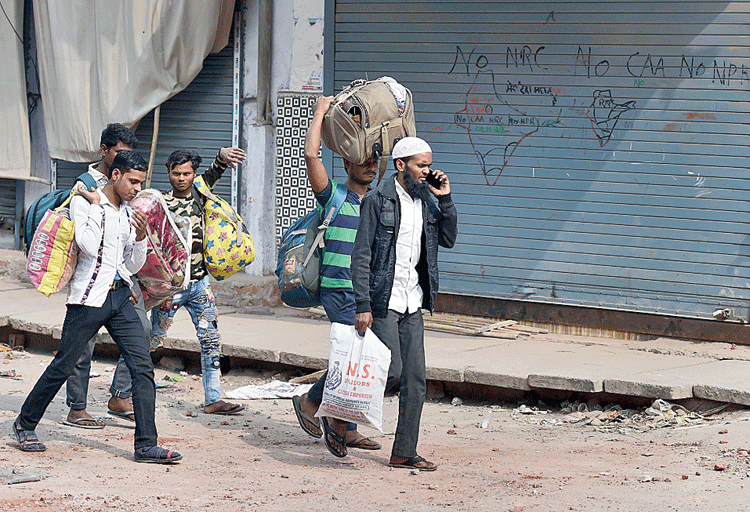 People leave their homes following the violence at Mustafabad, Delhi, on Friday.
(PTI)
---
New Delhi
|
Published 28.02.20, 09:42 PM
|
---
Fear has forced many Muslim residents of the riot-ravaged parts of the capital to hide the markers of their cultural identity.
"We are now faced with a choice between life and our cultural identity and belief. Several men are shaving off their beards and have been forbidden by their elders to wear skullcaps while going out of their homes," said Afzal Karim, a resident of Jaffrabad, the epicentre of Delhi's worst communal riots in over three decades.
Skullcaps, he added, "have become too risky to wear".
The identification by beards and skullcaps is a grisly reminder of 1984 when rioters had massacred Sikhs after then Prime Minister Indira Gandhi's assassination.
Many Sikhs had then removed their turbans and shaved off their beards to escape being targeted.
Little seems to have changed 36 years on. "We saw how mobs assaulted community members after identifying them by their distinctive skullcaps and beards," said Karim, a tailor. "We don't have any option now but to forgo the skullcaps to remain alive."
Afzal is lucky to be alive. His house was torched by a mob on Monday night.
"Things had become volatile since morning and fearing a mob attack, my family decided to move to a relative's place in adjoining Seelampur which has a sizeable Muslim population. We managed to escape only because of the timely decision," he said on Thursday.
Abdul Karim, a resident of Mustafabad, one of the worst riot-hit areas, said community elders had asked boys and girls not to wear any of the traditional markers.
He showed some videos on his phone where mobs are seen heckling and thrashing Muslims, tossing their skullcaps away and pulling their beards, besides mouthing communal slurs.
"We don't have any faith in the police and have to take care of our own safety and well-being. The community is feeling threatened as the goons don't fear the cops," Karim mumbled.
Residents of other Muslim neighbourhoods voiced similar fears.
"The entire community here is in the grip of fear although the large-scale riots have subsided. But we are still hearing stories of assault by mobs," Rehan, a college student, said.
On Thursday, several Hindu and Muslim families were seen shifting to "safer places", carrying their belongings.
Many of them said outsiders were behind the attacks as both communities had lived together in harmony for years.
Rehan said a rickshaw-van driver who was wearing a skullcap was attacked in Maujpur.
"Noting the skullcap, a group of men pounced on him and beat him up badly."
He said segregation had already started in some pockets — with Hindus and Muslims putting up barricades in their respective neighbourhoods to keep each other out.
"In some pockets that have a mixed population, residents have put up barricades and are patrolling at night."