Musical ode to Kerala CM
More than 500 women dressed in traditional Kerala saris perform a Thiruvathira dance at the CPM's Thiruvananthapuram district congress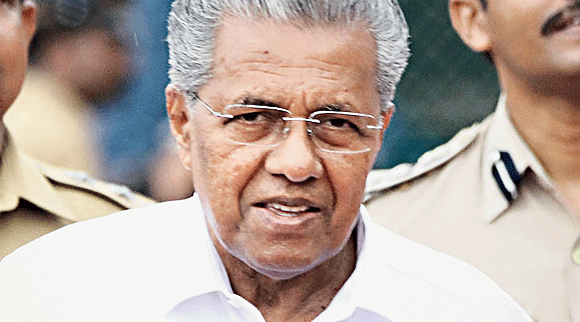 ---
Bangalore
|
Published 14.01.22, 12:32 AM
|
---
Pinarayi's rule is a strong rule
Lauded around the world
The people sang in praise
A hundred crore salutes for
Comrade Pinarayi Vijayan who rules Kerala
The man because of whom this party is shining in the world
It is the comrade named Pinarayi Vijayan
He is the brave comrade who fought on 
When opponents ganged up and assaulted him.
So goes the English translation of a song performed in Kerala on Tuesday. On the face of it, nothing seems amiss in a country that often hero-worships its leaders. Except for a nagging detail — Pinarayi Vijayan is an avowed communist. 
For a party with a declared position against deifying individuals, the CPM has done exactly that by literally singing paeans to Kerala chief minister Vijayan, further reinforcing the personality cult around the veteran communist helming the only Left government in the country.
More than 500 women dressed in traditional Kerala saris and standing in circular rows performed a Thiruvathira dance at the CPM's Thiruvananthapuram district congress on Tuesday. 
As the ruling party stood guilty of breaking Covid protocol amid the third wave of the pandemic, with the local police booking a case for violation of the ceiling of 150 people set for public events, the song and its fawning lyrics soon caught attention too. 
The song has a few lines on how the CPM came to the rescue of people reeling from the 2018 floods when its government provided free relief packages, including food grains, and the old-age pension to the needy.
Critics who pounced on the party for breaking its own code against idolisation cited how the CPM had pulled the plug on glorifying former Kannur district secretary P. Jayarajan. The name of a Facebook page that his followers used to run was changed from PJ Army to Red Army and songs in his praise taken down.
CPM leaders have admitted the folly of organising a mass gathering in violation of Covid protocols set by its own government, but are hoping that the other controversy will blow over. 
Education minister V. Sivankutty acknowledged it was a mistake to go ahead with the dance performance. "It happened due to carelessness and should have been avoided," he told journalists.
"Everything is included when I say it should have been avoided," he added in an apparent reference to the controversy swirling around the song itself.
Retired academic M.N. Karassery said: "This is the party that created a lot of issues when songs were written in praise of Jayarajan. What was 'haram' for Jayarajan should not become 'halal' for Vijayan."