Pune police arrest K.P. Gosav in connection with 2018 cheating case
He claims to be a private detective agent on his Facebook profile, and was apparently present during the Mumbai cruise ship raid on the night of October 2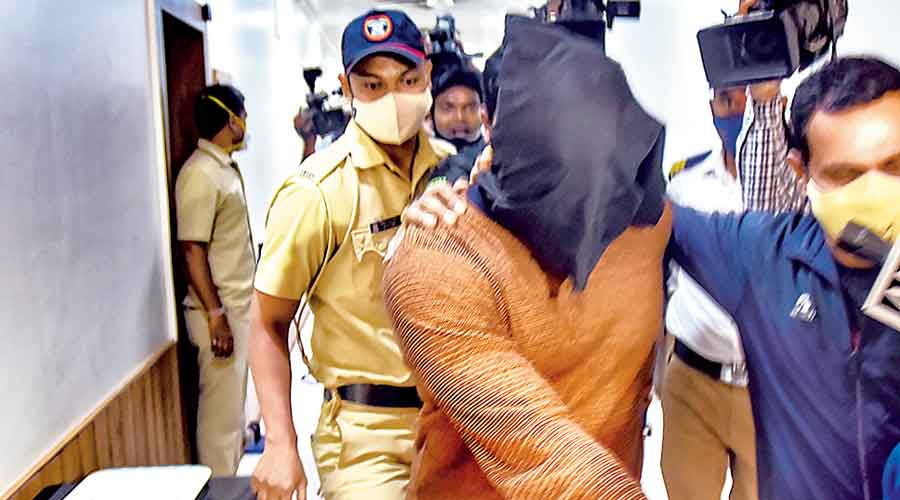 KP Gosavi at the Pune commissioner of police's office on Thursday.
PTI
---
New Delhi
|
Published 29.10.21, 01:07 AM
|
---
Pune police on Thursday arrested K.P. Gosavi, the self-styled detective who has been cited as an "independent witness" by the Narcotics Control Bureau in the Mumbai cruise ship drugs case, in connection with a cheating case in 2018.
Gosavi, against whom a lookout notice was issued by Mumbai police earlier in connection with the cheating case, had said he wanted to surrender to Uttar Pradesh police as he felt "threatened" in Maharashtra.
Lucknow police had said he could not surrender before them as the case belonged to Mumbai police.
"Gosavi has been arrested in a 2018 cheating case. He had swindled a youth out of several lakhs on the pretext of providing him a job. Gosavi is named as an accused in three more cases of cheating in Mumbai," a police officer in the city said.
Gosavi, who claims to be a private detective agent on his Facebook profile, was apparently present during the cruise ship raid on the night of October 2. He was seen in a photo clicking a selfie with actor Shah Rukh Khan's son Aryan at the NCB office after Aryan had been taken there from the ship.
Several politicians in the Maharashtra government have questioned why an "independent witness" of the agency should be present during the raid and at its office and take selfies with the "accused".
Last week, Prabhakar Raghoji Sail, who claims to be the personal bodyguard of Gosavi and is another independent witness in the case, had in a notarised affidavit alleged a move to seek a bribe of Rs 25 crore.
Sail had said that shortly after the raid, he heard Gosavi speak over the phone to a man named Sam D'Souza about paying Rs 8 crore to NCB officer Sameer Wankhede, who led the raid.
Sail claimed that after Aryan's detention on October 2, he was called to the NCB office by Wankhede and asked to sign as a panch (witness) on 10 blank sheets of paper.
Wankhede
The Maharashtra government told Bombay High Court on Thursday that it would not arrest NCB zonal director Wankhede in connection with allegations of extortion and corruption levelled against him without giving him a prior notice of three working days.
Wankhede on Thursday moved Bombay High Court seeking interim protection from arrest or any coercive action against him.
He sought an urgent hearing of his plea challenging the Mumbai police's decision to form a four-member team to investigate the allegations of extortion and corruption against him.
The Maharashtra government initially opposed the plea, but subsequently chief public prosecutor Aruna Pai assured the court that it would give prior notice of arrest to Wankhede.
The NCB had earlier ordered a vigilance probe after Sail alleged that he had overheard plans for a demand for bribe, of which Rs 8 crore was to be paid to Wankhede.
Maharashtra minister Nawab Malik has also levelled serious charges against Wankhede, including the use of a fake certificate to get a Indian Revenue Service job under the Scheduled Caste quota.