While an earthquake jolted northern India, New Delhi was also shook by protests at various locations against the amended citizenship law.
Demonstrations around the city, however, remained peaceful with the exception of Delhi Gate, where a car was set ablaze, on Friday.
Police resorted to the use of water cannons and lathi-charge to break up a huge crowd that was marching towards Jantar Mantar from Delhi Gate in Dayaganj.
"I've been there since 2.30pm. While there, I saw people marching peacefully and there was sloganeering. Food and water was being distributed as well. People were marching toward Delhi Gate, stopping for those offering namaz whenever there was call for one," said one of the protestors, Varun Kurtkoti.
Kurtkoti had left before water cannons were used on the crowd.
He said that the police had cordoned off each and every street in the area but people kept joining the march despite barricades. He also saw people being beaten up by the police as the crowd broke through the barricade.
According to another person present at the protest march, the police used brutal force to control the crowd. Kurtkoti also said there was lathi charge. Some of the injured have been taken to the LNJP hospital.
Delhi police spokesperson M.S. Randhawa, however, told the media that they did not lathi-charge or lob tear gas shells but only used "mild force and water canon".
'We used mild force and water cannon, didn't lathicharge protesters or lob tear-gas shells. Many of our personnel have been injured. Some people have been detained,' said Randhawa, adding that an investigation was underway.
Beginning from the morning, the Delhi Metro Rail Corporation (DMRC) shut down 17 metro stations, including the busy Rajiv Chowk, Chandi Chowk, Kashmere Gate, Mandi House and Janpath.
The shut down began with the closing down of the entry and exit gates of Chawri Bazar, Lal Quila and Jama Masjid, following a call from Bhim Army chief Chandrashekhar Azad to take out a protest march from Jama Masjid to Jantar Mantar.
Police had denied permission to Azad for taking out the march. However, hundreds gathered at the one of the largest mosque in India, shouting slogans and carrying the pictures of B. R. Ambedkar, Bhagat Singh and Kanshi Ram.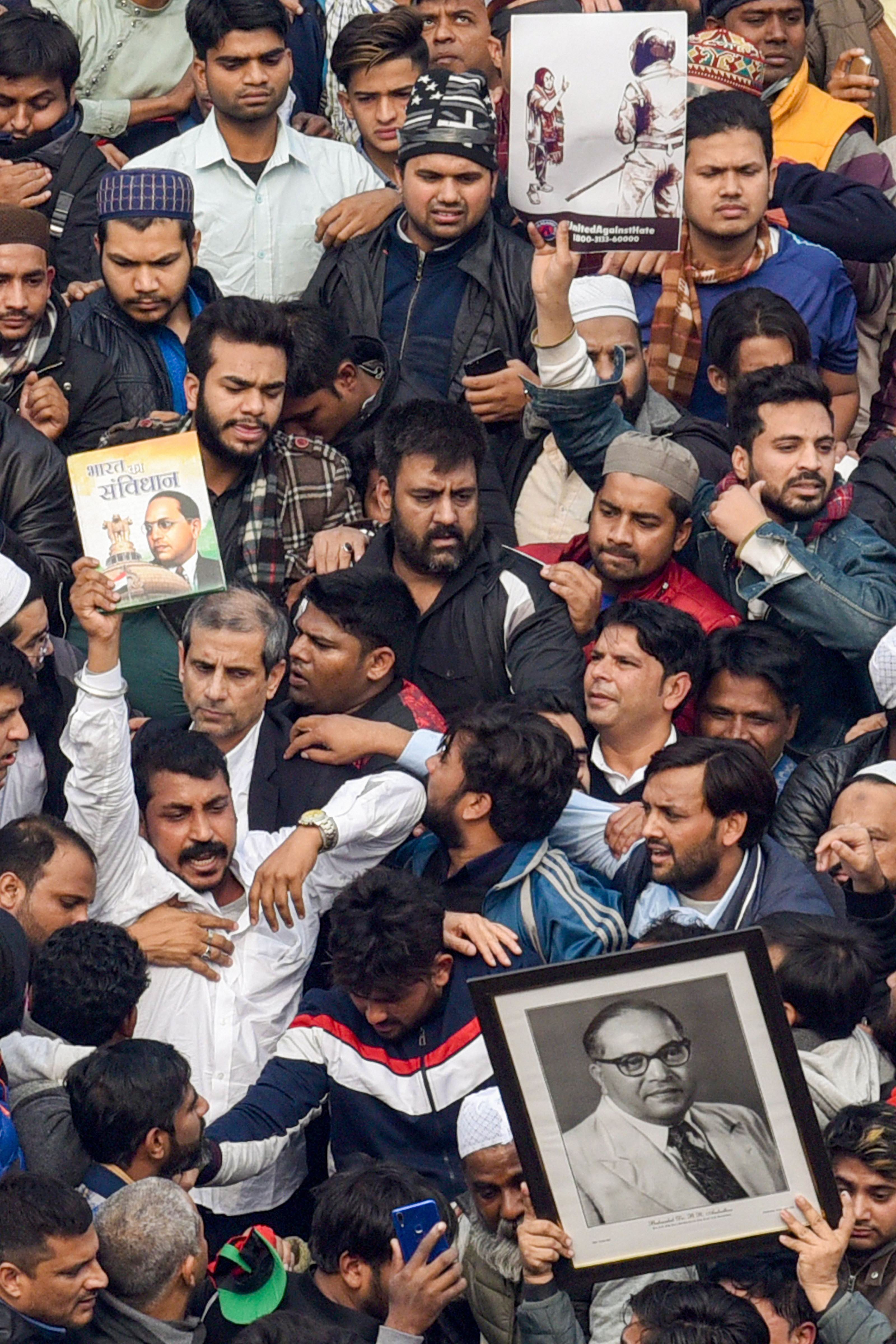 Bhim Army chief Chandrashekhar Azad raises slogans during a protest against Citizenship (Amendment) Act (CAA) at Jama Masjid in New Delhi, Friday, December 20, 2019. PTI
Police detained Azad, who was holding the Indian Constitution during the protest, but the efforts turned futile as the Bhim Army chief gave police a slip and escaped.
Bhim Army said the police tried to escort Azad, who was leading today's largest protest, but he managed to get away. He was later caught at Daryaganj but escaped again, the Bahujan organisation said.
Even as the police employed drones to maintain a strict vigil, put up barricades, the protesters defied prohibitory orders and gathered in large numbers in and around Jantar Mantar, India Gate and Central Park as the sun set, carrying banners and chanting slogans against the contentious law and the government.
To prevent any untoward incident, police carried out a flag march in Delhi's northeast district, which had been a witness to large-scale violence a few days ago.
In another protest, Sharmistha, the Delhi Mahila Congress chief and former president Pranab Mukherjee's daughter, was detained with a few others near the residence of Union home minister Amit Shah during a protest.
With inputs from PTI