Mulayam questions alliance
He drew attention to the fall in the number of seats won by the SP during his son's tenure as chief minister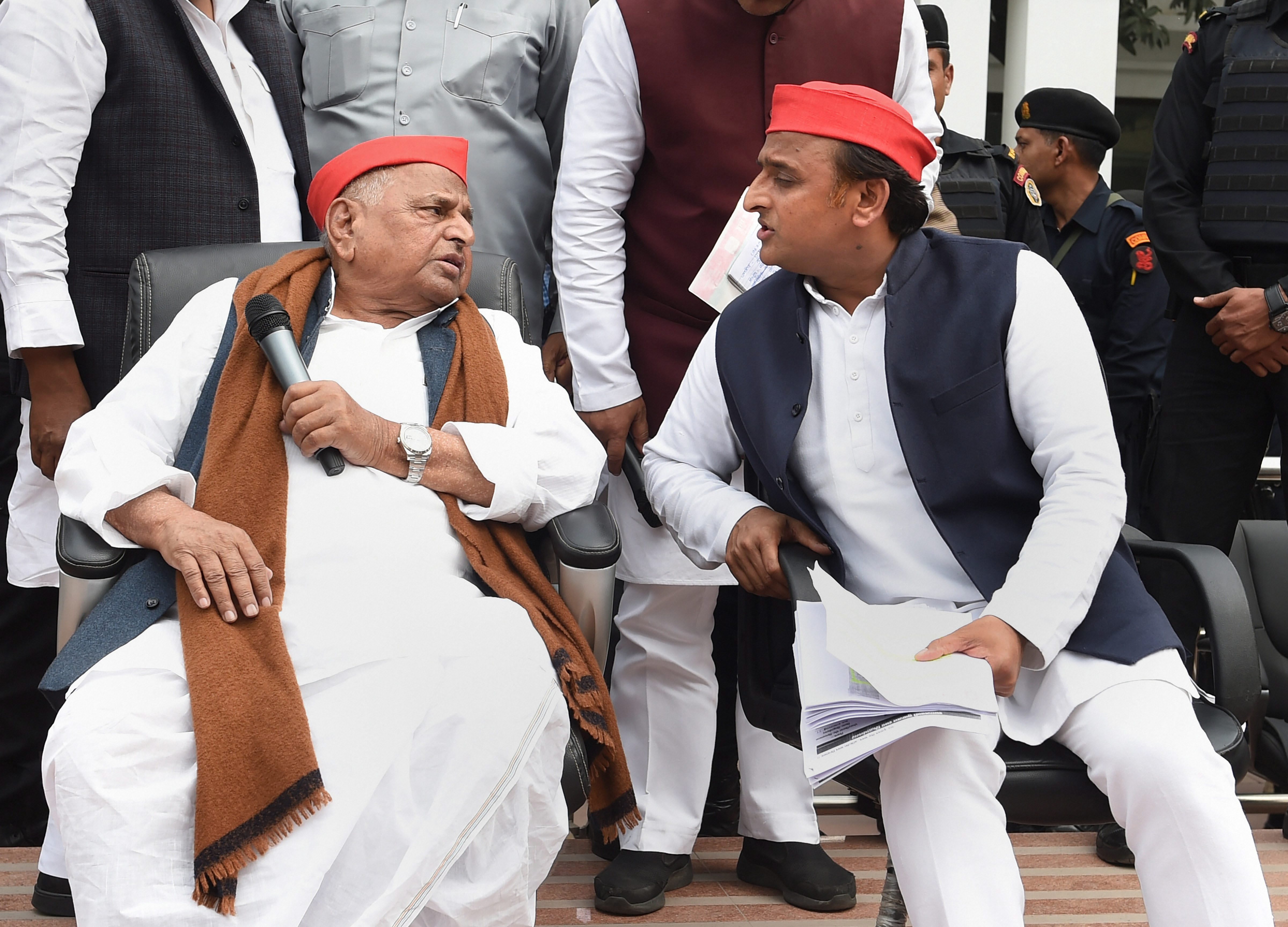 ---
|
Lucknow
|
Published 21.02.19, 10:11 PM
---
Mulayam Singh Yadav has questioned the rationale behind the Samajwadi Party-Bahujan Samaj Party alliance, highlighted that the number of seats won by his party came down when his son Akhilesh was chief minister and warned of "enemies" within, days after he wished Narendra Modi returned as Prime Minister.
"What is the basis of dividing the Lok Sabha seats between the SP and the BSP? The SP is stronger than the BSP. We would do better in the Lok Sabha elections if we contest alone. I don't see the rationale behind this friendship," Mulayam told SP workers at the party headquarters in Lucknow on Thursday.
Akhilesh's SP and Mayawati's BSP have struck an alliance for the Lok Sabha polls to fight the BJP, agreeing to contest 37 and 38 seats, respectively, in Uttar Pradesh while leaving the Congress pocket boroughs of Amethi and Rae Bareli to the Grand Old Party.
Mulayam drew attention to the fall in the number of seats won by the SP during his son's tenure as chief minister.
"We had won 35 seats in the 2004 Lok Sabha elections when I was chief minister. The number came down to five in 2014 when Akhilesh was chief minister. Out of that five, I, myself, won two seats — Azamgarh and Mainpuri," the veteran leader said.
The BSP had won 19 seats in 2004 and none in 2014.
Mulayam said Akhilesh was taking too much time to finalise the list of candidates and added: "Those who are seeking tickets from the SP can approach me directly."
Mulayam said the BJP had shot ahead of the SP in the campaign race.
"BJP leaders are already reaching out to booth-level workers. The SP is not so active. There are some leaders in the SP who are its enemies. They are trying to weaken it," the SP patron said.
Known for springing surprises, Mulayam had said in Parliament on February 13 that he wished Modi would become Prime Minister again. His statement had created confusion in the SP as Akhilesh has been asking party cadres to work hard to dislodge the BJP and remove Modi as Prime Minister.
Akhilesh was present in his room in the SP office when Mulayam was addressing the party workers in another room.
Naresh Uttam, the Uttar Pradesh SP chief, was sitting beside Mulayam. Later, Uttam told reporters, when asked about Mulayam's comments, that "he is our leader and whatever he says is a blessing for us".
Mulayam tried to motivate the SP workers for the campaign. "Keep campaigning wherever you go. You should ask people to vote for the SP even when you are at a wedding. I used to do this," he said.
Mulayam claimed that women members of the SP were deserting the party but offered no reason for it. "There used to be lots of women in the programmes of the party. But now their number is negligible," he said.