Global credit agency Moody's Investors Service has pricked the Narendra Modi government's balloon.
The US-based rating agency downgraded India's foreign currency and local currency long-term issuer ratings from Baa2 to Baa3 —the lowest rung in its investment-grade rating scale.
The announcement came just hours after Prime Minister Modi had chaired the first cabinet meeting of his second year in office in his second term and his ministers seemed chuffed about the "historic decisions" taken on Monday to revive a floundering economy that is emerging from the lockdown.
Moody's said the downgrade decision reflected its view that the "country's policymaking institutions will be challenged in enacting and implementing policies which effectively mitigate the risks of a sustained period of relatively low growth, significant deterioration in the general government fiscal position and stress in the financial sector".
"While today's action is taken in the context of the coronavirus pandemic, it was not driven by the impact of the pandemic. Rather, the pandemic amplifies vulnerabilities in India's credit profile that were present and building prior to the shock, and which motivated the assignment of a negative outlook last year," Moody's said.
What is worse is that Moody's has tacked on a negative outlook to its ratings.
A rating outlook is an opinion regarding the likely rating direction over the medium term. A negative outlook indicates that there is a higher likelihood of a rating change over the medium term.
"Historically, approximately one-third of issuers have been downgraded (upgraded) within 18 months of the assignment of a negative (positive) rating outlook," says a compendium on Moody's rating symbols and definitions.
Moody's had a credit rating for India that was one notch above the one assigned by its peers — Standard and Poor's, and Fitch — for more than two-and-a-half years. This has now ended and all three now rank India at the bottom of their investment grade rating scales.S&P, which has a BBB- rating for India with a stable outlook since September 2014, hasn't given any indication whether it will review India's sovereign credit rating. Fitch has a BBB- rating for India with a stable outlook which has remained unchanged since June 2013.
BBB- represents the lowest investment grade rating at S&P and Fitch.
Moody's had downgraded its outlook on India to negative in November last year while maintaining its rating at Baa2 at that time. The latest downgrade comes within seven months of its previous rating review.
The rating had first assigned a Baa3 investment grade rating to India in January 2003 and had upgraded it to Baa2 in November 2017.
"Moody's upgrade of India's ratings to Baa2 in November 2017 was based on the expectation that effective implementation of key reforms would strengthen the sovereign's credit profile through a gradual but persistent improvement in economic, institutional and fiscal strength. Since then, implementation of these reforms has been relatively weak and has not resulted in material credit improvements, indicating limited policy effectiveness," Moody's said in its statement on Monday.
The long-term ratings are assigned to issuers or repayment obligations with an original maturity of one year or more on the securities they float. "The market was already expecting a downgrade by Moody's. We must also not forget that India still has an investment-grade rating. The only apprehension is whether the other two rating agencies will revise their rating outlook to negative," said an analyst from a foreign brokerage.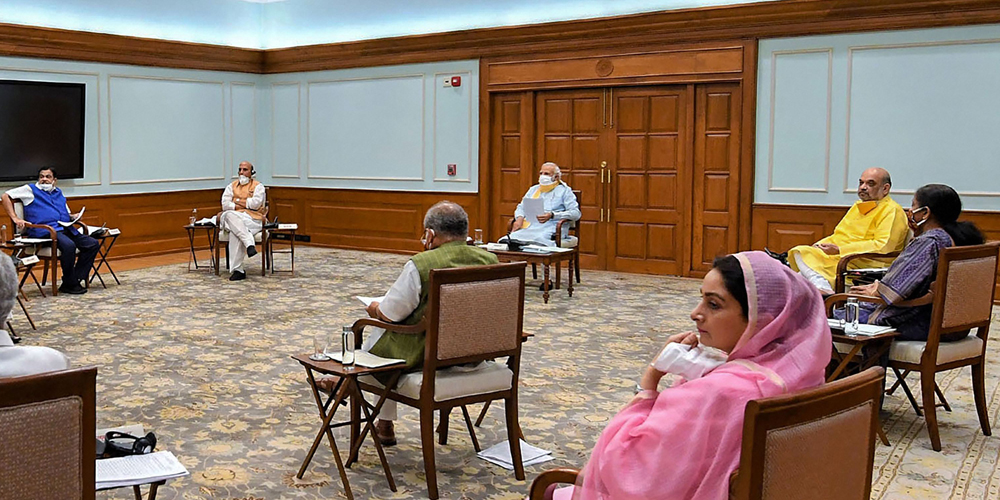 Prime Minister Narendra Modi chairs a cabinet meeting, in New Delhi, Monday, June 1, 2020. (PTI)
Today is a historic day. There has never ever been another June 1, 2020. This tweet is a historic tweet too. No tweet like this has ever been tweeted.
Tony Joseph/ Author, after some TV channels quoted govenment sources and predicted "historic" decisions by the Modi cabinet in a few hours. The decisons turned out to be some related to MSMEs and farmers
Cause for worry
The latest downgrade by Moody's to Baa3 with a negative outlook is good reason for the Modi government to worry, especially after Reserve Bank of India governor Shaktikanta Das forecast a contraction of the economy this fiscal after announcing a policy interest rate cut 10 days ago.
Das did not hazard a figure but several economists and analysts have suggested that India will see growth shrink by 3 to 5 per cent.
Last Thursday, rating agency Standard and Poor's said India's economic growth would contract 5 per cent this fiscal as the country transitions to a post-Covid-19 world.
Moody's and S&P have been unimpressed by the Modi government's Rs 20.97 lakh crore stimulus measures, announced last month, that were big on promise but short on substance.
Moody's said the stimulus package was inadequate and would not be able to prop up India's growth rate anytime soon.
"While the government responded to the growth slowdown prior to the coronavirus outbreak with a series of measures aimed at stimulating domestic demand, and recently announced a support package aimed at supporting India's most vulnerable households and small businesses, Moody's does not expect that these measures will durably restore real GDP growth to rates around 8 per cent, which had seemed within reach just a few years ago," Moody's said.
Moody's said it expected India's real GDP to contract by 4 per cent in fiscal 2020 because of the shock from the coronavirus pandemic and related lockdown measures, followed by 8.7 per cent growth in fiscal 2021 and closer to 6 per cent thereafter.
The Modi government has been struggling to come to grips with a runaway fiscal deficit that ballooned to Rs 9.35 lakh crore in the year ended March 31 --- 22 per cent higher than the revised estimate of Rs 7.67 lakh crore that finance minister Nirmala Sitharaman had estimated in her latest budget.
"The set of economic numbers and the fiscal deficit numbers which came out last week and the stress the financial system would face would have played a role in downgrading the rating…. The government should come out with a credible medium-term fiscal policy which would instil confidence and prompt the rating agencies to review their ratings," said N.R. Bhanumurthy of the National Institute of Public Finance and Policy.
A downgrade is bad news for companies and banks since it will raise their overseas borrowing costs. The downgrade comes at a time when the Modi government has been encouraging companies to raise foreign capital.
Sitharaman had recently allowed domestic companies to directly list their shares overseas. At present, only firms that are already listed with a stock market in India can float their securities on an overseas bourse.
"The sovereign does not borrow overseas and hence this should not make a difference," said Madan Sabnavis, chief economist at Care Rating. "However, Indian companies borrowing from outside will have challenges when factoring in the cost."
However, in her budget speech in July 2019, Sitharaman had raised the prospect of a sovereign bond flotation overseas.
She had said: "India's sovereign external debt to GDP is among the lowest globally at less than 5 per cent. The government would start raising a part of its gross borrowing programme in external markets in external currencies. This will also have beneficial impact on demand situation for the government securities in domestic market."
The Modi government never followed through on that stated objective. But if it does, it would need to ensure it has an investment-grade rating. Investors shun junk bonds.
Other ratings
Moody's downgraded India's local currency senior unsecured rating to Baa3 from Baa2 and its short-term local currency rating to P-3 from P-2.
The negative outlook reflects dominant and mutually reinforcing downside risks from deeper stresses in the economy and the financial system that could lead to a more severe and prolonged erosion in fiscal strength than Moody's currently projects.
The rating agency also lowered India's long-term foreign currency bond and bank deposit ceilings to Baa2 and Baa3, from Baa1 and Baa2, respectively.
The ratings agency said India faces a prolonged period of slow growth relative to the country's potential, rising debt, further weakening of debt affordability and persistent stress in parts of the financial system, all of which the country's policymaking institutions will be challenged to mitigate and contain.
The rating agency does not expect the credit crunch in India's under-capitalised financial sector to be resolved quickly.
"In turn, subdued growth further challenges the banking system's incomplete resolution of legacy non-performing assets and governance reforms, and is likely to further weaken asset quality and the health of banks and non-banking finance institutions," Moody's said.