Modi's most efficient surgical strike: Instilling a minority complex in India's majority
Everybody, all across, is chanting the same defence of Modi's indefensible lapses and failures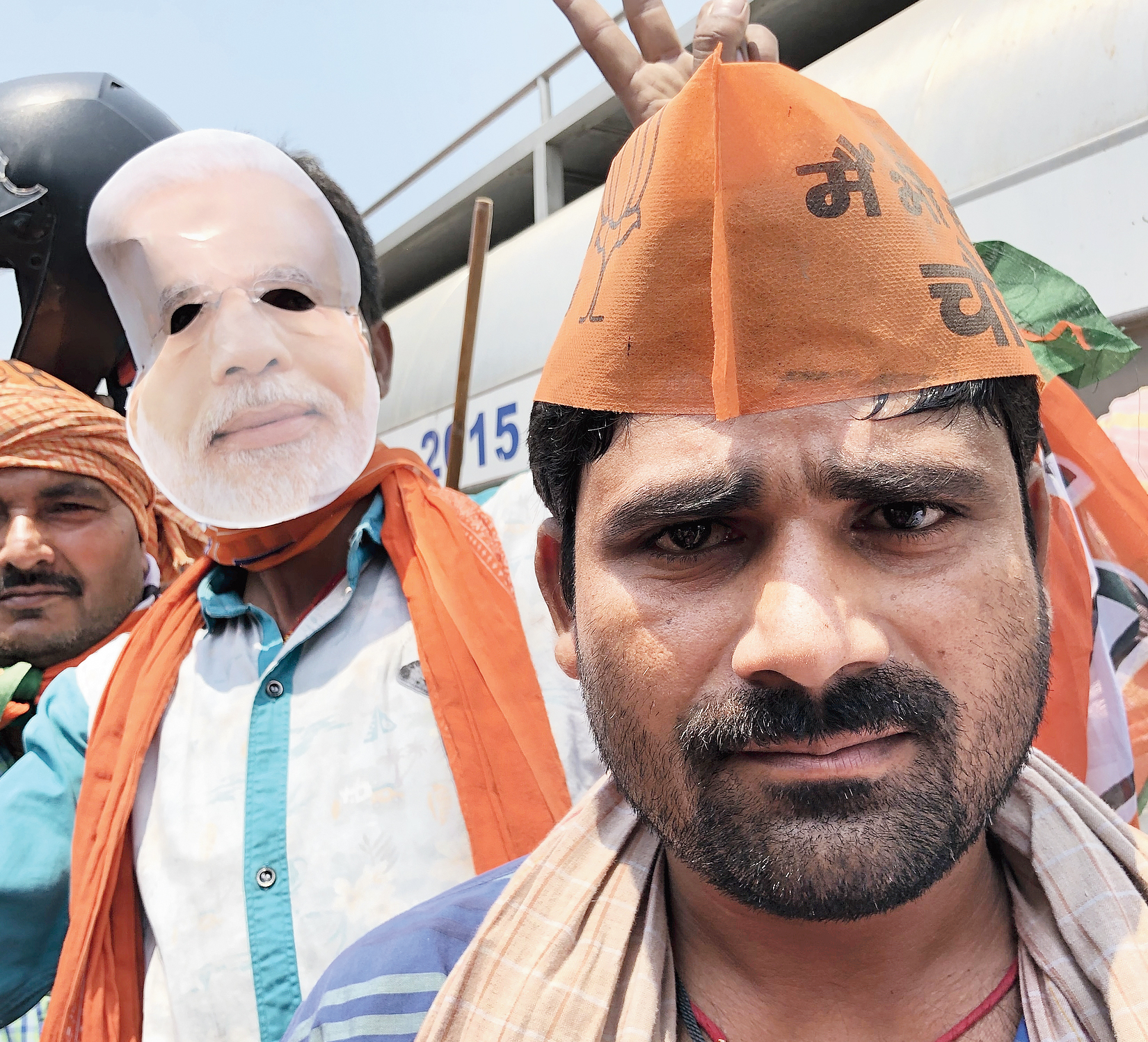 ---
|
Varanasi
|
Published 18.05.19, 12:01 AM
---
The converted, by definition, are not going to be convinced by anything contrary. It's the reason they are converts. Durgesh Jaiswal probably knows there are flaws to the worldview that cocoons him, but you cannot take him anywhere near the possibility of admitting them.
Durgesh believes he lives in Pakistan. His full address is this: Lad Bhairon, Kazzakpura, Saraiya, Varanasi, Uttar Pradesh, India. Translated in Durgesh's head: Pakistan. Varanasi, the centre of the Hindu world, from philosophy to practice to its very physicality. But to Durgesh, Pakistan, or littered with many Pakistans. "Hum log apne hai desh mein ghir gaye hain, saans nahin le sakte. Isse bachne ke liye Modiji kaa hona bahut zaroori hai, aur woh kuchh karen, nahin karen, isse koi matlab nahin. (We have been encircled in our own country, we can't breathe. For this reason it is essential that Modiji remains there, whether he does anything else or not, I am not bothered)."
It is quite possible Durgesh, unemployed and in his mid-twenties, feels exactly how he says it: suffocated at home. Kazzakpura, like most of old Varanasi crawling along the Ganga, is a teeming warren of bric-a-brac housing and retail commerce. It is also overwhelmingly populated with Muslims. "How can one feel comfortable among them? It's suffocating, and it's not acceptable. This is our country, India, and we have to live in Pakistan."
There's no reasoning with Durgesh on what Kazzakpura is or what it means to him. What he believes, he believes with absolutism. And it's not about Kazzakpura alone; it's about all of this country. "Poora India hi Pakistan se bhara hua hai, aur iske liye Modiji chahiye. Sattar saal mein ek kaam nahin hua thha, woh kaam Modiji ne kiya. (All of India is full of Pakistans. The one thing that had not been done in 70 years, Modi has done)." No need to specify what's that one thing; everybody knows. It's the pointed exclusion and othering of India's largest minority, their formal notarising as the unwanted and dispensable ones, even as the ones that constitute the enemy.
But Durgesh is not happy to stop at that, the othering is the first step, it cannot end here, it has to be taken forward. "Hum log kuchle jaa rahe hain apne hi desh mein, abhi bhi ghulam hain, iska kuchh karna hoga. Isiliye Modiji ki zaroorat hai. (We are being crushed in our own country, we are still slaves, something will have to be done. That's why we need Modi.)"
It is this, essentially, that Prime Minister Narendra Modi has come to achieve — a confounding, and no less frightening, hypnosis on minds that has turned the bizarre into the believable. It is, if you like, Modi's most efficient surgical strike — this instilling in India's overwhelming majority a deep minority complex. It's a project that has been in the works a long time, perhaps since before Durgesh was even born, but now the worm has been widely seeded. It wriggles in hearts and minds and it triggers a variety of symptoms — anger, suspicion, hatred, frustration, victimhood. You only have to sit Durgesh down and listen to him.
He doesn't have horns on his head. He is as commonplace a youngster as you will come across. He wears ripped jeans and fluorescent trainers. His favourite food is Maggi noodles. He rides a bike and won't mind acquiring a female pillion. He uses up 1.5 GB data on his phone each day. He can flash the most endearing smile. He is keen on the ICC World Cup. Somewhere along the conversation he also tells you he is a member of the Samajwadi Party (SP).
Clanger. What? SP? The same which is fighting Modi tooth and nail and which boasts of Muslims as its core votebank? "That's the only problem with SP, they back the wrong guys, otherwise I have no issues with it. It is my party of choice. And please don't bring in Modiji into this, Modiji is different, he is not about parties, he is above all this, he is essential."
And because Modiji is Modiji, nothing he does, or does not do, must be criticised or questioned. Unemployment is not his fault, it always existed; the shaken economy is not his doing, when was the economy great; the deterioration of the situation in Kashmir is proof that Modiji is doing something right, he has driven them to desperation; his laughable description of why he thought a clouded sky was opportune for the Balakot airstrike is not at all laughable, it is Modiji's "unique way" of explaining a complex military decision in "simple language".
There, in fact, lies in the sameness of responses of Modi supporters from remote and unconnected pockets from Bihar to Rajasthan to Madhya Pradesh to Uttar Pradesh, a key element of this election: the Modi machinery is leagues ahead in the communication game, it has anticipated chinks and parcelled out the mortar to plug them. The messaging to his constituency is clear and it has spread like napalm. Everybody, all across, is chanting the same defence of Modi's indefensible lapses and failures.
By contrast, the Congress' election call hasn't travelled; to the carpet bombing of the Modi message, it is a bit of a dud. Rafale and "Chowkidar chor hai" don't resonate much beyond the Congress dais; the cry on unemployment and an economy under shock remain lost in translation. The fancied promise of NYAY has no frisson with the voter.
A contrary version of "nyay" does; it's the one Durgesh has turned a Modi devotee for.