Modi to party: Enjoy Rahul's barbs
PM asks workers to spread 'love' & word on 'good work'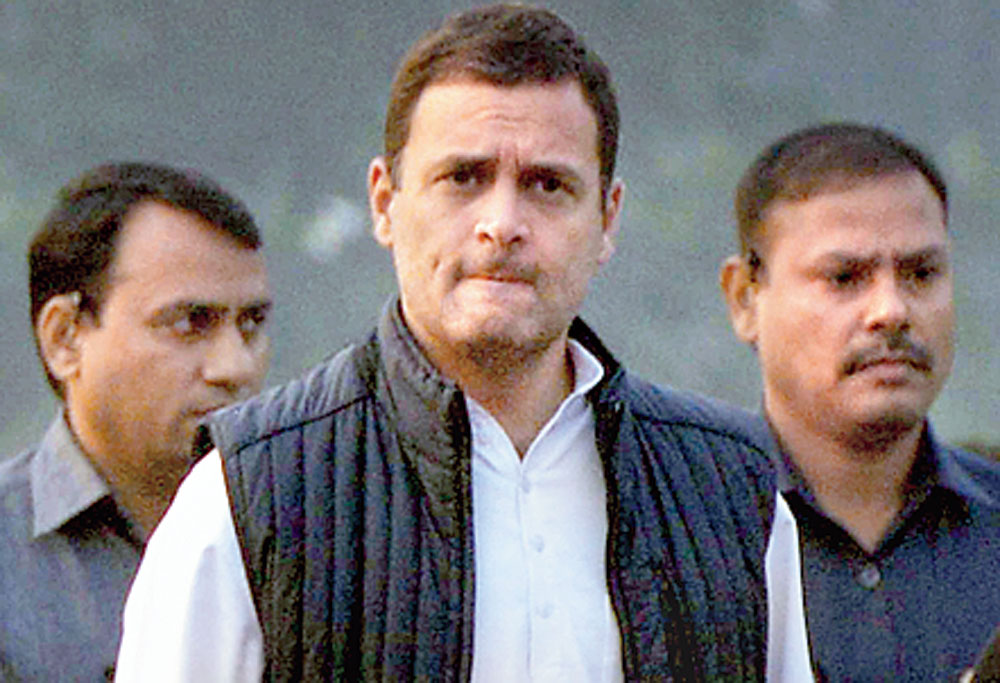 Rahul Gandhi in New Delhi on Wednesday.
(Prem Singh)
---
New Delhi
|
Published 31.10.18, 09:27 PM
|
---
Prime Minister Narendra Modi told party workers on Wednesday to "enjoy" Rahul Gandhi's attacks on him and focus on spreading news of his government's achievements through constant repetition.
"Enjoy (Rahul's comments), don't get worked up," Modi replied when a BJP worker referred to the Congress president's "unseemly" attacks on him.
The Prime Minister was using his Narendra Modi App to interact with party workers from five Lok Sabha constituencies, mostly located in poll-bound Madhya Pradesh, Rajasthan and Chhattisgarh.
Modi compared Rahul to a stuck gramophone record, repeating the same line but unaware what he was saying.
"He (Rahul) doesn't know that the times have changed and the people are not fools. They (the people) know everything. People make fun of him," Modi added.
He told a party worker that the Congress had ruled the country for decades but could get only two companies to manufacture mobile phones in India while four years into his government, there were more than 100 such companies.
"He (Rahul) is repeating lies. Don't take them seriously. Enjoy them," he added.
Modi's regular interactions with party workers are aimed at boosting their morale ahead of the upcoming state polls and the general election next year.
When a party worker from Uttar Pradesh described the thrill a fellow villager felt at having his passport issued "in a week or two", Modi looked equally excited.
"To how many did you narrate this development?" he asked the man.
Initially taken aback, the worker recovered to say he had told every person in his block. Modi looked sceptical.
"There's a problem with BJP workers… you have to repeat the good things done by the government," he said.
"Baar baar bolna chahiye (Repeat it constantly). Remind the people what a hassle getting a passport was under earlier governments. Now you have a government under which passports get issued within a week. This is because this government is committed to serving the people."
Modi went on to ask the worker to organise a booth-level meeting of people who had benefited from government schemes, get others to hear their experiences and shoot a video of the event.
"Then send the video to me. Tell me, will you do that?" Modi asked.
"Yes Sir," the worker said.
Another worker from Rajasthan said that the Congress's "abusive" attacks on Modi angered him and other BJP workers.
Modi advised him not to get angry and, instead, spread love. "People give whatever they have. They (the Congress) only have stones, so they throw them at us…. We (the BJP) have love; so keep spreading love," he said.