Modi's ace versus Modi's ex-mace
The man you won't find on a single poster in Bihar is the man who could determine how the forthcoming election will be fought and won. Or lost.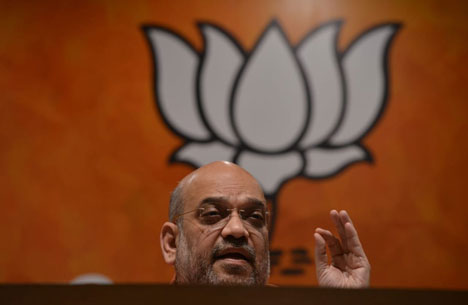 ---
Patna
|
Published 23.07.15, 12:00 AM
|
---
Patna, July 22: The man you won't find on a single poster in Bihar is the man who could determine how the forthcoming election will be fought and won. Or lost.
That man is a beady-eyed 37-year-old called Prashant Kishor and the narrative around him may have begun to imitate epic war games of the ancient kings of this land.
The story goes that the Magadhan ruler Ajatshatru (circa 492-461 BCE) took 15 years subjugating the Lichchhavis who ruled north of the Ganga from Pataliputra. He used every trick in the book - and out of it - to achieve victory: fireball catapults, chariots mounted with swinging maces that have been compared to the modern tank, spies, honey-trap seductresses often sent out as sanyasins.
But those were different days, war was how realm and reign were kept or ceded away. Might was right; there wasn't an Election Commission to set the rules of battle and arbitrate disputes.
When Nitish Kumar, latter day Lord of Magadh, was overrun by the Narendra Modi juggernaut last year, he had a mere 15 months to defend his kingdom from final decimation; and access to but a few of the war chest of devices Ajatshatru could employ.
One of them was cunning. Nitish kept an eye peeled on where he could divine a chink in the Modi armour; when he saw it he went for the grab. At last Nitish had acquired a weapon he could credibly battle the Modi storm with: Prashant Kishor.
But why is the embattled Bihar chief minister so excited to have him? Why has such a tizzy of anticipation come to swirl around a solitary new entrant to the Nitish Kumar project? Why is he being feted with the clamour of a prize catch?
Because Team Nitish believes Kishor is one, Achilles seduced to fight alongside the besieged armies of Troy. Or, as Prof. Nawal Kishore Chaudhary, who taught economics at Patna University, says: "Nitish has got hold of Modi's brahmastra of the 2014 campaign and is trying to use it against Modi himself."
Kishore is the same man whose calling card had Narendra Modi written all over it till just the other day. The man who, as head of Citizens for Accountable Governance (CAG), devised key facets of the spectacular campaign Modi unleashed to storm to power in 2014. Of particular acclaim, Modi's virtual presence via hologram before distant audiences, his selfie trendsetter and of course the vastly popular " chai pe charcha" which was flagged as an India catchline even by the speech-writers of US President Barack Obama.
How did Modi spot and pick Kishor?
Kishor, whose father was a doctor in the Bhojpur region, began as a public health activist in Bihar and then Andhra Pradesh. His work caught the attention of the WHO bureaucracy. He was chosen for a UN traineeship in the mid-2000s and rose swiftly up the rungs of the international health activism circuit.
In 2010, he was offered an opportunity to head the UN aid mission in Chad in Francophile west Africa, and despite not knowing French, Kishor took the challenge on condition he would be allowed to spend time in Paris learning west Africa's lingua franca.
It was in Chad that he came across a Planning Commission study on poor health indices in India's most backward states. Kishor turned the study upon its head and commandeered data to prove health indices were as poor in India's most prosperous states, Gujarat among them. Although Kishor marked his paper to Manmohan Singh, then Prime Minister, the man whose attention he caught was Modi, then Gujarat chief minister.
Kishor's tangential take on the inverse relationship between economic prosperity and good health was filed in Singh's PMO; Modi, marked a copy as chief minister, read it and was struck by an idea.
The rest is history not entirely written yet. Modi had his officials contact Kishor in Chad. A job proposal was made - to work with Modi on social sector policy initiatives. Kishor mulled the offer a few weeks, then decided he should meet Modi face to face. He arrived in Delhi from Chad during the Dussehra of 2011 - his Assamese wife had just given birth to their first baby - and was flown straight to Gandhinagar for a meeting with the then chief minister, and promptly hired.
To begin with, Kishor was to focus on health and related social sector policy. But Kishor being Kishor and Modi being Modi, the two were soon working together on the latter's successful 2012 poll hat-trick. "Kishor, much like Modi, is a workaholic and a quick-decisions-quick-results man," says a former associate. "A go-getter who seeks to work with authority and will stop at nothing to achieve targets. In his CAG years, Kishor reported only to Modi and drew all his powers from him."
One of the conditions Kishor works on is the guarantee of 24-hour access to his boss. In Gandhinagar, he made the upper floor of Modi's official residence his home and workplace; in Patna, he lives and functions out of Nitish's 7 Circular Road bungalow; his room is right across the hallway from Nitish's.
Although he professes to be ideology-agnostic, political power and proximity to power centres clearly tickle Kishor. Much before he was hired by Modi, he had taken his wares to Rahul Gandhi. This was in 2007; Rahul Gandhi was still general secretary of the Congress though also heir apparent. Kishor was on a break from his UN assignment and wanted to unveil a multi-pronged social sector blueprint to Rahul.
He made a presentation, but the conversation never went beyond. Rahul thought Kishor should concentrate on his core competence - public health - and help him set up a multi-facility hospital at Munshiganj in Amethi. Kishor thought the serving too small for his plate.
But what went wrong between Kishor and Modi?
Thwarted ambition. Kishor worked on Modi's 2014 campaign believing that after electoral victory was achieved, he would be awarded a change of beat, a policy chair, a Delhi ledge on governance. He dissolved the CAG soon after the election and set up the Indian People's Action Committee (IPAC). It was meant to be a policy advocacy platform that would work closely with the Prime Minister and derive its authority from him. IPAC, as Kishor had imagined it, never came about.
He is known to have privately blamed BJP president Amit Shah, among other party bigwigs, for scuttling it. The counter-murmur in BJP circles is Kishor had begun to apportion far too much credit for Modi's victory to himself, and was willing to concede far too little to the organisational effort under Shah and the BJP hierarchy.
It soon became apparent to Kishor he had been cut loose and hung out to dry. There may have been an element of spite to Kishor's next move. He approached Nitish, eyesore to the Modi-Shah duo and a man himself licking his wounds. The first contacts were made through the JDU's Delhi-based and well-networked Rajya Sabha MP, Pavan Varma, in October-November of 2014.
Preliminary talks stretched several rounds over a month; Nitish came to his first meeting with Kishor in Delhi last December. Kishor was swift to lay his first condition - if you want me to work for you, dislodge Jitan Ram Manjhi and return as chief minister of Bihar.
Nitish followed the Kishor prescription. Kishor kindled the stillborn IPAC and moved his shop to Bihar.
In the few months that he has had a desk inside the Nitish home, Kishor has rendered a state-of-the-art polish on what would otherwise have been a campaign typical of Janata socialism - a raucous, chaotic, underfed tableau of the horse-cart era with too many characters astride a famished horse.
He has telescoped the focus on Nitish, and rallied his practised tools behind him - multiple platforms on Internet, Twitter, Facebook, YouTube, WhatsApp, print and telescreens; colonial raids on skylines to capture billboard space; an armada of LED-mounted trucks despatched to far corners statewide; a 500-strong army of researchers, data crunchers, copy writers and publicists hunkered at work 24/7 in prefab tenements.
Kishor keeps a spare desk at work, but behind the opaque screensaver on his IPad, churns the mechanics of a campaign Bihar has never witnessed.
In the process of lifting the Nitish campaign from Janata jail to jazz, Kishor himself has taken the reverse journey. He has shunned the trademark hip work-wear of his Modi stint - blue jeans and slim-fit blue Tee, casual loafers - and taken to the rather more socialist white kurta pyjama and slip-in chappals.
Will it work, or is the Kishor effort merely cosmetic? The jury will remain out on that one a while. "It remains to be seen whether Kishor can achieve for Nitish at the micro state level what he did for Modi at the macro national level," says Shaibal Gupta of Patna's Asian Development Research Institute (ADRI).
There seems no dearth of Kishor sceptics in Patna, or even within the JDU. Can this man help Nitish achieve in 15 months what Ajatshatru managed over 15 years? For the moment, the killer mace Nitish has inarguably snatched from Modi's armoury. It's a mace the shape of Prashant Kishor, and it's been flung in Modi's face.