Modi plays on fear of displacement in Uttar Pradesh speech
Most of what the PM said could be construed as a pat for chief minister Yogi Adityanath's handling of law and order, especially crime against women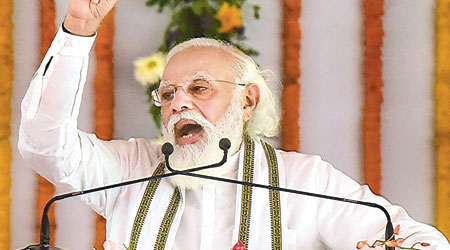 ---
Lucknow
|
Published 15.09.21, 01:31 AM
|
---
Prime Minister Narendra Modi on Tuesday referred to people being "forced to flee leaving behind their ancestral houses" some "four-five years ago" as he laid the foundation stone for the Raja Mahendra Pratap Singh University in Aligarh town.
The comment prompted many to wonder whether Modi was repeating the discredited allegation by late BJP lawmaker Hukum Singh in 2016 about Hindu families being forced out of Shamli, a district adjacent to Aligarh.
Most of what Modi said could be construed as a pat for chief minister Yogi Adityanath's handling of law and order, especially crime against women.
The Prime Minister had dispensed such praise earlier too although Adityanath's rule has been marked by the horrific Hathras and Unnao rapes and official records have shown no decline in crimes against women in the state.
"There was a time... (pause) I especially want to remind you of four-five years ago when families used to live in fear in their own houses. Sisters and daughters would be scared to step out of their homes; they would be afraid to go to school and college," Modi said.
"Parents would be restless till their daughters returned home. The atmosphere was such that many people ran away, leaving behind their ancestral houses. They were forced to flee (palayan karna pada). Today, criminals think a hundred times before doing this."
It's the part about people running away "leaving behind their ancestral houses" that appeared to some to contain a more sinister implication than merely questionable praise for a party chief minister.
"Since Modi has not done anything worthy of mention in seven years, he is raising the old communal and fake issue of forced migration," Samajwadi Party spokesperson I.P. Singh said.
Hukum, MP from Kairana in Shamli, had claimed in 2016 that 409 Hindu families had fled the district for fear of Muslim criminals. This was parroted by many BJP leaders.
The then Akhilesh Yadav government had dismissed the allegation, saying a physical verification by the local administration had found it to be false. Investigations by media outlets had corroborated the state government findings.
The 2013 riots breached the long alliance between the region's Jats and Muslims and helped catapult the BJP to power at the Centre in 2014. But the farmers' agitation appears to have brought the two communities together again.
The BJP is hoping to woo the Jats with the establishment of the university in the name of Mahendra Pratap, a freedom fighter who was a Jat, before the Assembly polls.
However, Mahendra Pratap — a secular and cosmopolitan socialist  — was always going to be difficult for the BJP to appropriate.
Modi on Tuesday briefly mentioned Mahendra Pratap as a great freedom fighter and educationist but did not dwell on his Jat identity.
Sitapur claim
Modi said that during his childhood days, Sitapur in central Uttar Pradesh was famous in Gujarat as a hub of eye treatment. The statement appeared to conflict with his repeated assertions in the past that Uttar Pradesh had nothing to boast of in the 70 years before Yogi Adityanath became chief minister in 2017.
"We used to know two cities of Uttar Pradesh. One was Sitapur, as everybody would say if you need eye treatment you should go to Sitapur. The second was Aligarh…."
However, authorities at the Sitapur Eye Hospital said they were facing so much "humiliation" getting the annual donation of Rs 80 lakh from the Adityanath administration that they had decided not to seek it any more.
Colonel (retired) Ranbir Singh Bhadauria, the hospital director, said: "We have decided not to demand the annual donation any more."
Dr P.K. Singh, deputy chief medical officer of Sitapur, said: "We don't delay their payments."