FTA: India, UK set Diwali deadline
Modi, Johnson agree to constitute sub-group on countering extremism
India wants Russians out from Ukraine: UK PM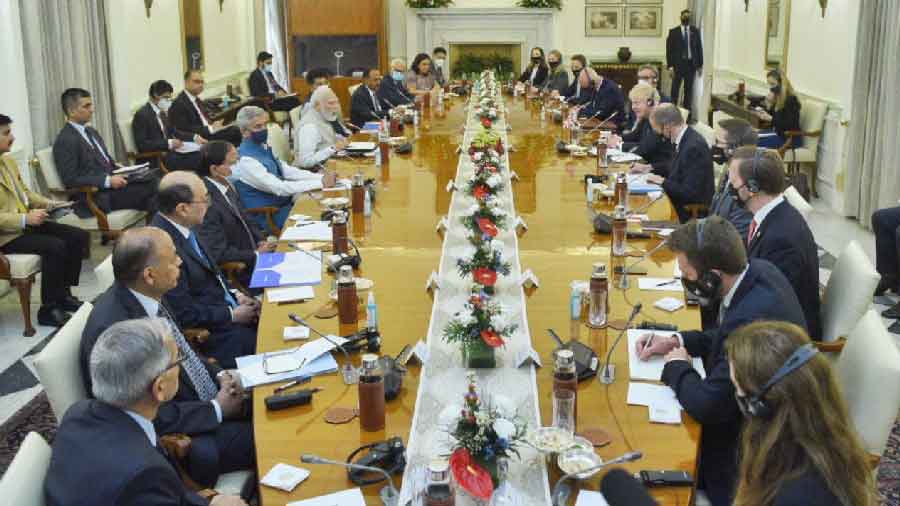 The Indian and UK delegations led by respective Prime Ministers Narendra Modi and Boris Johnson hold a high-level meeting on Friday
Twitter/@narendramodi
---
New Delhi
|
Published 22.04.22, 10:05 PM
|
---
Prime Minister Narendra Modi and his British counterpart Boris Johnson on Friday expressed "zero tolerance" for terrorism in all its forms and reiterated their condemnation of Mumbai and Pathankot terror attacks.
In their wide-ranging talks, Modi and Johnson agreed to constitute a sub-group on countering extremism in order to further enhance cooperation between India and the UK in ensuring that all possible actions are taken against groups and individuals based in or operating out of either country. "Both leaders expressed zero tolerance for terrorism in all its forms and for all those who encourage, support and finance terrorism or provide sanctuary to terrorists and terror groups, whatever their motivation may be," a joint statement said.
It said the two prime ministers called upon all countries to work together to root out terrorist safe havens and infrastructure, disrupt terrorist networks and their financing channels, and halt cross-border movement of terrorists. It said Modi and Johnson reiterated their condemnation of terrorist attacks in India and the UK, including the Mumbai and Pathankot attacks.
"They emphasised the importance of perpetrators of terrorist attacks being systematically and expeditiously brought to justice, and agreed to work together to take concerted action against globally proscribed terrorist entities and individuals," the statement said.
It said the two leaders expressed satisfaction on the ongoing cooperation through the Joint Working Group on Counter-Terrorism (JWG-CT), including with regard to information and intelligence sharing on terror entities and individuals.
"Within this framework, they agreed to constitute a sub-group on countering extremism in order to further enhance cooperation between the two sides in ensuring that all possible actions are taken against groups and individuals based in or operating out of either country, seeking to incite violent extremism and terrorism and who are involved in financing such activities," it said.
In their talks, Modi and Johnson also reaffirmed their commitment to a free, open, peaceful and secure cyberspace and welcomed the progress under the enhanced India-UK cyber security partnership to tackle shared cyber threats including to critical national infrastructure.
"They outlined commitment, in a joint cyber statement, to deepen cooperation across cyber governance, deterrence and strengthening cyber resilience," the statement said.
On the situation in Afghanistan, the two leaders reaffirmed the importance of UN Security Council (UNSC) Resolution 2593 which unequivocally demanded that Afghan territory should not be used for sheltering, training, planning or financing terrorist acts.
"Both sides agreed to continue to provide immediate humanitarian assistance to the people of Afghanistan and reiterated the need for a representative and inclusive political system in support of a peaceful, secure and stable Afghanistan," the statement said.
India wants Russians out from Ukraine: Boris Johnson
New Delhi: India has been pushing for peace in Ukraine and wants the Russians out of that country, British Prime Minister Boris Johnson said on Friday after holding wide-ranging talks with his Indian counterpart Narendra Modi.
At a press conference, Johnson said Modi has been "very strong" in his reaction to what happened in Bucha in Ukraine and that everyone understands and respects New Delhi's decades-old historic relationship with Moscow.
The British prime minister was responding to a question on whether he asked Modi to use his influence over Moscow to put pressure on Russia to stop its aggression against Ukraine. Johnson also announced that the UK's embassy in the Ukrainian capital Kyiv will reopen next week and asserted that Britain and its allies will not watch passively to Russian President Vladimir Putin's "onslaught" in Ukraine.
He said it is clear that Modi has intervened several times in asking Russian President Vladimir Putin what on earth he thinks he's doing and where he thinks this is going. "I think you have to recognise that Indians and Narendra Modi, in particular, came out with very strong language on what's happened in Bucha. ..Talking to PM Modi, it is clear he has already intervened several times with Vladimir Putin," he said.
"What the Indians want is peace in Ukraine and they want Russians out and I totally agree with that," Johnson said, adding India and the UK have greater convergence on various challenges facing the world. At the same time, Johnson said India-Russia ties are historically well-known and they are not going to change it.
"The situation around the world is obliging the UK and India to do more together... The Russia-India ties are historically well-known and they are not going to change that," he said.
Johnson's two-day visit to India came amid growing disquiet in Western capitals over New Delhi's refusal to directly condemn the Russian aggression in Ukraine and its decision to procure discounted Russian oil. In his media statement, Modi called for dialogue and diplomacy to resolve the crisis in Ukraine.
"We stressed on dialogue and diplomacy for an immediate ceasefire and resolution of the problem in Ukraine. We also reiterated the importance of respect for the territorial integrity and sovereignty of all countries," he said.
Asked about concerns over human rights violations and the rise of Hindu nationalism in India, Johnson said India is a great democracy and it has constitutional protection for its people.
"On our relations with India and how we deal with questions around human rights and democratic values, of course, we have these conversations but the advantage of our friendship is that we can have them, and we can have them in a friendly and private way," he said.
"It's very important to realise that India has constitutional protections for communities, India is very very different from autocracies around the world. It is a great democracy... around 1.35 billion people live in a democracy and that's something we should celebrate," he said.
On the crisis in Ukraine, a joint statement issued after the Modi-Johnson talks said the two leaders expressed in the strongest terms their concern about the ongoing conflict and humanitarian situation in that country.
"They unequivocally condemned civilian deaths, and reiterated the need for an immediate cessation of hostilities and a peaceful resolution of the conflict, which was having severe implications across the globe, in particular for developing countries," it said.
"They emphasised that the contemporary global order has been built on the UN Charter, international law and respect for sovereignty and territorial integrity of states. They reaffirmed their willingness to provide humanitarian aid for the people of Ukraine," it added.
UK to reopen embassy in Kyiv next week: PM Johnson
The UK government will reopen the British Embassy in war-torn Ukraine's capital city of Kyiv by next week, British Prime Minister Boris Johnson confirmed during his India visit on Friday. The Embassy was forced to temporarily close down after Russia invaded Ukraine on February 24.
The extraordinary fortitude and success of [Ukraine] President Zelensky in resisting Russian forces in Kyiv means I can announce that very shortly, next week, we will reopen our embassy in Ukraine's capital city, Johnson told reporters addressing a press conference in New Delhi. I want to pay tribute to those British diplomats who remained in the region throughout this period, he said.
A contingent of British staff remained in western Ukraine to provide humanitarian and other support. The UK Foreign, Commonwealth and Development Office (FCDO) said the British Embassy premises are currently being made secure before staff return, starting with the UK ambassador Melinda Simmons.
The extraordinary fortitude and success of President Zelensky and the Ukrainian people in resisting Russian forces, means we will shortly be re-opening our British Embassy in Kyiv, UK Foreign Secretary Liz Truss said in a statement in London.
I want to pay tribute to the bravery and resilience of the Embassy team and their work throughout this period, she said. The FCDO said the travel advisory for the region continues to advise against all travel to Ukraine.
When its embassy closed in February, the FCDO had said that the mission was relocating temporarily and staff were operating from an embassy office in the western Ukrainian city of Lviv. The move follows Boris Johnson's surprise visit to Kyiv earlier this month and in the wake of several European countries, including Italy, Spain and France, and the European Union (EU) already reopening their missions in Kyiv. 
During his visit to Kyiv, Johnson met President Volodymyr Zelensky and pledged to give 100 million pounds worth of weapons to Ukraine. Modi, Johnson set Diwali deadline for India-UK FTA
London: Prime Minister Narendra Modi and his UK counterpart, Boris Johnson, set the negotiating teams on both sides a Diwali deadline for the conclusion of an India-UK free trade agreement (FTA) during bilateral discussions in New Delhi on Friday. Diwali this year falls on October 24 and this new goal has been pushed forward from the previous timeline of striking a deal by the end of this year.
Johnson, on the final day of his two-day visit to India, said the FTA could double India-UK trade by 2030 and drive down consumer prices. Today Prime Minister Modi and I told our negotiators to get it done by Diwali in October, said Johnson.
This could double our trade and investment by the end of the decade, driving down prices for consumers, and increasing wages across the UK by as much as 3 billion pounds, he said. On the eve of the visit, officials had confirmed that four out of 26 chapters within the FTA have been finalised during the first two rounds since the negotiations began in January and "significant progress" has been made in the remaining 22 chapters.
The third round of talks between the negotiating teams is set to begin in New Delhi next week. The visiting British Prime Minister, who was welcomed by Modi with a Guard of Honour at Rashtrapati Bhavan earlier on Friday, pointed out that Indian investment already supports almost half a million British jobs, and with India's population bigger than the US and the European Union (EU) combined, there is a lot of potential to take India-UK trade and investment to a whole new level.
Our new and expanded Defence and Security Partnership will enable India to strengthen its own domestic defence industry as well as protecting vital shared interests in the Indo-Pacific, said Johnson. India is an incredible rising power in Asia, with one of the fastest growing economies in the world already worth 2.25 trillion pounds and set to be the world's third largest economy by 2050.
India is also our biggest partner in the Indo-Pacific, which is increasingly the geopolitical centre of the world, with two-thirds of humanity, and a third of the global economy and that share is rising every year, he said. Meanwhile, a Downing Street readout described the Johnson-Modi talks at Hyderabad House in New Delhi as in-depth , during which Johnson thanked Modi for the opportunity to visit the great nation of India again.
The leaders agreed to a new partnership in defence and security, including working together on undersea capabilities in the Indo-Pacific, helicopters, the development of Indian-made fighter jets and other defence equipment, a Downing Street spokesperson said. They also discussed the ways in which the UK and India are working together to bring down the cost of clean energy and hugely increase our renewable capacity, particularly in green hydrogen and offshore wind, the spokesperson added.
Aditi Khanna