Ministry study shows lockdown helped, but questions remain
Official mum on number mismatch and why ICMR is not involved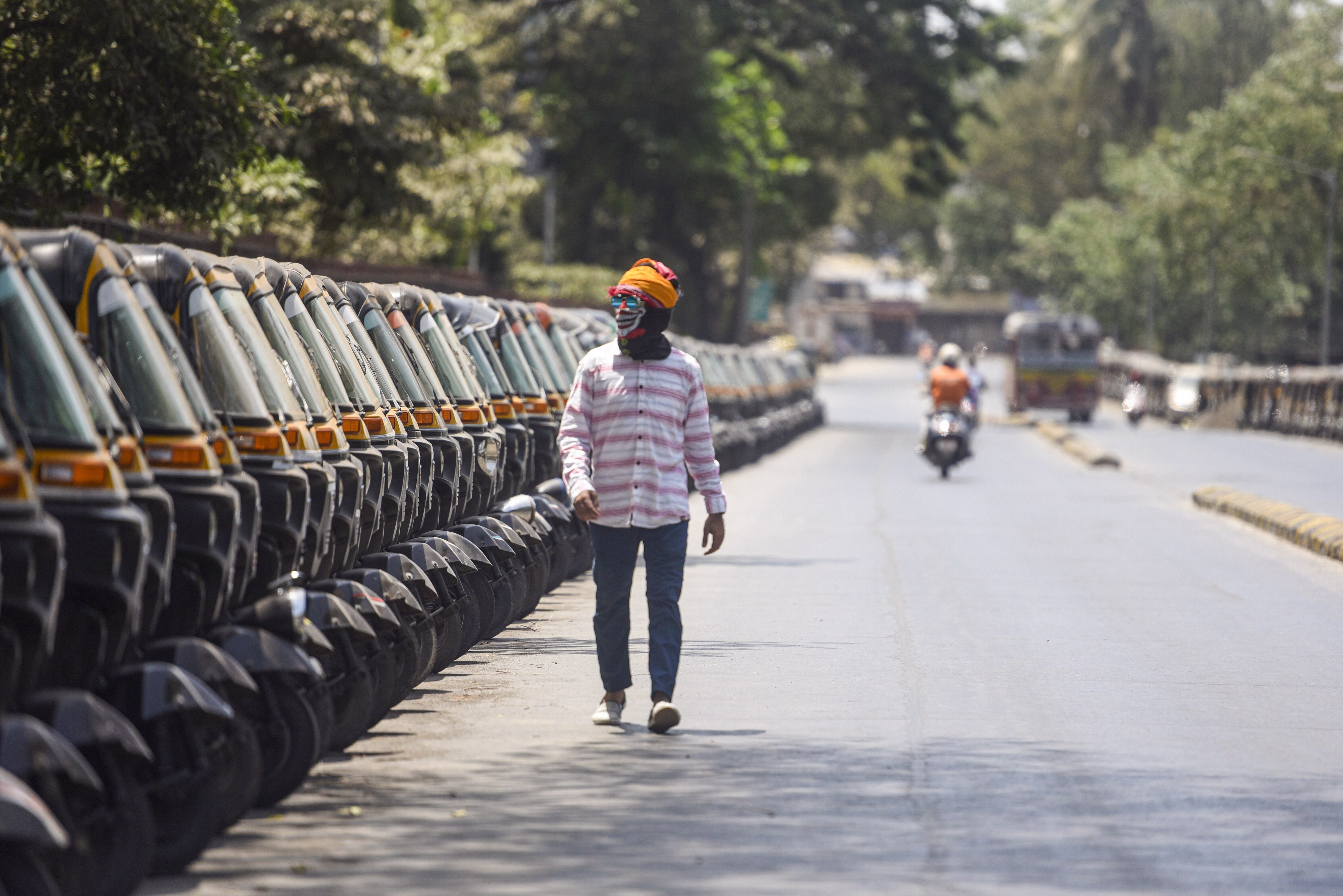 A pedestrian wearing a mask walks past parked auto rickshaws during the nationwide lockdown at Kandivali in Mumbai on Friday.
PTI
---
New Delhi
|
Published 11.04.20, 05:39 PM
|
---
A Union health ministry study, limited to only one slide, presented on Saturday to illustrate the benefits of the national lockdown and the government's containment strategy to stall the spread of the coronavirus ended up leaving several unanswered questions.
The intended conclusion, that India would have seen a massive surge in cases if there was no lockdown, was sought to be based on data provided by the ministry at its regular press briefing. But there were riders. One, that the numbers were an extrapolation and two, the study had not been conducted by Indian Council of Medical Research (ICMR).
The health ministry claimed that India would have seen 8.2 lakh cases by mid-April without any lockdown or containment measures in place. With only containment measures – and no lockdown – there would have been 1.2 lakh cases by April 15.
As of Saturday, the health ministry has recorded 7,447 confirmed Covid-19 cases.
"Yeh kewal ek statistical rate of growth-based analysis hai. Jisko main aap logon ko phir se highlight karna chahunga ki yeh koi ICMR ki study nahi hai. Yeh kewal statistical understanding hai (This is a mere statistical rate of growth-based analysis. I'd like to highlight again that this is not an ICMR study. This is only a statistical understanding)," said Lav Agarwal, a joint secretary in the ministry.
If India had not implemented either containment or nationwide #lockdown - case growth by 41%, 8.2 lakh #COVID2019 cases by Apr 15

Containment measures but no lockdown - 1.2 lakh cases by Apr 15

Since we have acted - 7,447 cases on Apr 11

- statistical analysis by @MoHFW_INDIA pic.twitter.com/SSbTM6Dg55

— PIB India 🇮🇳 #StayHome #StaySafe (@PIB_India) April 11, 2020
The analysis, he said, had considered a 41 per cent CGR (cumulative growth rate) to arrive at the 8.2 lakh figure and a 28.9 CGR to estimate 1.2 lakh cases.
"It's a twin strategy. On the one hand we promote social distancing and lockdown and on the other hand we work on containment measures. When we analysed both the measures from March 25, we saw a significant decrease in cases," said Agarwal.
Giridhar R. Babu, professor of epidemiology with the Public Health Foundation of India, said the government data lacked critical information on how the modelling was done and the assumptions made.
"In a disease dynamic model, you have to account for agent factors, host factors, the environment etc. Only then one can say it is modelled on these assumptions," said Babu, adding that he would be able to comment on the correctness of the conclusions with more information.
He said model assumptions should address how communities, diseases and interventions can be represented and combined to form simulation scenarios. "In the absence of data on either actual circumstances or counterfactual scenarios, it is difficult to interpret these numbers," Babu said.
Additionally, there was another discrepancy in the numbers shared by the ministry using one slide. The estimated increase in cases on the projections graph, in a scenario without a lockdown and containment measures, showed 2.08 lakh. But the text, and the ministry official's statement, mentioned a projection of 8.2 lakh cases by April 15.
A tweet by BJP IT cell in-charge Amit Malviya on Friday had also mentioned a projection of 8.2 lakh but attributed to the estimate to ICMR. The tweet was also reported by some news channels.
Corona infections would have crossed 8.20 lakh in India by 15 April if there was no lockdown here: ICMR Research.

The number of Corona positive patients is around 6,400 as on 10 April. #IndiaFightsCorona pic.twitter.com/GGjq4UE7UT

— Amit Malviya (@amitmalviya) April 10, 2020
All those buzzing on my mentions since yesterday, here is something that the government spokesperson put out today. Enjoy!

Without the lockdown, India would have hit 8.2 lakh cases by 15Apr, currently contained around 7,000 plus despite a 'helping hand' from the Tabhligi Jamaat. pic.twitter.com/Pb9dCudxKF

— Amit Malviya (@amitmalviya) April 11, 2020
Agarwal did not comment on the discrepancy. He did not clarify why a detailed report wasn't presented. Nor did he say why ICMR, the country's apex medical research organisation, wasn't involved in the study.
The ministry did not respond to repeated queries sent to its spokesperson.