Minister, hospital is not a 'zoo': Manmohan's daughter
Mansukh Mandaviya shares visuals from visit on social media, and news channels flashed a video and pictures of the 89-year-old leader lying in bed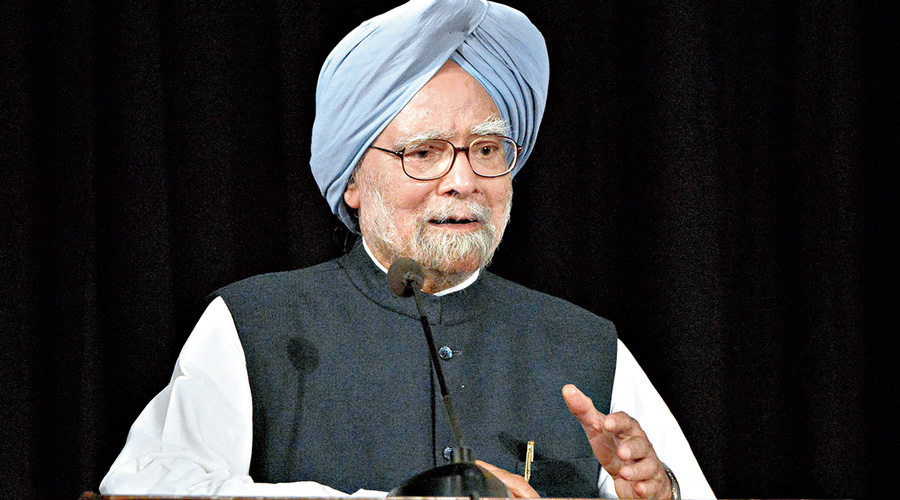 ---
New Delhi
|
Published 16.10.21, 02:57 AM
|
---
Manmohan Singh's daughter has had to say her parents are "not animals in a zoo" after a cameraman accompanying the Union health minister entered the AIIMS room where the former Prime Minister is admitted and photographed him, in a brazen invasion of privacy and a breach of medical ethics.
"My parents are trying to cope in a difficult situation. They are elderly people. Not animals in a zoo," Daman Singh said in a statement on Friday, after minister Mansukh Mandaviya shared visuals from the visit on social media, and news channels flashed a video and pictures of the 89-year-old leader lying in bed and his wife Gursharan Kaur standing near him.
Daman said her mother was deeply upset because the photographer was allowed in the room despite her firm objection.
"My father is being treated for dengue at AIIMS. His condition is stable, but his immunity is low. We have restricted visitors due to the risk of infection. It was nice of the health minister to visit and express his concern. However, my parents were in no state to be photographed at the time. My mother insisted that the photographer should leave the room but she was completely ignored. She was very upset," she said in the statement.
In one of the pictures, Mandaviya and AIIMS director Randeep Guleria can be seen beside Manmohan's bed.
Doctors who spoke on the condition of anonymity said ethics and propriety, which are taught in undergraduate medical education, require doctors and hospitals to protect the confidentiality and privacy of patients.
"If the image was released without the family's consent, it is a breach of ethics," a member of the Forum for Medical Ethics Society (FMES) told The Telegraph.
A young doctor who is set to join a postgraduate medical programme said: "Taking a photographer into a patient's room against the will of the family is not acceptable. We learned about this during our second year of the MBBS programme."
Public outrage erupted after the minister posted the images on Twitter, forcing Mandaviya to delete them. Many pointed out that videographing even a hospital visit was in keeping with the current regime's obsession with the media spotlight.
It was however not clear how doctors and the AIIMS management allowed the photographer in. What makes this even more shocking is that AIIMS director Guleria himself was present.
That Manmohan's family, who rarely appeared in public even when he was Prime Minister, took the step of issuing a statement shows how upset they are with this insensitive invasion of their privacy.
The health minister had called on Manmohan, who is receiving treatment at AIIMS since October 13 for dengue a few months after recovering from Covid, on Thursday to enquire about his condition. The entire visit was video-recorded and photographed, from the moment Mandaviya got off his car to his stay inside the hospital room.
"It is understandable that a minister would wish to visit the former Prime Minister, but what is achieved by posing for a photograph with the patient?" the FMES member said. The minister's visit by itself was not surprising as it was in line with a tradition whenever eminent persons are admitted. The health minister is the president of AIIMS, which is a central government institution.
A query sent by this newspaper to the health ministry asking whether the photographer who had accompanied the minister into Manmohan's room was a government, private or media photographer has not evoked a response.
Congress leader Rahul Gandhi had also visited AIIMS on Thursday. Photographs of Rahul talking to the doctors and Gursharan had also made it to social media, not shared by the Congress leader, but they had not been taken inside Manmohan's cabin.
Additional reporting by G.S. Mudur