Million dreams on tracks
Commuters happy with new railway link to north Bihar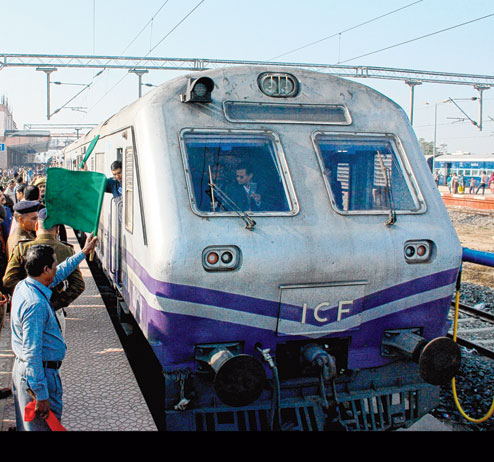 ---
|
Patna
|
Published 04.02.16, 12:00 AM
---
Patna, Feb. 3: The 75216 Patliputra-Barauni DEMU started a passenger train's maiden journey on the Digha-Sonepur rail-cum-road bridge today by carrying around 1,000 passengers across the Ganga.
The 4.5km bridge is expected to take a huge commuter load off the congested Mahatma Gandhi Setu. The only railway bridge in the district till yesterday was Rajendra Pul near Maranchi, about 112km east of Patna, inaugurated in 1959.
For obvious reasons, the train, which departed from Patliputra Junction at 8.55am, brought smiles to passengers travelling to places north of the Ganga everyday.
Anil Kumar, a passenger travelling on the eight-coach mauve and grey DEMU (diesel-electric multiple unit), said: "I am working at Hajipur sadar hospital and live in Patna. Everyday, I used to travel Hajipur while crossing the Gandhi Setu, which is like nightmare. I used to start my journey at 6am to reach the hospital on time but within half an hour I will reach Hajipur today." The scheduled arrival of the train in Hajipur Junction is 9.25am.
Prabhunath Singh (63), a resident of Shri Krishna Nagar of Patna and a retired government employee, echoed Anil: "I am very happy to feel this moment as I was waiting for this day for long. Travelling on the Gandhi Setu was a nightmare. I used to get stuck on the bridge for even five hours."
The inaugural run of the train also witnessed a political divide with no one from the state government was present while a volley of BJP leaders, including Sushil Kumar Modi, Nand Kishore Yadav, Mangal Pandey and Prem Kumar, travelled by the train.
On January 15, commissioner of railway safety P.K. Acharya had given his nod that the bridge was ready to run passenger trains.
However, the train's 108km trip - between Patliputra Junction and Barauni Junction - was not smooth, as some villagers stopped it just before Sonepur station. They were demanding change of name of Pahlejaghat railway station, located on the northern side of the bridge, to Bharpura. They claimed that residents of Bharpura provided land for this project and the station should be named after the village. The villagers stopped the train for nearly three hours and they allowed after getting assurance from senior railway officials that soon the name would be changed.
Interestingly, on February 3, 2002, the then Prime Minister Atal Bihari Vajpayee had inaugurated work of this project during a function at Gandhi Maidan. Exactly after 14 years, the first train crossed the bridge. "The dream of Atal ji has finally turned true and it is a historic moment for everyone. In 10 years of the UPA regime, the work progress was very slow and Lalu Prasadji could not do anything much. It was the NDA government under the leadership of Narendra Modi ji, the work could be completed after the Centre provided the required funds," said Sushil Modi.