Why our attention must be diverted
1000km journey, often by foot, sheds light on fiasco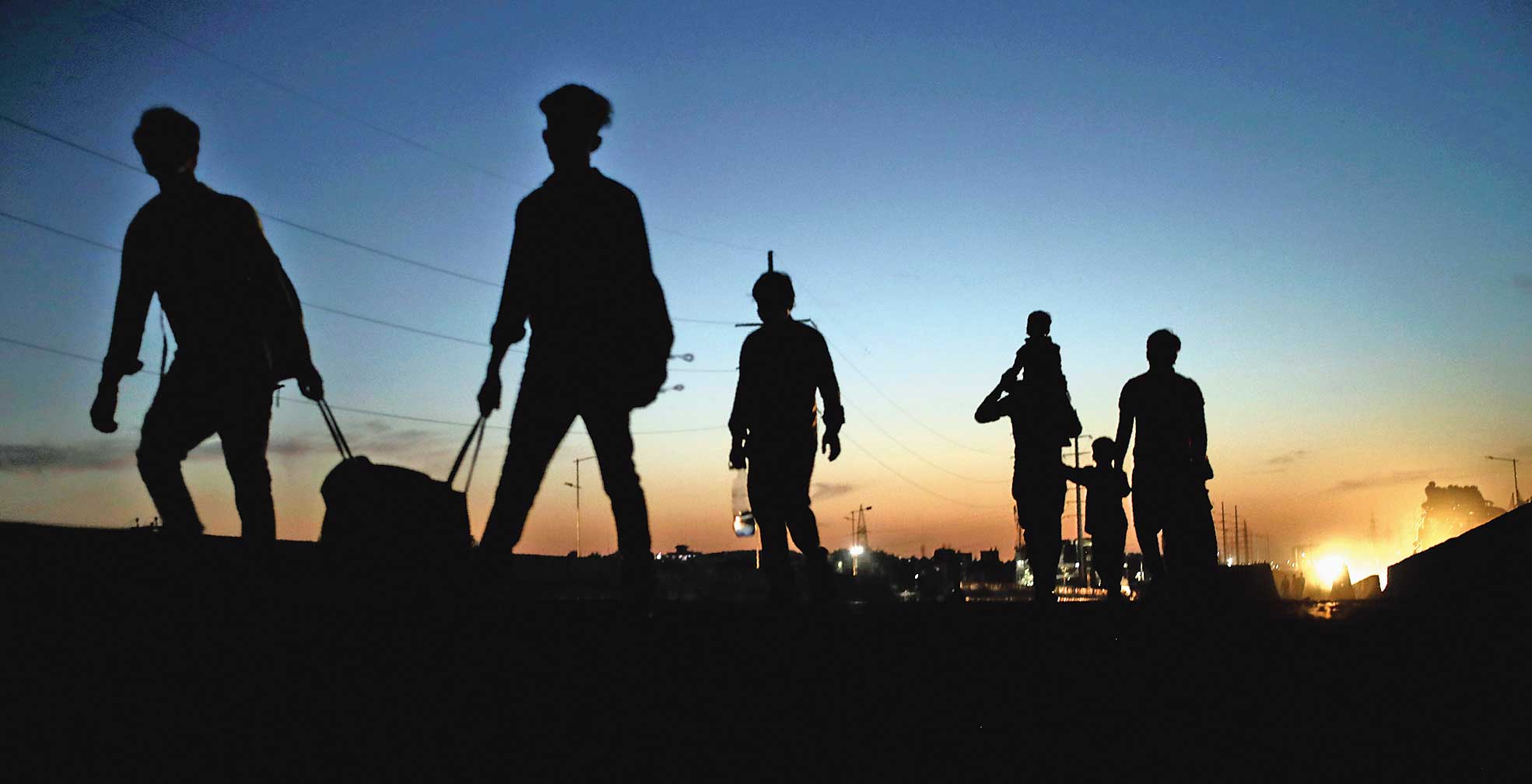 Migrant labourers and their family members are silhouetted as they leave New Delhi on March 28.
(AP)
---
Patna
|
Published 01.04.20, 09:28 PM
|
---
The unswerving focus on the religious event in Nizamuddin in New Delhi has swept under the carpet the unpleasantness surrounding the migrant exodus fiasco in the middle of the coronavirus outbreak.
Homeward-bound by foot or any means available, thousands had poured out onto the highways, sinking the social distancing the nationwide lockdown was supposed to achieve.
On Wednesday, two migrant labourers who had reached their home state Bihar two days earlier after a week's journey from their workplace in Delhi — covering most of the 1,000-and-odd kilometres on foot — spoke to The Telegraph about why they had left the capital and how they had survived the punishing trip under inhuman conditions.
They are among the 1.81 lakh migrants — according to official figures — who had returned to Bihar amid the coronavirus lockdown till Tuesday and have been quarantined in government schools or colleges in or near their villages for 14 days. Sources said an equal number may have dodged the checkpoints along the state borders and gone straight to their homes.
The accounts of Virendra Manjhi and Praveen Kumar are heart-rending, if not gut-wrenching, by any yardstick.
Their versions also underscore the limitations of assurances and administrative orders from the mighty State — and some of the most powerful as well as popular leaders in the country — in calming the panic of a populace haunted by fear of the unknown.
Their accounts lend weight to recommendations by several economists and Opposition leaders that nothing can replace the reassuring power of the direct transfer of benefits. Instead of taking such steps, precious time was spent by the Prime Minister on preparing the people to clang plates and clap hands.
The journey of Virendra and Praveen and what it teaches us:
⦿ Why did they leave Delhi?
Speaking over the phone, Virendra's voice quivered as he narrated the blow that suddenly struck him and the four fellow labourers from Bihar with whom he shared a rented room in eastern Delhi near their workplace, a bag-stitching unit in Shahdara.
"We had heard about the curfew in Delhi but all of us were quietly working all the time. But our seth (employer), Raju, met us on March 23 night and said the factory would close from the next day," the resident of Kamalpur village in Patna said.
"We were dumbstruck and asked him, 'Till when?' He had no answer. He gave us Rs 500 each and suggested we head to our villages as the entire country was closing down."
Virendra and his roommates worked 12-hour shifts for daily wages of Rs 500 and had saved some money since returning from Bihar in November after attending Chhath Puja in their villages.
"We decided to stay on for a few days and watch the situation. But the next morning was horrendous: our landlord asked us to leave immediately and, despite our pleas, cut the power. We had become homeless overnight," Virendra said.
The lesson: On March 19, four days before Delhi announced a curfew, Prime Minister Narendra Modi had addressed the nation and announced the Janata Curfew three days later.
The cacophony over clanging plates and clapping hands had drowned an important appeal from Modi: "Look after the economic interests of all the people who provide services…. Do treat them with empathy and humanity and not deduct their salaries."
On March 8, 23 and 29, Delhi chief minister Arvind Kejriwal, too, had made fervent appeals to landlords not to evict tenants even if they were unable to pay the rent. "My government will compensate for it," Kejriwal had said on March 29, threatening action against violators. By then, Virendra and his roommates had become homeless.
One instance does not prove a point. But the assurance of a steady cash flow to the tenants till the crisis ended would perhaps have prevented the landlord from throwing them out.
The Centre eventually announced a welfare package, termed grossly inadequate by several economists and the Opposition, on March 26 — a week after the Prime Minster's Janata Curfew address.
⦿ What did they do?
Virendra and his roommates — Praveen, Sandeep Kumar, Vinod Kumar and Sanjay Kumar — decided to return to their villages and set off for the railway station.
But the thousands of workers from Bihar they saw milling on the streets told them no trains were available and that they were waiting to catch buses.
Virendra and his four companions walked to the inter-state bus terminal to see whether any buses were travelling to Uttar Pradesh or Bihar. None were.
"There was chaos everywhere, and none to tell us anything or comfort us," Praveen said.
"Aisa laga ki koi daitya peechha kar raha hai aur sab bhag rahe hain (It seemed as though a demon was chasing us and everybody was fleeing). Many, especially women and children, were crying. We too panicked and moved with the crowd towards the Uttar Pradesh border."
Praveen added: "We knew that Patna was around 1,000km away and braced ourselves for the journey. We would have stayed on if we had the option, but the entire city seemed silent like a cremation ground, with only Biharis moving on foot."
The lesson: It's hard to conceive that a "government on a war footing" was missing in action when thousands were walking across the capital. The image that is increasingly crystallising is that of a government that was caught off guard, unable to marshal the resources to reassure the panicked migrants or the will to calm their nerves.
⦿ How did they travel, what did they eat?
The five travellers were carrying their belongings in bags and sacks, which made walking strenuous. The only food they carried was some sattu (roasted gram flour), along with soft-drink bottles filled with drinking water.
"We reached GT Road (National Highway 2) by following others, but the weight of our belongings — like blankets and jackets — was proving too much. So we bartered them with other workers for some money and rice," Praveen said.
"Then we just walked and rested and walked again. The people in the villages along the highway were good to us. They would let us refill our bottles with water and ask us to rest for a day or two. But we were consumed by one aim: to return home."
When the sattu ran out, the group tried to soak rice in water and chew it, but it did not work. They then traded the rice for some bhuja (roasted grains), salt and green chillies at a village shop.
Sometimes they were able to buy short rides on motor-fitted thelas (carts), e-rickshaws and auto-rickshaws — goods carriers plying on the roads.
"We kept looking out for the road signs and counting the kilometres left to go," Virendra said.
They would sometimes see buses packed with passengers travelling in the same direction as them, but these were few and would not stop.
"Our mobile phones went dead in two days. After that we just remembered the faces of our wives and children and kept going, as we could not hear their voice," Virendra said.
"We entered Rohtas district in Bihar on March 30 and had to spend some time at a government camp, where doctors examined us for fever. We were fine, though."
He added: "However, we saw several men and women limping, their feet bruised and cut from the constant walking. We prayed they would all reach home safely, and realised we had been lucky."
Virendra said the group were served with rice and dal at the camp, "which tasted good after a week's deprivation".
"Government officials packed us into buses and sent us on our way to Patna, from where we were dispatched to this middle school in our panchayat for quarantine," he said.
"We are yet to reach home, but our family members have come and met us."
The lesson: Such a journey in the 21st century. Need any more reasons why the government wants attention to stay focused elsewhere?