Throw under bus, Yogi-style
FIR following bus dispute; visuals of state Congress president being bundled into police vehicle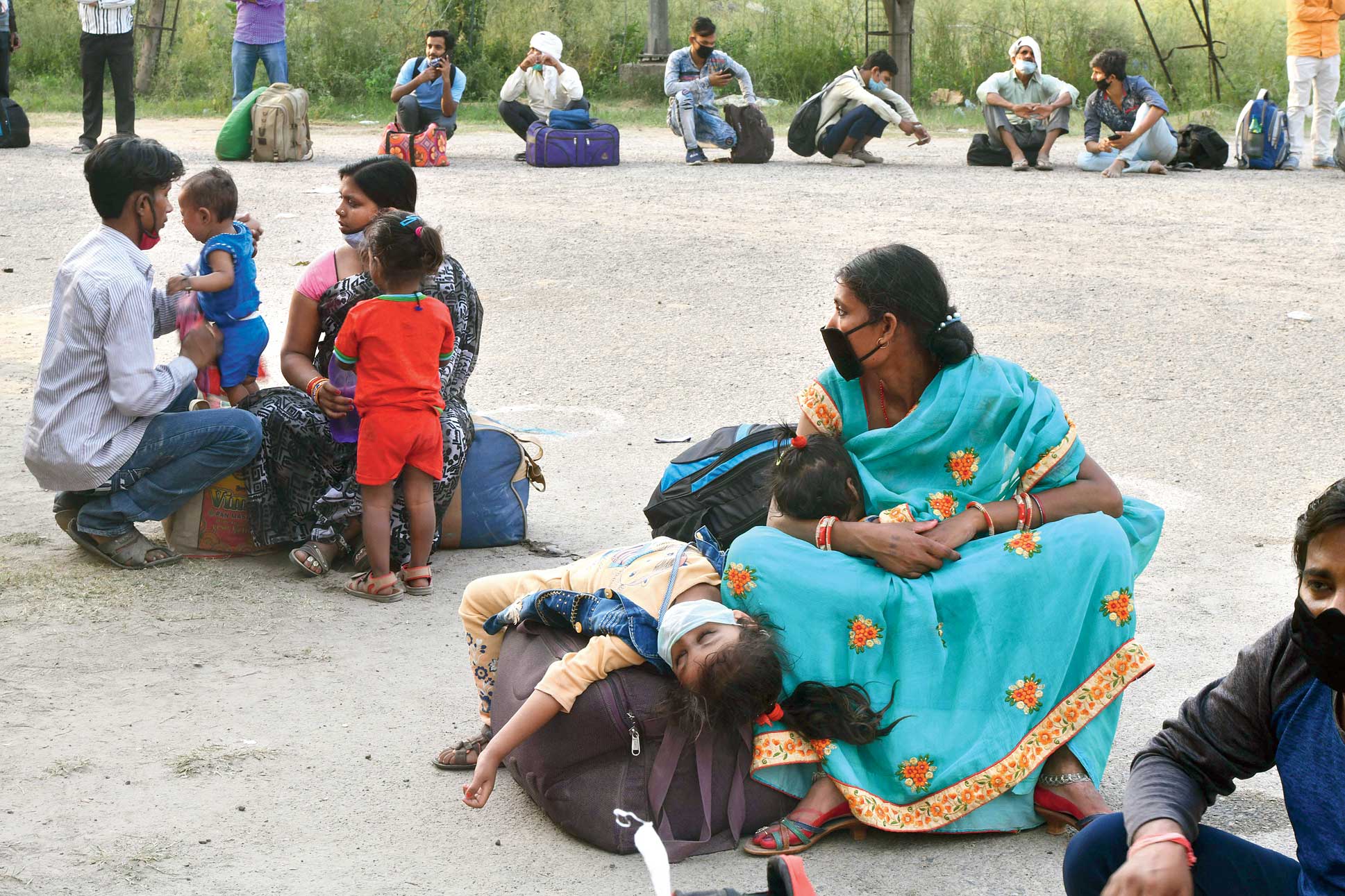 ---
|
Lucknow
|
Published 19.05.20, 09:29 PM
---
On a day horrific visuals of dead and injured migrant workers dumped together in an open truck and sent homeward from Auraiya in Uttar Pradesh — where 26 died in a truck crash on Saturday — were widely circulated, the Yogi Adityanath government blocked hundreds of buses lined up by the Congress to ferry stranded labourers.
On Monday at 4pm, the state's BJP government had accepted Priyanka Gandhi Vadra's May 16 request for permission to run 1,000 buses for migrant workers. It sought the registration numbers and fitness certificates of the buses and details of the drivers. The Congress sent a list and said the buses would be run on Tuesday. The planned pick-up points were Agra, Mathura, Noida and Ghaziabad.
Buses arrived at Uttar Pradesh's borders on Tuesday but were not allowed to enter.
After going back and forth for hours over the pick-up points, the government said that 100 vehicles on the Congress's list of 1,000-plus were not buses but ambulances, three-wheelers and trucks, and that the fitness certificates or insurance of 279 buses had lapsed. There was no explanation on why the remaining buses were not allowed to run.
Late in the evening, an FIR was filed against state Congress president Ajay Kumar Lallu and Priyanka's private secretary Sandeep Singh, accusing them of cheating and forgery. At night, visuals emerged of four policemen carrying Lallu by his arms and legs before bundling him into a police vehicle.
According to state government sources, over 20 lakh migrants are stranded across Uttar Pradesh.
Seventy thousand people are stuck in Ghaziabad, 50,000 in Noida, 20,000 each in Baghpat, Rampur and Mahoba, and 10,000 each in Saharanpur, Agra, Mathura and Chitrakoot, after being stopped on their way since May 16, when the death of 26 migrant workers in the Auraiya truck crash forced the spotlight on the government's apathy towards the plight of millions of poor.
Priyanka had sought permission the same day to run the buses.
At 11.40pm on Monday, Priyanka's private secretary Singh received an email from Uttar Pradesh additional chief secretary, home, Avanish Awasthi, ordering that the buses reach Lucknow by 10am on Tuesday.
Singh replied at 2.10am on Tuesday, saying: "You are a senior administrative officer. You are experienced and aware of the dangerous magnitude of the corona pandemic. The migrant labourers are in deep trouble and stranded on UP borders, particularly Delhi-UP borders in Ghaziabad and Noida. They are in lakhs.
"When thousands of labourers are going on foot and thousands of them have gathered on the borders of the state to register themselves (to be sent by the government to their homes), sending 1,000 empty buses to Lucknow wouldn't only be a waste of time and resources but also an extreme level of inhumanity, showing an anti-poor mindset. I am sorry to say that this decision of the government is politically motivated. It doesn't appear that your government wants to help the labourer brothers and sisters."
The four planned pick-up points — with a heavy concentration of stranded migrants who have homes in east Uttar Pradesh, Bihar, Jharkhand and Bengal — are between 350km and 500km from Lucknow. Singh, on behalf of Priyanka, urged Awasthi to appoint nodal officers in Ghaziabad and Noida for smooth operation of the buses.
Because of the shortage of trains and buses, the local administrations have not been able to send back more than 4,000 migrants a day from each district, several district magistrates said on condition of anonymity.
Awasthi responded to Singh around 11am on Tuesday, asking for 500 buses each to be handed over to the district magistrates in Ghaziabad and Noida. The Congress promised to do the same by 5pm.
At 12.58pm, All India Congress Committee national secretary Rohit Chaudhary shared a video with the media on WhatsApp from the Agra-Rajasthan border showing a large number of private buses that appeared to be in good shape parked there.
"I am standing at the Agra border with 500 buses. The local administration says they don't have any information from Lucknow to allow us entry into UP," Chaudhary said in the video clip.
At 3.45pm, Singh wrote to Awasthi saying buses at the Delhi-Uttar Pradesh and Rajasthan-Uttar Pradesh borders were not being allowed by the local administration to enter the state.
"You had requested us in your letter at 11.05am today to send our buses to the Noida, Ghaziabad borders. We are standing with the buses at the UP border in Uncha Nagla (Rajasthan) but the Agra administration is not allowing us entry into the state," Singh wrote.
At 3.50pm, Awasthi held a media conference where he said: "We have enough buses and trains to transport the migrants and we are doing our job effectively."
It was not clear whether he had seen Singh's email. The Telegraph tried to contact Awasthi over phone but the line was either busy or it kept ringing.
Uttar Pradesh deputy chief minister Dinesh Sharma said his government had noticed anomalies during the checks.
"The Congress has sent the details but we discovered that many of them were three-wheelers and not buses. Many of their buses are unfit to run on the roads," the BJP leader told reporters in the afternoon.
The Congress said it was possible some clerical errors had crept into the list but said the buses were there for everyone to see. But it disputed a tweet by a BJP leader listing alleged three-wheelers, giving the registration details that showed these as buses.
Late in the evening, Priyanka tweeted: "UP government has stated that out of 1,049 buses (the list of which was sent to the government), 879 buses were found fit…. Please let these 879 buses move."
She also posted a video showing Congress state chief Ajay Kumar Lallu and others arguing with Agra police for permission for the buses to enter.
Priyanka tweeted: "The UP government has crossed all limits. When an opportunity came to rise above politics to help the poor, they raised countless obstacles. Yogi Adityanath ji, use BJP posters and banners on these buses but don't crush our commitment to serve the people. Three days have been wasted in politicking and the workers are walking and dying on the way."
According to police sources, over 300 migrants have died in road accidents in Uttar Pradesh during the lockdown.
Visuals of bodies of the migrant workers killed in Auraiya, wrapped in black plastic and placed on ice slabs, being carried in an open truck with the injured crouching on the other side had prompted Jharkhand chief minister Hemant Soren to object and ask the Uttar Pradesh and Bihar governments to ensure "suitable transportation" till his state's borders. Many of the victims in Auraiya are from Jharkhand. The bodies were later transferred to an ambulance.