Mid-day meal video returns to bite Uttar Pradesh journalist Pawan Jaiswal
Don't write the truth unless the government speaks it, says Hindi daily's editor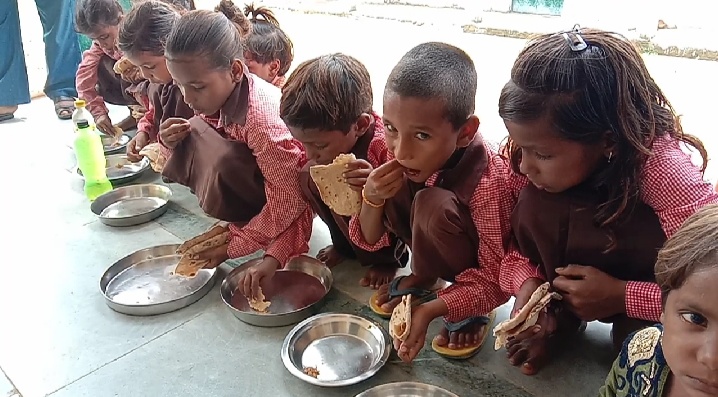 A shot shared by Pawan Jaiswal of the primary school video.
Credit: Pawan Kumar Jaiswal
---
New Delhi
|
Published 03.09.19, 02:17 AM
|
---
A journalist in eastern Uttar Pradesh has been booked for criminal conspiracy after he made and circulated a video that showed a primary school in the state serving rotis and salt as mid-day meals to children.
Reporter Pawan Kumar Jaiswal of Jansandesh Times, who hails from Mirzapur, had made the video. His editor  Vijay Vineet, who visited the school near Mirzapur later, said: "If you write the truth in UP, the police and the administration who have come down to the level of gunda-like behaviour will get you. Aap sachh mat likhiye. Jab sarkar ya koi bhakt kahega yeh sachh hai, tab aap likhiye woh sachh (don't write about the truth. When the government or a bhakt says this is the truth, then you can write about that)."
In Mirzapur, after initially taking action based on the video, the state administration turned against Jaiswal, alleging that the video was made to defame the government.
On August 22, Jaiswal, went to a government primary school in Siur, about 22 km from Mirzapur, on a tip-off that students were being served rotis and rice with salt as the mid-day meals for the past few months. The meals vary from place to place, but the state is expected to serve primary schoolchildren food that is nutritious. 

Jaswal said he left for the school to check for himself after informing the assistant basic shiksha adhikari about the problem he had heard about.
"When I reached the school, children were sitting on the floor with chapattis and salt being served. Becharon ko roti se namak khate dekh aatma pighal gaya apna (watching those poor kids eating roti with salt melted my heart)," Jaiswal said.
Jaiswal, a print media journalist, decided to make videos to share it with Varanasi-based broadcast journalists so that the administration would take action. 
The 36-year-old said that for a week several rounds of inquiry happened. District magistrate Anurag Patel visited the school on August 23 and some heads rolled. "Humko karwaih chahiye tha. Sab ko videos bheja yeh dikhane ke liye ki bachchon ka bhojan kahan ja rahe hai (I wanted action. I circulated the videos to ask where was the mid-day meal money going)," Jaiswal said.
Patel, who spoke to the media outside the school, confirmed Jaiswal's finding. Rice and rotis were indeed served with salt on different days. 
But on August 31, an FIR was registered against Jaiswal and his source in the village, Rajkumar Pal. They were charged under IPC Sections 120B (criminal conspiracy), 186 (obstructing a public servant in discharge of public functions), 193 (false evidence), and 420 (cheating).
The day after Patel's visit, Jansandesh Times editor Vijay Vineet went to the school to find out more. He alleged multiple violations in the meal scheme's implementation. According to Vineet, there was a delay in serving the meal, food was substandard and not enough for the children.

According to state government guidelines, Rs.4.48 is allocated for each primary student for each day. According to the weekly meal chart, on Thursdays - the day Jaiswal shot the video - rotis and daal, or daal or a vegetable with soyabean with rice were the options listed for the meal.
Vineet said now that the government was giving certificates of nationalism, "if you write the truth then you are an anti-national'. 
He, however, made it clear that he supports 'Modiji' who doesn't want these things to happen.

"I went for a small story. Never imagined it will escalate to this level. They have even filed a case against me, I can't even step back now," Jaiswal said.

The National Human Rights Commission has asked the district administration for a report in four weeks on the school meal.