MeToo meets Editor Akbar who wields legal quill
Akbar referred to the most serious instances listed by Ghazala Wahab and said it could not have happened in the tiny office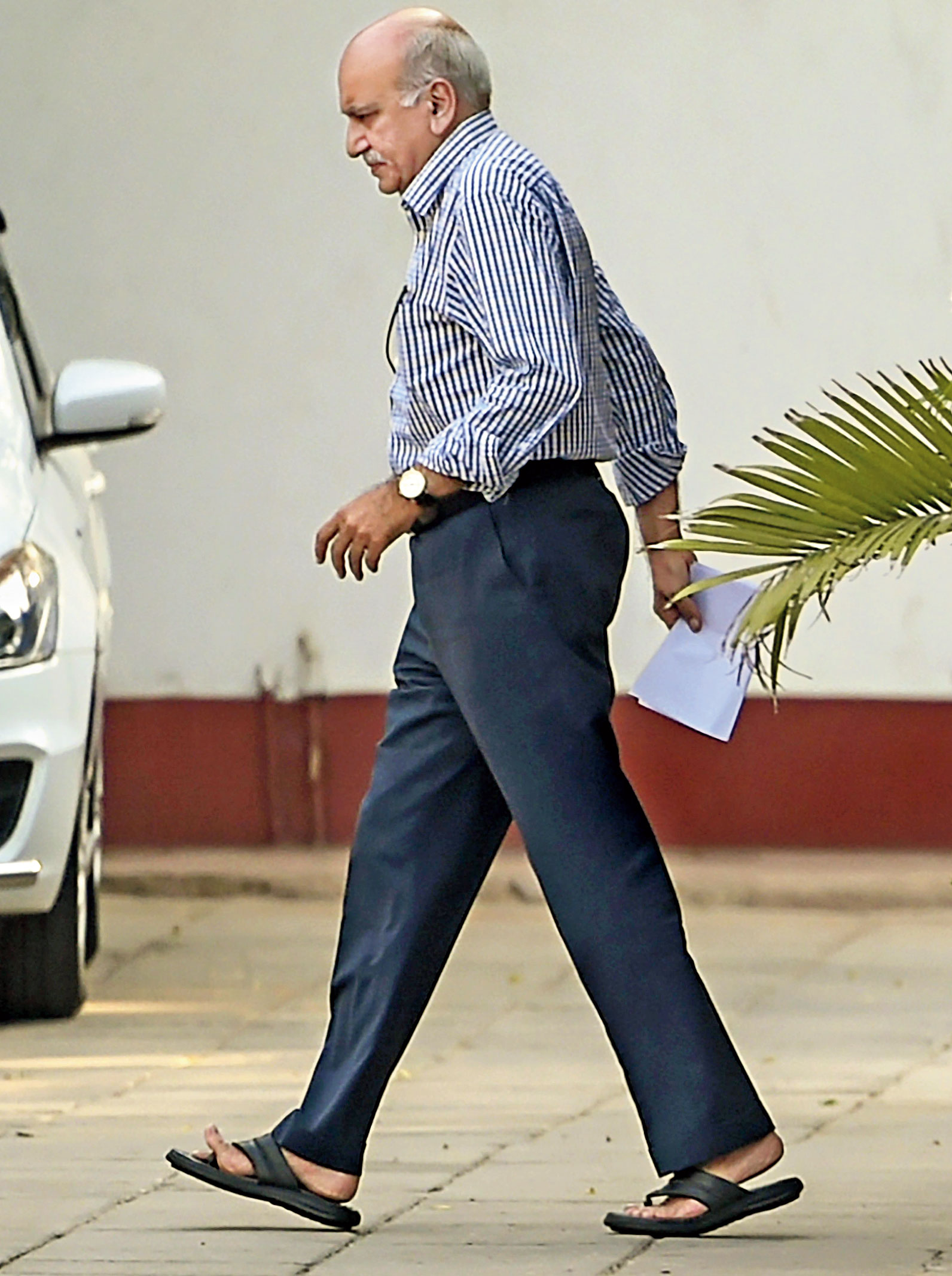 ---
---
Union minister M.J. Akbar has described sexual harassment allegations against him as "false and fabricated", spoken of "appropriate legal action" and declared "there is no story".
The rebuttal, which bore the signature of a journalist that Akbar was and disclosed information that he cannot swim and his editor's cubicle was tiny, suggests that the junior foreign minister wants to run the "viral fever" of allegations through a legal sieve.
The former editor virtually flew in from abroad to "news" on a TV channel that he had resigned in the wake of the MeToo movement. But the claim, which appears to have prompted at least one of his accusers to declare victory on Twitter, turned out to be false.
In the afternoon, Akbar issued the statement that gave no indication that he would resign on his own. "The allegations of misconduct made against me are false and fabricated, spiced up by innuendo and malice. I could not reply earlier as I was on an official tour abroad," he said in the 550-plus word statement.
"Legal action" was a theme that recurred. "Accusation without evidence has become a viral fever among some sections. Whatever be the case, now that I have returned, my lawyers will look into these wild and baseless allegations in order to decide our future course of legal action," he said.
The statement then cited charges levelled by five former women colleagues of Akbar and concluded: "Lies do not have legs, but they do contain poison, which can be whipped into a frenzy. This is deeply distressing. As indicated above, I will be taking appropriate legal action."
Akbar brought in a political element. "Why has this storm risen a few months before a general election? Is there an agenda? You be the judge."
For the MeToo movement, Akbar's reply signals a shift. While his statement may infuriate those who sought his resignation, his response seeks to change the nature of the discourse that has so far been driven in India by a raft of accounts — some of them traumatic — by women journalists and film industry figures.
Until now, some media organisations have persuaded some of the accused to resign or step aside from leadership roles on the basis of complaints to internal committees.
If Akbar presses ahead with legal action and the government stands by him — so far, there is little indication that suggests otherwise — the MeToo accusers will need to file formal complaints against him and leave it to the professional skills of investigators, prosecutors or adjudicators to find testimonies or evidence that can substantiate the allegations.
"He has given his version. Let the complainants respond to it and lodge a case. If the charges are proved then we will definitely take action," a BJP leader said.
Women and child development minister Maneka Gandhi has already announced a plan to form a committee of retired judges to suggest ways to address MeToo complaints and the issues they throw up, especially since many are decades old.
Insiders said the government and the BJP do not want to force Akbar to step aside on moral grounds despite a huge discomfort in sections of the party and particularly the RSS. The BJP fears that if Akbar is made to resign, similar charges could surface against other ministers and put the party and the government on the defensive in the election season.
The Congress reacted cautiously, suggesting it did not favour a hasty conclusion without listening to what Prime Minister Narendra Modi had to say.
"We don't want to hear from anyone, it is the head of the government who should make his decision known, who should make his views known," Congress spokesperson Anand Sharma said.
Prashant Kishor, a new entrant to the BJP ally Janata Dal United, said Akbar should be asked to go if he did not resign on his own but added he had not discussed the issue with his party boss Nitish Kumar.
In his statement, Akbar insisted that "I didn't do anything" and "I had done nothing". "If I didn't do anything, where and what is the story? There is no story," he wrote, quoting the allegations levelled by journalists Priya Ramani, Shutapa Paul and Shuma Raha.
The statement pointed out that Ramani had not named him when she wrote an account in a magazine a year ago. "Never named him because he didn't 'do' anything," Akbar quoted from a tweet by Ramani.
He rubbished another charge by Anju Bharti, saying he didn't know how to swim. "One woman, Anju Bharti, went to the absurd extent of claiming I was partying in a swimming pool. I do not know how to swim," he said.
Akbar referred to the most serious instances listed by Ghazala Wahab and said it could not have happened in the tiny office.
"The only office where I worked with her was that of The Asian Age. A part of the editorial team then worked out of a small hall. At the time concerned, I had a very tiny cubicle, patched together by plywood and glass. Others had tables and chairs two feet away. It is utterly bizarre to believe that anything could have happened in that tiny space, and, moreover, that no one else in the vicinity would come to know, in the midst of a working day," he wrote. "These allegations are false, motivated and baseless," he added.
Akbar highlighted how Ramani and Wahab kept working with him even after the alleged incidents.
"It is pertinent to remember that both Ms Ramani and Ms Wahab kept working with me even after these alleged incidents; this clearly establishes that they had no apprehension and discomfort…. This is the reason why no one went to the authorities for so long, because I had done nothing," Akbar said.