Pegasus: Meenakshi Lekhi calls global investigative report 'fake'
The junior external affairs minister claimed that Amnesty International had 'denied the list' of targets, an assertion the rights watchdog categorically dismissed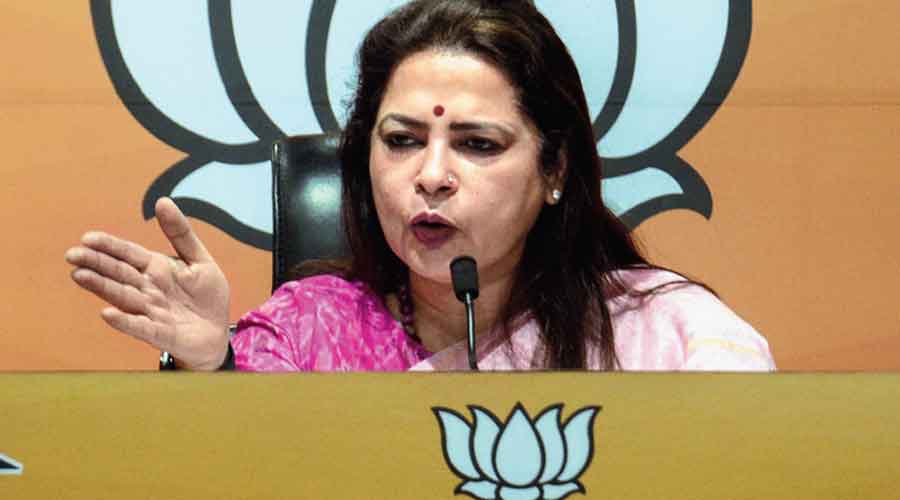 Meenakshi Lekhi in New Delhi.
PTI photo
---
New Delhi
|
Published 23.07.21, 01:48 AM
|
---
Newly appointed junior external affairs minister Meenakshi Lekhi on Thursday called the global investigative report on snooping through the Pegasus software "fake" and claimed that Amnesty International had "denied the list" of targets, an assertion the rights watchdog categorically dismissed.
Amnesty, which had obtained the list of more than 50,000 cellphone numbers along with the Paris-based journalism nonprofit Forbidden Stories and shared it with 16 news organisations, said in a statement that "false rumours" were being pushed on social media to distract from the unlawful snooping of journalists, activists, politicians and others.
"Amnesty International categorically stands by the findings of the Pegasus Project, and the data is irrefutably linked to potential targets of (the Israeli) NSO Group's Pegasus spyware," the organisation said.
"The false rumours being pushed on social media are intended to distract from the widespread unlawful targeting of journalists and others that the Pegasus Project has revealed," the statement added.
Earlier, addressing her first media conference at the BJP headquarters after becoming a minister, Lekhi had said: "The fact is that this story, which is floating around about Pegasus is a fake story. The fact is also that Amnesty has denied the list, which is circulating."
"The list that is being circulated is not an actual list and it's only indicative of something," she added.
On whether the government had purchased the Israeli spyware Pegasus, Lekhi said such things were "classified documents" and they couldn't be revealed.
"We have to deal with terrorists and Leftists. Will I tell you which software I'm using? This is a classified document," she replied.
Although she didn't state the basis of her claim regarding Amnesty's "denial" of the list, it appeared she had fallen for the rumours on social media to authoritatively claim that a fake story was being pushed to malign India.
"From yellow pages to yellow journalism is what we have seen in this story. Some list is crafted, created and circulated and the story goes around the fake list," Lekhi said, claiming that the names had been picked from some publicly available telephone directory.
Lekhi, who also holds the culture portfolio, slammed the Opposition for protesting against the snooping charges. She said the spyware had been used in 10 countries and asked whether the Opposition in those nations had behaved the way the government's rivals were in India. She alleged a conspiracy behind this.
"If 10 countries used the spyware... I don't know what spyware is used but if the spyware is used by those 10 countries, have the other countries' Opposition behaved the way our Opposition has?" she asked.
"This is not a story but a non-starter across the globe because it's based on a concocted and fabricated list," she said. The minister said the story called for "forgery and defamation".
Asked why the government didn't order a probe to expose the fake list, Lekhi said: "Why should the government waste its resources and energy?"