Medical Association letter to channel on Anjana Om Kashyap's ICU entry
IMA has sought Anjana's unconditional apology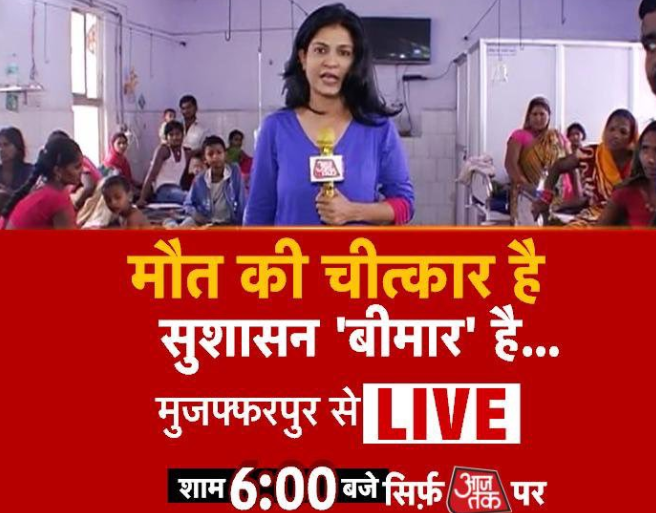 Anjana Om Kashyap in her Aaj Tak show promo on the AES deaths in Bihar
Photo source: @anjanaomkashyap on Twitter
---
New Delhi
|
Published 26.06.19, 06:02 PM
|
---
Dear Anjana Om Kashyap, Please stop shouting at Doctors treating children suffering from Acute Encephalitis Syndrome. You are just disturbing the treatment process. The Doctors, on whom you are shouting are much capable and you do not match with them at all. Stop Cheap Publicity.

— hemant kumar singh (@hemantkumar111) June 19, 2019
This is journalism of courage by @aajtak. Heckling the nurses and doctors and creating nuisance inside a hospital award. If they show even one hundredth of this aggression in questioning politicians, then it'd be quite an achievement. pic.twitter.com/BSEyiwNnTZ

— Pratik Sinha (@free_thinker) June 18, 2019
The Indian Medical Association has said that it has filed a complaint against television anchor Anjana Om Kashyap with her employers, seeking from her an "unconditional" apology on the issue of her entering the ICU of a hospital in Muzaffarpur which the doctors said was done for "fake publicity" and had endangered the lives of children.
The letter dated June 24, was written to the officials at India Today and Aaj Tak, where the anchor is employed.
"Ms. Kashyap broke all rules and guidelines of the hospital and trespassed into ICU. The ICU is the unit of critically ill. It is specially designed to minimise the risk of infection by barring entry of public and foreign objects. The journalist entered with her camera crew and through her irresponsible actions endangered the lives of very actions she claims to be fighting for. The arrogance and righteousness of such journalists is astounding," the medical body wrote in its complaint.
The doctors also accused Kashyap of wasting crucial time of the doctors battling encephalitis syndrome, which has gone rampant in the state and to which more than 100 children have succumbed so far. They said she asked them questions related to infrastructural deficiency — lack of beds, equipment — with which they were not concerned.
"The journalist would have served the public purpose had she directed these questions to the concerned government authorities rather than picking soft targets," read the letter.
It complained that the journalist didn't show any concern for the privacy of the patients in the ICU, especially children, who were filmed without their consent. The body cited several clauses of the National Broadcasting Standards Authority (NBSA) and alleged that the anchor violated them for TRP.
Reporting on the Acute Encephalitis Syndrome deaths last Wednesday, Kashyap had entered the ICU of Shri Krishna Medical College Hospital in Muzaffarpur, the worst hit district in Bihar, and was seen questioning doctors on the lack of infrastructure, and at one point, the number of deaths that particular day.
She drew criticism from several quarters. 
Anjana Om Kashyap went into ICU to remind Doctors about doing their jobs. So should people now barge into newsrooms and edit meetings to remind media houses to do their job i.e. responsible journalism?

— Monica (@TrulyMonica) June 19, 2019
Anjana Om Kashyap wants to climb ladders of journalism success crawling over deprivation of timely healthcare to patients and cost of lives. No respect for humans. This women needs to be sacked, unless aajtak supports her for TRPs or it's vested interests. pic.twitter.com/8OGPo1Np4U

— Mayank Bhamenaya (@Mayankbhamenaya) June 20, 2019
When is Anjana Om Kashyap going to the starving farmers to insult them on camera for severe droughts and govt's agriculture policy failure?

— Aisi Taisi Democracy (@AisiTaisiDemo) June 19, 2019