MediaOne: Politicians, scribes seek restoration of transmission licence
Central government must not be allowed to abuse its powers to curb critical voices and news channels that dare to question the official narrative: Joint statement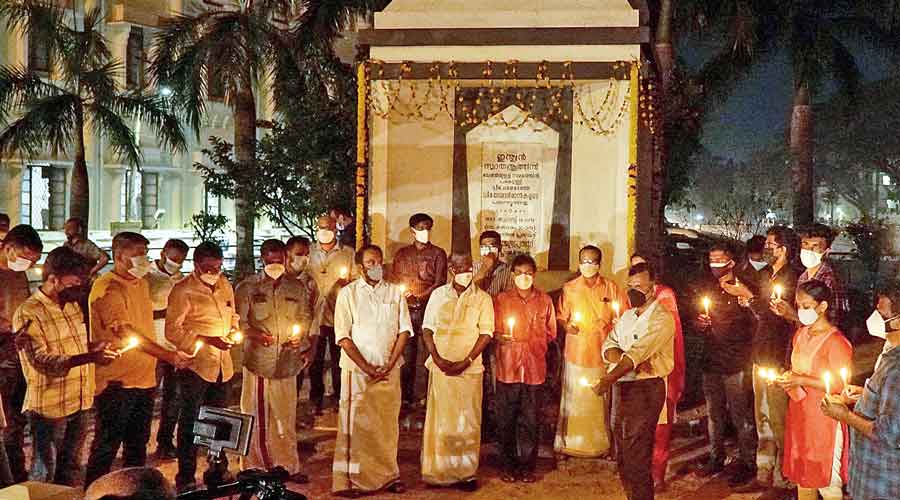 Journalists at the protest in Thiruvananthapuram, Kerala, on January 31.
PTI Photo
---
New Delhi
|
Published 15.02.22, 02:22 AM
|
---
Politicians and civil society members on Monday joined journalists in demanding restoration of the transmission licence of Malayalam channel MediaOne News.
"We hope that in the current instance as well subsequent judicial proceedings will protect the channel's fundamental right to freedom of speech and expression, and restore the transmission licence of MediaOne News," said a joint statement whose signatories included the chairman of The Hindu, N. Ram, and Supreme Court lawyer Prashant Bhushan.
"Freedom of press is essential to the health of any democracy, and the central government must not be allowed to abuse its powers to curb critical voices and television news channels that dare to question the official narrative."
The Union ministry of home affairs (MHA) had denied security clearance to the channel on January 31.
"This arbitrary act of the MHA amounts to a violation of the freedom of speech and expression guaranteed under Article 19 of the Constitution, and also represents a clampdown on broader press freedom in India," the joint statement said.
It expressed disappointment at the refusal by a single bench of Kerala High Court to overturn the cancellation of the licence, noting the decision was based on a "sealed cover" envelope from the MHA whose contents were not shared with the channel.
"This goes against the basic principles of natural justice, which mandate that material evidence in any adjudication process, and especially in a matter concerning fundamental rights, must be shared with both parties to the dispute," said the joint statement, circulated by the channel.
"We also feel that the hon'ble court failed in its bounden duty as a constitutional court by not providing the reasons behind its judgment, and instead reiterating the line of the MHA regarding 'intelligence inputs' and 'national security' concerns."
Among the politicians who signed the statement are Digvijaya Singh of the Congress, Kanimozhi of the DMK, Manoj Jha of the RJD, Priyanka Chaturvedi of the Shiv Sena, Elamaram Kareem of the CPM, E.T. Mohd Basheer of the IUML, Binoy Viswam of the CPI, and N.K. Premachandran of the RSP.