Manohar Parrikar passes away
Parrikar's passing comes during a particularly fraught phase in the country when the polity has been sharply polarised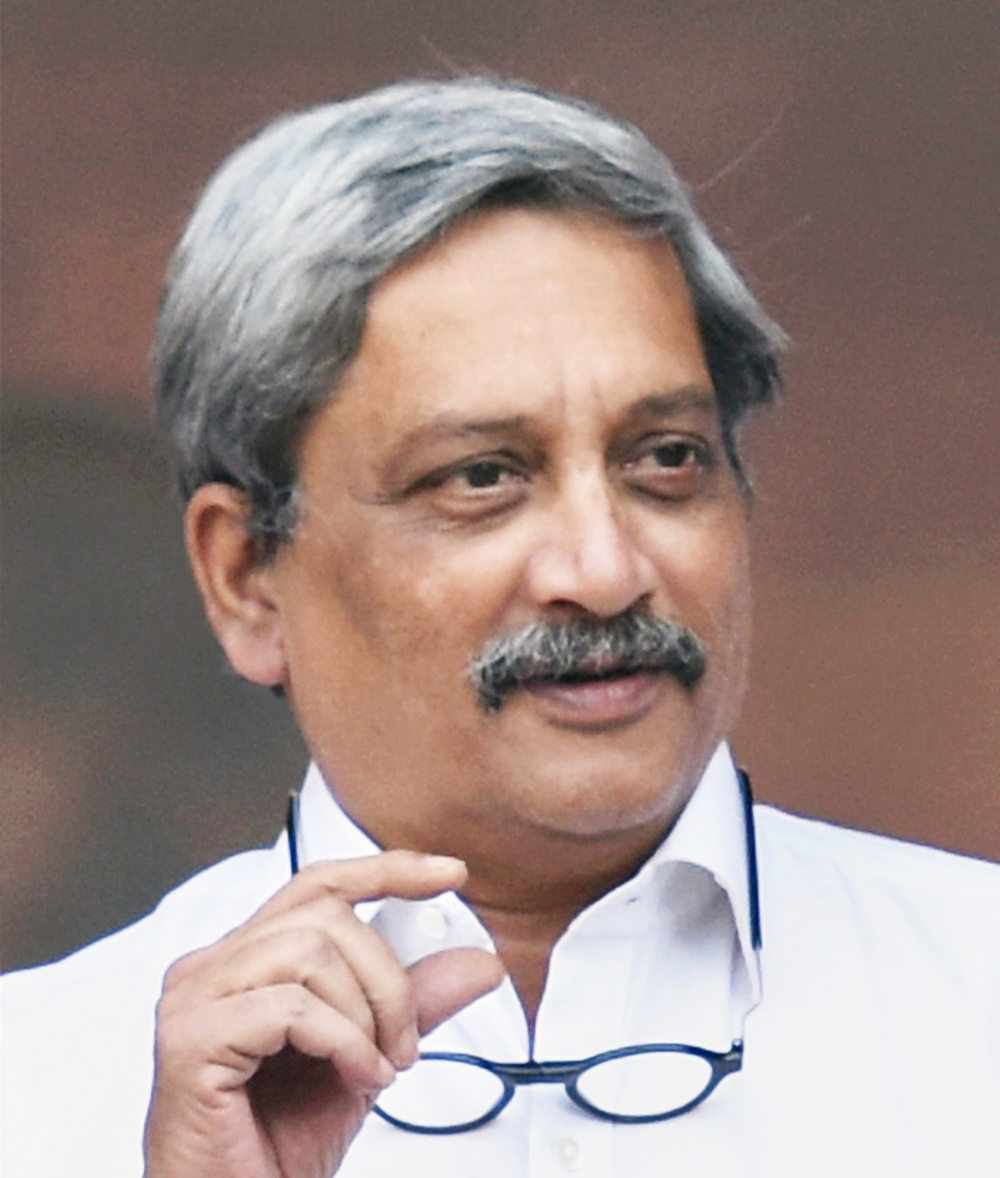 ---
Mumbai
|
Published 17.03.19, 09:50 PM
|
---
Manohar Parrikar, Goa chief minister and former defence minister, died on Sunday evening after prolonged illness. He was 63.
The passing of the genial Parrikar, who could win friends across the aisle in spite of speaking his mind, comes during a particularly fraught phase in the country when the polity has been sharply polarised and rancour is the order of the day.
Parrikar had successfully balanced his RSS past and his education in metallurgy at IIT Bombay.
Although the four-time chief minister did not have too long a stint at the Centre, his tenure as defence minister has remained in focus over the past several months because of the Rafale controversy.
The deal was abruptly revised and finalised on April 10, 2015, in Paris by Prime Minister Narendra Modi when Parrikar was defence minister. A perception that Modi was the driving force behind the new deal was reinforced when Parrikar told Doordarshan three days later: "Modiji took the decision. I back it up."
Recurring disclosures and claims — including a leaked tape whose authenticity has neither been proved nor disproved in spite of the assurance of a probe by the Goa government — have ensured that another perception has survived vigorous rebuttals: that Parrikar was not fully on board when the Rafale deal was sealed and the compulsion of collective responsibility had prevented him from speaking out.
However, Parrikar's informal air and civility did win him admirers both within his party and across the political divide. Known for taking scooter rides in Goa, Parrikar's aversion to ceremony was in evidence when he had turned up in sandals on hearing that a defence official had instructed journalists to wear shoes.
If President Ram Nath Kovind described him as "an epitome of integrity and dedication in public life", Prime Minister Modi referred to him as an "unparalleled leader, true patriot and exceptional administrator". National mourning has been declared on Monday.
Congress president Rahul Gandhi, who had met Parrikar recently on a visit that eventually triggered controversy, said: "I am deeply saddened by the news of the passing of Goa CM, Shri Manohar Parrikar Ji, who bravely battled a debilitating illness for over a year. Respected and admired across party lines, he was one of Goa's favourite sons. My condolences to his family in this time of grief."
Parrikar is survived by two sons. His wife had succumbed to illness in 2001.
Priyanka Gandhi recalled a personal gesture by Parrikar. "I met him only once, when he graciously visited my mother at the hospital two years ago. May his soul rest in peace," she tweeted.
News agency UNI quoted BJP veteran L.K. Advani, about whom Parrikar had once said that pickle can turn rancid if kept too long (the party later said he had been misquoted), as saying: "I am extremely sad to learn about the demise of Manohar Parrikar. He had been bravely fighting his illness for some time."
Parrikar leaves behind a fragile government in Goa, which survived this long solely because he had acted as the glue that held the coalition together.
The Congress is the single largest party in Goa but the BJP braved questions of ethics and managed to form a government with other parties.
Parrikar's indispensability was showcased when the BJP persuaded him to continue in office after he was diagnosed with a pancreatic condition and had to move between hospitals in multiple cities.
The unforgiving, if not merciless, nature of power politics was also on display with the Congress openly asserting its right to form the government in Goa as Parrikar battled illness, even on the day before he breathed his last.