Mangalore autorickshaw blast accused's rented home in Mysore raided
A bomb squad has also been deployed in the area for a combing operation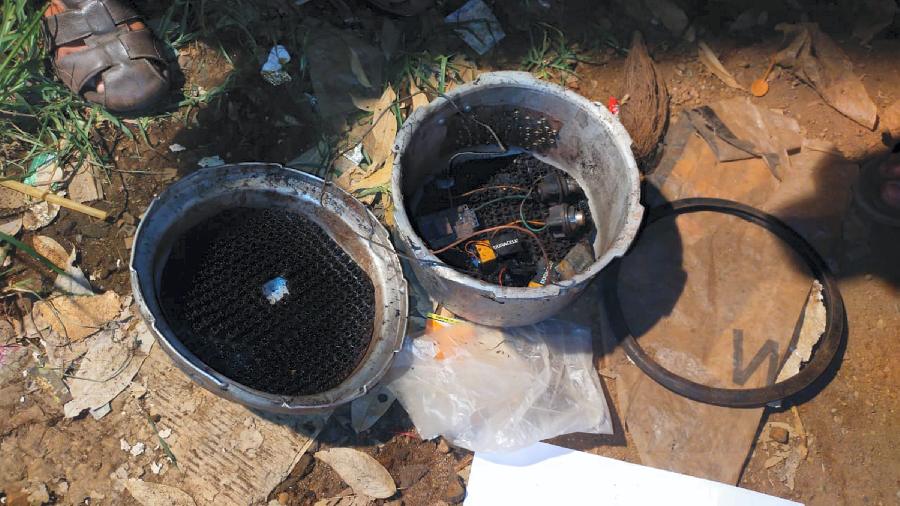 A cooker fitted with detonator, wires and batteries found during the investigation after an explosion in an auto-rickshaw in Mangaluru, Sunday, November 20, 2022.
PTI image
---
Published 20.11.22, 04:00 PM
|
---
The police on Sunday raided the rented home of the main accused in the Mangalore autorickshaw blast, according to NDTV. 
A bomb squad has also been deployed in the area for a combing operation. 
The police have identified the accused as Shareeq. As per the police, last month the perpetrator took a single room accomodation and told the owner that he came to the city for "mobile repair training". 
Shareeq has stolen the identity of a person named Premrag Hutagi who is a railway employee of Karnataka's Hubballi district. 
Earlier, Karnataka Director General of Police, Praveen Sood said that the explosion in a moving autorickshaw in Mangaluru was an 'act of terror.' 
In a tweet, the DGP said, "It's confirmed now. The blast is not accidental but an ACT OF TERROR with intention to cause serious damage. Karnataka State Police is probing deep into it along with central agencies."
The blast occurred on Saturday evening inside an autorickshaw, near a police station, leaving the passenger and the driver injured. Both have been admitted to the hospital.