Maneka welcomes Sabarimala judgment, BJP silent
Verdict wonderful and important, would make Hinduism even more inclusive, says minister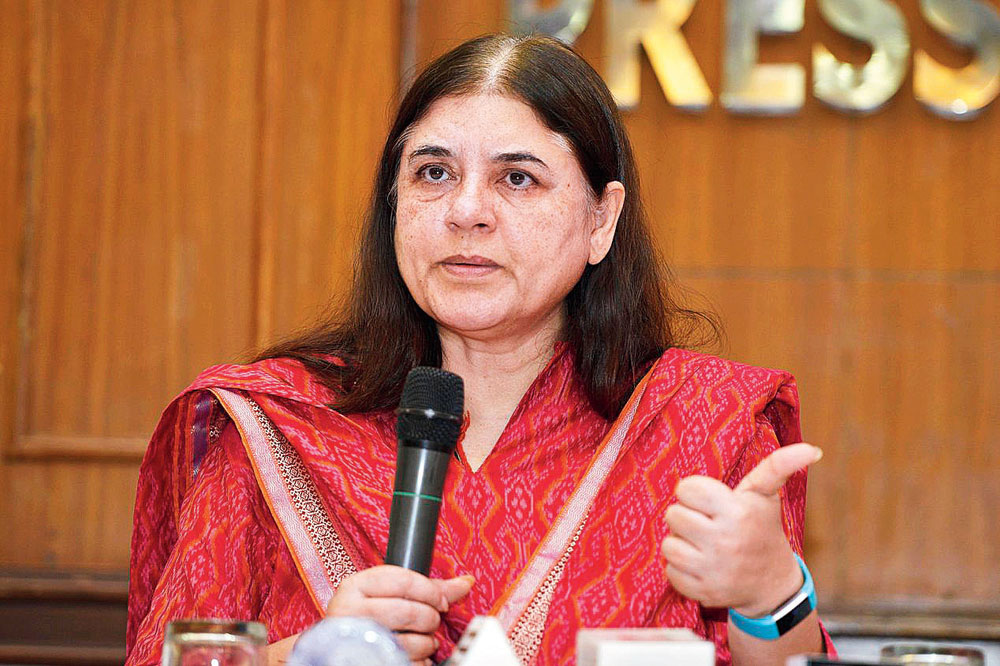 Maneka Gandhi
Telegraph archive picture
---
New Delhi
|
Published 28.09.18, 11:31 PM
|
---
Maneka Gandhi was the only voice from the Narendra Modi government or the BJP to welcome Friday's Supreme Court judgment, which lifted the ban on women devotees aged 10 to 50 years entering the Sabarimala temple.
The Union minister for women and child development described the verdict as a "wonderful'' and "important'' one that would make Hinduism even more inclusive.
"It's very, very important because the Hindu religion has always been an all-inclusive one. And, yet over the years, thekedaars (self-appointed guardians) have divided temples into… which caste cannot go to a temple, which sex cannot go to a temple," she said.
"After all, in Hinduism, the woman is the Devi, the Shakti herself. How can you prevent the Shakti from going to a temple? So this is a good judgment because it opens up and brings the way forward for Hinduism to become even more all-inclusive and not the property of one type, one caste, one sex.
"The concept of god belongs to all and if a mandir presumes to represent god, then they must open that mandir up to everybody.''
Right-wing commentators were critical of the judgment in general and of feminists in particular for viewing a matter of faith as a discriminatory practice.
But there was no official comment from the BJP or the RSS. Nor did BJP legislators or functionaries comment in their personal capacity, a rare exception being Priti Gandhi, social media-in-charge for the BJP Mahila Morcha.
"There is a reason why women are not allowed inside the temple. Lord Ayyappa is worshipped in the form of a brahmachari at Sabarimala. Forcing our preferences on a god who is an eternal celibate just to prove a point is certainly not the way to go about it,'' she said.
Many across social media platforms lauded the lone dissenting judgment by Justice Indu Malhotra, who argued that there should be a limit to the extent to which courts can interfere with religion.
Appeals were made online to women aged between 10 and 50 years to desist from breaking the "rules of dharma'' and avoid visiting the shrine despite the apex court sanction.
Sabarimala Ayyappa Seva Samajam office-bearers expressed their disappointment at the verdict but said they would comply with it. The decade-old Samajam, which helps pilgrims en route to Sabarimala, will finalise its course of action over the weekend.
Asked about their concerns, Samajam general secretary Erode N. Rajan said the hill pilgrimage was not an easy one, and even men found it difficult.
"The facilities along the route are not adequate and women joining the arduous pilgrimage will only further strain the infrastructure," he said.
"As it is, the Kerala floods have devastated the route and the Sabarimala Sannidhanam is expected to face a water scarcity during the pilgrim season.''