Maneka applauds Malappuram
Praise after punch: The BJP MP had in early June portrayed the district as a den of crime and prejudice in a rant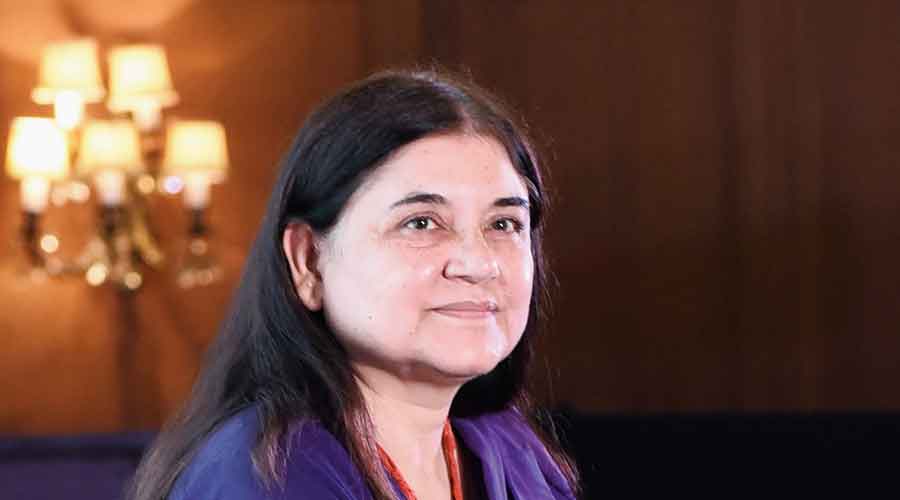 ---
Bangalore
|
Published 20.08.20, 02:25 AM
|
---
Maneka Gandhi has praised Malappuram's people for the way they helped save passengers after the August 7 Air India Express crash at Calicut International Airport, going full circle from maligning the north Kerala district earlier this year.
"Yes, a wonderful job was done by the people of Malappuram to help the plane crash survivors. I hope this kind of humanity towards all beings takes place," the MP and former Union minister has written in reply to an email from an Indian Union Muslim League youth wing leader.
Maneka has confirmed to this newspaper that she sent the mail.
Maneka had in early June portrayed Malappuram as a den of crime and prejudice in a rant against Kerala's only Muslim-majority district.
A perennial target of the BJP-Sangh ecosystem, Malappuram was then targeted by Maneka over an instance of animal cruelty that had actually occurred in the neighbouring Palakkad district.
On August 14, Abbas Vadakkan, general secretary of the Morayur panchayat branch of the Muslim Youth League, wrote to Maneka citing how Malappuram's people had helped the crashed flight's passengers and crew.
"While going through my mail today, I found that she had replied on August 15 itself," Vadakkan told The Telegraph on Tuesday.
Residents of the airport's neighbourhood had been the first to join the rescue effort, ignoring the risk to themselves from a possible fire. Hundreds more later arrived, bringing vehicles to carry the victims to hospital.
By the early hours, people were queuing outside hospitals to donate blood for the survivors. If the survival of 171 among the 190 people on board has been described as "a miracle", much of the credit goes to the ordinary people of Malappuram.
"I had first written to Madam (Maneka) when she spoke out against Malappuram after an elephant was killed in Palakkad," Vadakkan told this newspaper.
A trap set with an explosives-filled fruit had blown off the pregnant elephant's mouth, causing a painful death. Police later booked two men and said the snare had been set for wild boar.
"I think they should arrest everybody in Malappuram who they suspect, because these are repeat offenders," Maneka, an ardent animal rights activist, had then said, picking Muslim-majority Malappuram as a soft target despite the atrocity not happening there.
"Whether it's children being sold in orphanages, which we have found, it is Malappuram. Whether it is people being killed.... Look at the crime rate in Malappuram. What is being done in Malappuram? Nothing. Now the communal conflict there is highest in Malappuram," the former women and child welfare minister had told ANI.
Malappuram, however, is known for communal peace and low crime rates. The late Panakkad Syed Muhammedali Shihab Thangal, the Muslim League leader and the patriarch of one of the most revered families in Malappuram, was credited with preserving communal harmony in Kerala when the Babri Masjid was demolished in 1992. He had told community leaders then: "Not a single stone should fall on a Hindu house. Muslims should stand guard for Hindu temples, if required."
Maneka had also attacked Congress MP Rahul Gandhi who represents Wayanad, again a different district neighbouring Malappuram. Rahul's constituency has a substantial Muslim population, much like Malappuram. "Rahul Gandhi is from that area; why has he not taken action?" Maneka had asked.
Earlier, she had tweeted: "Mallapuram (sic) is known for its intense criminal activity specially with regards to animals. No action has ever been taken against a single poacher or wildlife killer so they keep doing it."
On Tuesday, Vadakkan said: "Such baseless allegations were painful to us. So I sent an email to her official ID. I invited her to visit Malappuram without any security or bodyguards."
Vadakkan had also provided Maneka with a list of freedom fighters from Malappuram and highlighted that it had been the lone Muslim-majority district in the country where not a single incident of retaliatory violence was witnessed after the demolition of the Babri Masjid.
"I must admit that Madam (Maneka) replied to that mail as well," he said.
Maneka had then replied: "Malappuram is indeed a good place with a wonderful history. But I was talking about animal cruelty. Maybe we can introspect and stop being defensive and see what we can do to make it kinder. That would be to everyone's benefit. Instead of making this a communal issue which have never been my intention because I too come from a minority, it would be good to understand the issues that I brought up."
On Wednesday, responding to an email from this newspaper, Maneka wrote: "Yes, I sent the messages."
In another email, she condemned a recent incident in Malappuram — of a pregnant wild buffalo being butchered for its 200kg of meat.
"Please put my remarks in this context as well," Maneka told this newspaper. "If we cannot spare pregnant mothers about to give birth and eat the foetuses, can we call ourselves civilised?"
The buffalo was searching for a secure place to give birth when she was shot and killed. The skulls of the mother and the foetus were found from a forest.
Six men from Puncha in Nilambur (a key town in Malappuram) — Suresh Babu, Abu, Parothodika Mohammed Bustan, Thalakottupuram Mohammed Ansif, Cheemala Aashiq and Pilakkal Suhail — have been arrested.