Maharashtra government announces Covid curbs relaxation in 25 districts, malls allowed
Shops in Mumbai can now remain open till 10 pm all days, film shoots can resume: Brihanmumbai Municipal Corporation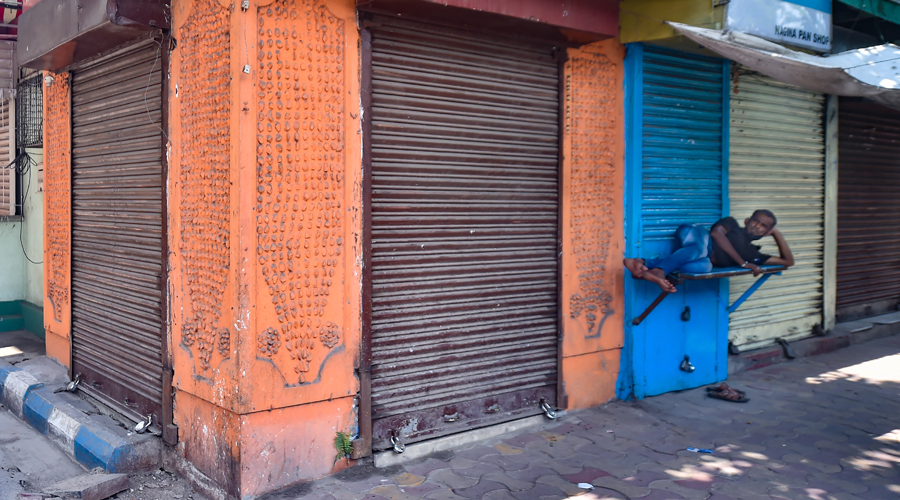 ---
Mumbai
|
Published 02.08.21, 09:56 PM
|
---
The Maharashtra government on Monday announced further relaxations of coronavirus curbs in 25 districts showing low positivity rate of the infection, extending the existing business timings of shops and allowing shopping malls to operate in these districts.

Also, all government as well as private offices can operate with full capacity, it said.

The relaxations will come into effect from Tuesday morning, said a government order.

The state government has not taken any decision on allowing common people to travel by suburban trains in Mumbai.

All shops and other establishments which are currently allowed to operate till 4 pm can now remain open till 8 pm and till 3 pm on Saturdays, it said.

Non-essential shops will have to remain closed on Sundays, the order said.

The Maharashtra government as also allowed shopping malls to open and operate as per the new guidelines. Outlets such as yoga centres, spa, saloon and gyms can operate with 50 per cent capacity and without the use of air conditioning, the order said.

Though the malls will open, no multiplexes, theatres and cinema halls will operate till further order, it said.

There will be no restriction on movement of people between 9 pm and 5 am on these 25 districts, the order said.

The state government has asked the disaster management authorities in Mumbai and Thane districts (which figures among 25 districts with low positivity rate) to decide on their own set of restrictions.

Many traders in the state and the opposition BJP have been demanding that the timings of shops be extended till 8 pm from the current deadline of 4 pm.

Shops and restaurants in the remaining 11 districts (out of total 36), where the coronavirus caseload is high, will continue to operate under existing restrictions. As per the existing rules, shops and restaurants in these districts are allowed to operate till 4 pm on weekdays. But they have to remain shut on weekends.

These districts are Kolhapur, Sangli, Satara, Pune, Ratnagiri, Sindhudurg, Solapur, Ahmednagar, Beed, Raigad and Palghar.

Earlier in the day, Chief Minister Uddhav Thackeray had said his government will issue orders on Monday allowing shops to remain open till 8 pm in the districts where the COVID-19 positivity rate is low.

He said said allowing all segments of the society in Mumbai local trains would be difficult "in the first phase" as the easing of curbs is being done slowly.

Speaking to reporters in Sangli, some 230 kilometres from Pune, Thackeray sought cooperation from people in areas where relaxing the norms was not possible currently due to the caseload.

Thackeray said the pandemic situation in the 11 districts with not so encouraging COVID-19 indicators was a cause of worry.

"I have asked district collectors to increase the number of tests as well as doctors to ensure people are protected for COVID-19 as well as water-borne diseases," he said.

Speaking on the issue of medical oxygen, the CM said as per an estimate, the amount of medical oxygen required in a possible third wave might be double of what was needed in the second wave, when Maharashtra had to procure it from other states.

He appealed to the private sector to split office timings to reduce attendance in their premises at any one point of time, as well as opt for work from home and work in office turn by turn.
Mumbai civic body issues new guidelines
With the Maharashtra government granting relaxations in COVID-19 curbs in many districts mainly for traders, the Mumbai civic body on Monday also decided to allow all shops to remain open till 10 pm on all days and okayed resumption of shooting for films and television serials besides sports activities.

The new guidelines were issued by the Brihanmumbai Municipal Corporation (BMC) commissioner I S Chahal on Monday night.

However, the order is silent on allowing commoners to travel in suburban trains despite Mumbai reporting a low number of new COVID-19 cases.

Mumbai reported 259 new cases and nine deaths on Monday, which raised the overall case-load to 7,35,366 and the count of fatalities to 15,908, as per the Maharashtra health department.

All the shops and establishments under the BMC limits can now remain open till 10 pm on all days in a week, however, restaurants and hotels can function till 4 pm only, the order said.

The civic body also allowed all the indoor and outdoor games and sports clubs to operate except for swimming and other games where physical contact may take place. They can operate on all seven days as per regular timings, the order said.

Shooting for films and television serials is also permitted in Mumbai.

The civic body has warned of strict action if COVID-appropriate behaviour is not followed by people in public places.
Maharashtra's Covid-19 cases tally on Monday
Maharashtra on Monday reported 4,869 fresh COVID-19 cases and 90 fatalities, taking the tally of infections to 63,15,063 and the toll to 1,33,038 while 8,429 patients recovered, the state health department said.

With the new additions, the tally of recoveries in Maharashtra now stands at 61,03,325, leaving the state with 75,303 active cases with a recovery rate of 96.65 per cent. The case fatality rate is 2.1 per cent, it said.

Mumbai reported 259 new cases and nine deaths, which raised the overall case-load to 7,35,366 and the count of fatalities to 15,908, the department said in a statement.

Mumbai division reported 730 cases during the day and 15 deaths, taking the tally to 16,42,223 and the toll to 34,380.

Nashik division saw 829 new cases including 739 cases in the Ahmednagar district.

Pune division reported 1,574 cases during the day, including 621 in Satara, 413 in Solapur and 260 in Pune districts.

Kolhapur division added 1,399 fresh cases, including 359 from the Kolhapur district, to its tally.

Aurangabad division reported 49 cases, Latur division 255, including 166 in the Beed district, 26 in the Akola division and seven in the Nagpur division, the department said.

Akola, Hingoli, Nandurbar, Wardha, Bhandara, and Gondia districts did not report a single COVID-19 case on Monday.

With 1,67,117 new tests, the number of samples tested so far in Maharashtra rose to 4,83,52,467.

The COVID-19 figures in Maharashtra are: Positive cases 63,15,063, deaths 1,33,038, recoveries 61,03,325, total tests 4,83,52,467, active cases 75,303, tests today 1,67,117.