Lone walks out of jail and into house arrest
The People's Conference leader is the most high-profile politician to walk out of jail in the Valley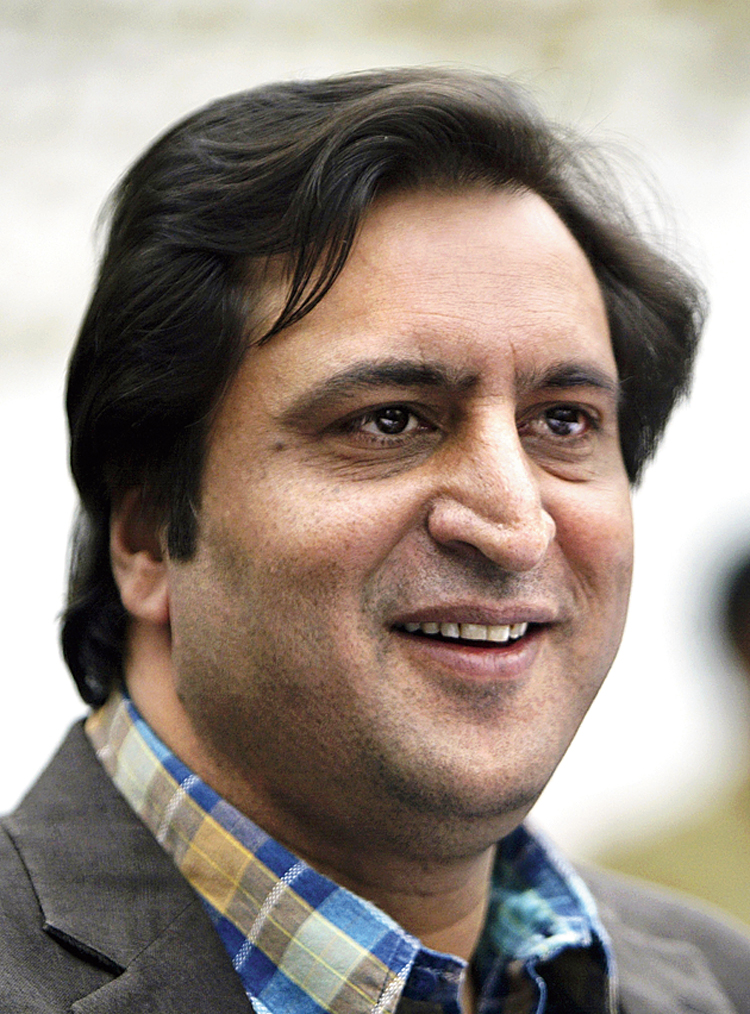 ---
Srinagar
|
Published 05.02.20, 09:26 PM
|
---
People's Conference leader Sajjad Lone was released from a makeshift prison on Wednesday, only to be placed under house arrest, making him the most high-profile politician to walk out of jail since the central government moved to scrap Kashmir's special status on August 5.
Three former chief ministers, however, reached a personal "milestone" coinciding with the newly created Union Territory's changed circumstances.
National Conference president Farooq Abdullah, 82; his son and deputy Omar Abdullah, 49, and Peoples Democratic Party president Mehbooba Mufti, 60 — all former chief ministers — completed six months in detention along with a number of senior colleagues including Ali Mohammad Sagar, Naeem Akhtar and Sartaj Madni.
Farooq is the only politician among them who has been booked under the draconian Public Safety Act, which allows detention without trial for up to two years.
The others are in preventive custody.
While these politicians continue to languish in jails, official sources said Lone, who heads the People's Conference, and Mehbooba's aide Waheed ul Rehman Parra were released on Wednesday after spending 184 days in different government facilities turned jails.
Lone's aide Adnan Ashraf said his leader was released around 3pm from the MLAs' hostel that has been converted into a jail.
"He was shifted to his Church Lane home where he has been placed under house arrest. None of his family is living there," Ashraf told The Telegraph.
Family sources said Lone's wife Asma Lone, daughter of Jammu and Kashmir Liberation Front co-founder Amanullah Khan, and their two sons live in Delhi.
Lone is a former separatist who became a close ally of the BJP. The national party had supported his bid for power after its relations with the PDP soured.
Official sources said the release of other politicians was under consideration too, but gave no specific date. "It will purely be a political decision taken by the Centre. But their release is under consideration," an official said.
The administration had arrested thousands of politicians to prevent protests against the decision to scrap key provisions of Articles 370 and 35A that gave Jammu and Kashmir its special status under the Constitution. The state has since been split into two Union Territories.
Most of these politicians have been released but hundreds are still in jails.
Mehbooba's daughter Iltija Mufti recounted what she called an Orwellian nightmare that had stretched for six months.
"Exactly 6 months ago, I watched helplessly as officers took my mother away. Days have turned into weeks & weeks into months. Yet, political leadership in Kashmir remains under illegal detention. It's been an Orwellian nightmare to be up against a government muzzling its own people," Iltija tweeted.
The high-profile detainees, sources said, were not only battling loneliness but also a harsh winter. "They (Farooq and Omar) have never been to jail before, so it has been really tough for them. But I can assure you that they have not given up," a family source said.
The authorities have over the months lifted many of the restrictions imposed after August 5 but the ban on high-speed Internet connectivity and detention of top politicians have raised questions about the government's claims of normality.