Lockdown leaves Mountain Man's family in penury
Manjhi family hit with joblessness and poverty; no help from government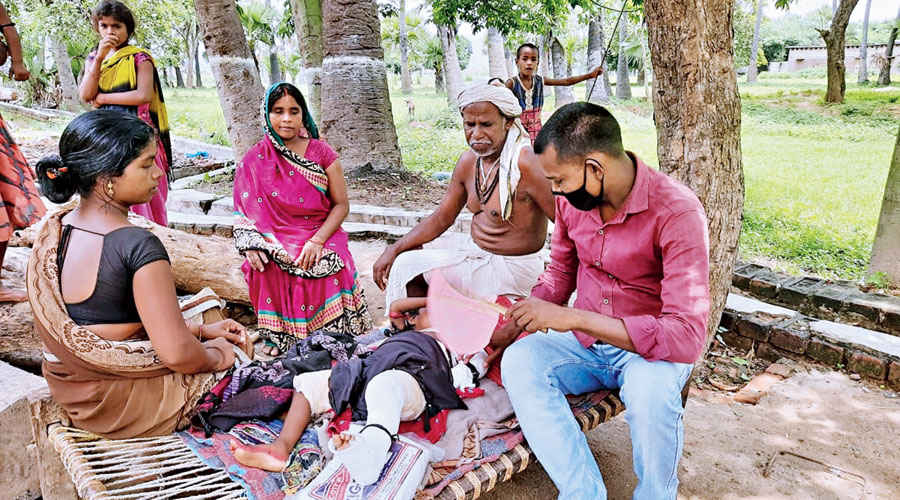 ---
|
Patna
|
Published 16.08.20, 12:54 AM
---
Dashrath Manjhi, popularly known as the "Mountain Man", may not have felt helpless when he carved a road through hills for 22 years to ensure villagers could get road access to the nearest town. But his family have been left helpless by the lockdown and the lack of jobs, forcing them into living a hand-to-mouth existence.
All the limelight that Manjhi's family had received due to his feat, all the accolades, recognitions, awards and the grit that runs in their genes did not help when the coronavirus-induced lockdown struck.
"My father Dashrath Manjhi chiselled through the hills single-handedly for 22 years to carve a road and became immortal. We carry his legacy and determination but we have lost to the lockdown and joblessness. We feel so helpless," said his son Bhagirath, furrows of sorrow and frustration etched on his face.
Bhagirath, 65, lives with 24 family members, including those of his sister and her sons, in adobe huts on a small piece of land at Gehlaur village in Bihar's Gaya district.
"Our entire family, barring the children, worked as labourers, masons and daily wagers. But the lockdown has taken away everybody's jobs and forced them to sit at home. Whatever savings we had, has been spent," Bhagirath told The Telegraph.
The different stages of "unlock" did not come to their rescue and they could not get employment. With all savings finished in just a month, the family survived on the help provided by people from neighbouring villages and subsisted on foodgrains borrowed from locals who are well-off.
Then, a grandniece (sister's granddaughter) of Bhagirath, Pinky Kumari, aged 3, was hit by a speeding motorcycle outside their home on July 12, and suffered fractures in one hand and both legs.
With no money to take her to hospital, the family had to borrow Rs 35,000 at 10 per cent monthly interest from local moneylenders. The girl is now recovering with plasters in her limbs. Former parliamentarian Pappu Yadav's Jan Adhikar Party provided Rs 10,000 but it went in Pinky's treatment.
"We don't know how we will be able to return the borrowed money without getting work. The return of migrant workers to their homes has created a glut of labourers and the wages have gone down significantly. We are unable to get any work even as agricultural labourers," said Bhagirath's son-in-law Mithun Manjhi.
The family is somehow managing to stay afloat as Bhagirath's daughter is an anganwadi sevika (assistant) and gets a salary of Rs 4,400 per month. The family have also  been able to get some foodgrains with their ration cards.
"You can imagine our condition by seeing the food on our plate. We used to have rice, dal, roti, vegetables, milk and tea before the lockdown. But now we eat only rice and dal or sometimes roti and dal," Mithun said.
"We feel that the entire situation is man-made and aggravated due to the mismanagement of the government. No government official has come to enquire about us nor we have received any government help so far," Mithun alleged.
Dashrath, who passed away in 2007, was a poor labourer residing at Gehlaur. His wife Falguni Devi slipped and fell in 1959 while crossing a hillock which bordered the south of Gehlaur. She was badly injured and succumbed to her injuries as the villagers could not take her to the hospital on time as the nearest town was 55km away.
Working continuously between 1960 and 1982, Dashrath, with just a hammer and a chisel, shortened the distance between Atri and Wazirganj blocks from 55km to 15km, with just one thought in his mind that people should not die without medical attention like his wife did. He carved out a 110-metres long, 9.1-metres wide and 7.6-metres deep path through the hillock, thereby shortening the distance to Gaya town by 40km.
Documentaries, television show and films have been made on Dashrath's life, including the Ketan Mehta directed Manjhi — The Mountain Man, with Nawazuddin Siddiqui and Radhika Apte in the lead roles.