Lockdown-familiar J&K faces unique challenges amid fears of virus surge
Inadequacies include too few nurses, ventilators, protective gear; poor internet another major impediment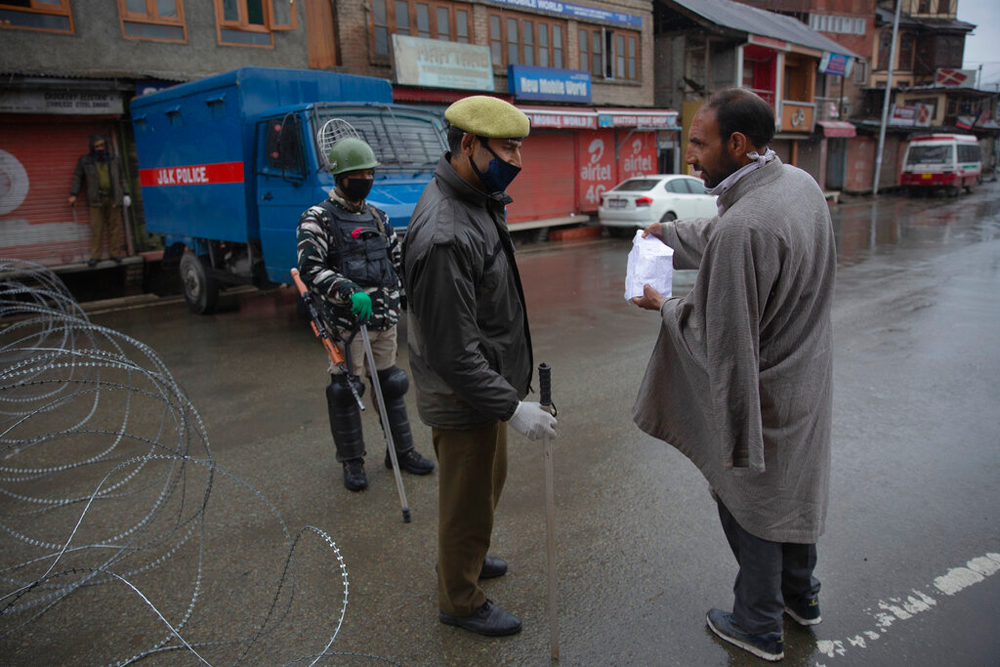 ---
---
Doctors and medics of Jammu and Kashmir, anxiously braving inadequate facilities and a shortage of protective gear to combat the spread of Covid-19, are all worried at its gradual surge in the Union territory that has, till Tuesday, recorded 55 positive cases, an increase of six since Monday.
While all of India was placed under a lockdown by the government on March 25 to contain the spread of the virus, Kashmir has been in "a semi-lockdown state since August" when the state was bifurcated into two Union territories — J&K and Ladakh – and its special status revoked.
Medical practitioners in hospitals are already stretched. There is mounting fear among doctors on two counts. One is centered around the devastation that the virus could cause in the local population amid inadequate healthcare facilities, like a shortage of ventilators; and two, a woeful shortage of protective gear for medical practitioners who are in the frontline of the battle to contain the spread of coronavirus.
"If you ask me if are we prepared, the answer is no. I'm not talking only about Kashmir but the whole country," said Parvaiz Koul, head of internal and pulmonary medicine, at Srinagar's Sher i Kashmir Institute of Medical Sciences (SKIMS). "Kashmir is a poor Union territory of a poor country. We are infrastructure deficit, we are human resource deficit."
Kashmir's health department estimates that the valley, with a population of close to 7 million, has only 97 ventilators to help critically ill coronavirus patients. There is also an acute shortage of masks, sanitizers and coveralls.
One fine day - when this is past us (InshaAllah) - we will have to hold all past CMs to account - why do we have only 97 ventilators for 7 million people? Why do we have only one children's hospital? Why is our in-patient capacity so dismally low? Was this not a priority? https://t.co/duXNpbQsZA

— Junaid Azim Mattu #StayHomeSaveLives (@Junaid_Mattu) March 22, 2020
Mohsin Bin Mushtaq, who specialises in internal medicine at the Government Medical College, Srinagar, said, "In the initial days we had to struggle for the masks. However, after the Resident Doctors Association wrote to the authorities and the principal, most of those posted in the emergency room (ER) were provided with N95 masks, gowns, gloves and head caps.
Mushtaq, who is also president of the association, said doctors were afraid of carrying the infection back home and had, therefore, requested alternative accommodation elsewhere. Anyone walking in to the hospital could be a potential risk, he added.
"Right now we are getting things, but we don't know what will happen in the future. If, God forbid, cases increase and the situation gets out of control we don't know what will happen," Mohsin rued.
If and when the number of Covid-19 cases peak, hospitals in Srinagar will have to bear the brunt as the healthcare system outside city limits is worse. There is an acute shortage of nurses in Kashmir as well. As per medical college estimates of February, only 800 nurses were part of the system that requires 3,000 to 4,000 nurses.
Koul admitted Kashmir lacked resources in every aspect, like any other state in India. "But if the US or Italian healthcare systems (much more evolved) crumbled in the Covid-19 pandemic, the Indian systems are no match," he said.
It is difficult to gauge how last year's change in the political system of Kashmir has impacted, or will impact, the Union territories' response to the spread of coronavirus. Doctors feel the political leadership, which was under detention until earlier this month, would have probably worked in the same manner.
"The only thing is that they would have better connected with the people. The bureaucracy in the LG (lieutenant governor) rule doesn't gel well with the people," said Koul.
Last week, the district magistrate of Srinagar, Shahid Choudhary, took to Twitter to appeal to the people to work together. "Let's keep our egos aside, work collectively and instead of raising panic and alarm help each other to improve. This (is) 3rd World War. Nothing less," he wrote.
Trust me if I share a summary of daily events NONE in Kashmir will sleep. Let's keep our egos aside, work collectively and instead of raising panic and alarm help eachother to improve. This 3rd World War. Nothing less. If it passes we will have a Lifetime for all that. Good day

— Shahid Choudhary (@listenshahid) March 22, 2020
Koul pointed out that the LG's governance has been criticised for being adamant on putting under quarantine everyone returning to the state from national or international destinations, draining resources in the process.

The "semi-lockdown since August", as Koul put it, had positive and negative effects on the people of Kashmir. Because of the prolonged lockdown, healthcare and other resources were stretched. So was communication with little or no internet. Obstruction on the movement of people by law enforcing agencies also had an impact.
"Non-availability of a high-speed internet is a distinct impediment. I'd say it is a big constraint for doctors, for students and for everybody," said Koul.
Mohsin said access to 2G or 4G internet shouldn't be a question on people's minds in the 21st century. Others also took to the social media to share how slow internet speed is a hurdle for doctors to download and access guidelines and journals.
This is so frustrating.. Trying to download the guidelines for intensive care management as proposed by docs in England.. 24 Mbs and one hour.. Still not able to do so... @MirzaWaheed @naseerganai @islahmufti @Samaanlateef @DrKaloo

— Iqbal Saleem (@DrIqbalSaleemM1) March 19, 2020
The positive impact, if any, of the lockdown, Koul felt, was that Kashmiris were all too familiar with the present circumstances. "We are acclimatised to a lockdown. We work around these lockdowns and everything else that comes with it, like, non-availability of internet, policemen asking for ID proofs, or raising our arms to allow them to frisk us," added Koul.