Local man Adil was suicide bomber, Jaish-e-Mohammad claims
Kakapora resident Adil Ahmad Dar was the 2nd suicide bomber in 19 years after Srinagar's Afaq Shah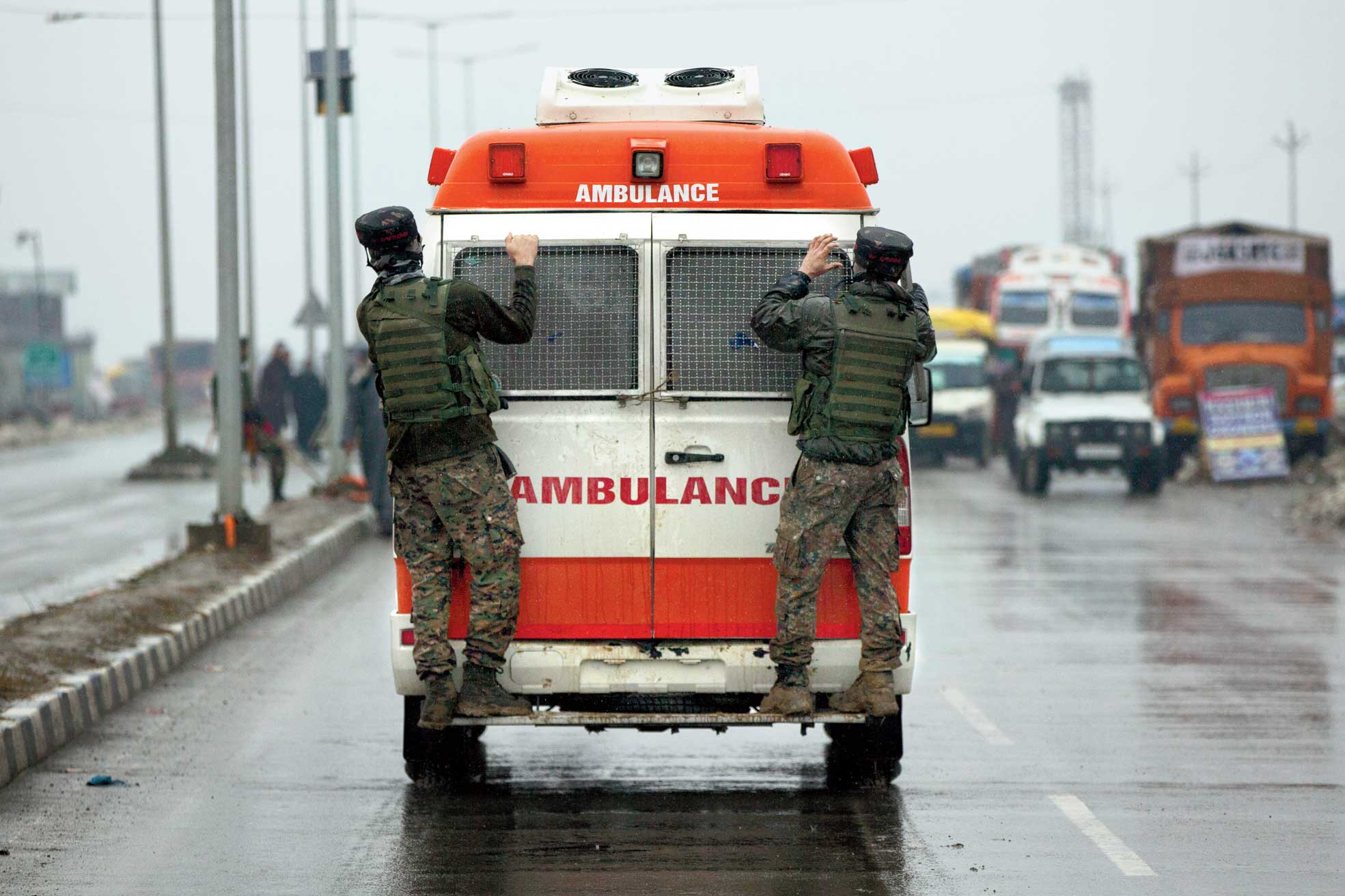 An ambulance carries injured CRPF jawans from the site of the attack.
(PTI)
---
Srinagar
|
Published 14.02.19, 10:37 PM
|
---
The deadliest attack on security forces in three decades of militancy in Kashmir has an ominous dimension: the rise of the local fidayeen, or suicide attacker, if the claim by the Jaish-e-Mohammad is true.
The suicide bomber who rammed his car into a bus that was part of a CRPF convoy at Lethpora village of Pulwama district was identified by the Pakistan-based Jaish-e-Mohammad militant group as Adil Ahmad Dar. According to a statement issued by the Jaish, Adil is a resident of Kakapora village in Pulwama.
Although, according to police sources, around 200 local youths took up arms in Kashmir last year, Adil was among the few indoctrinated youths to have ended up as a fidayeen.
Adil, if the Jaish claim is confirmed, is only the second Kashmiri suicide bomber to detonate himself, the first being Srinagar's Afaq Shah who had rammed his car into the army's 15 Corps headquarters in the town in 2000.
Most fidayeen attacks in Kashmir have been carried out by Pakistani militants, who are better trained than the local recruits.
Last year, two local Jaish fidayeen, including 16-year-old Fardeen Khanday, had stormed a CRPF camp at Lethpora, killing four personnel, including an inspector. A jawan died of cardiac arrest during the attack.
Much in the manner of terrorists elsewhere, Adil, 21, had recorded a video on his "mission". The 10-minute video was released by the Jaish after the attack.
"When you will watch this video I would be enjoying the paradise…. Oh Kashmiri people, salute to you that despite seeing lakhs of dead bodies, you did not lose heart," a heavily armed Adil, who joined the Jaish last April, said in the clip.
Police sources said Adil had studied till Class X and used to work in a bandsaw mill before taking up arms.
He had not been involved in any big attack before Thursday's carnage, the reason he had been listed as a "C-category militant" by police.
"I joined the Jaish fidayeen squad last year and it is time to fulfil my promise," he said in the video.
Adil's brother Arif Ahmad said the family had no information about his whereabouts after he left home last year.
Locals said Adil came from a lower middle class family and that his father is a salesman. Hundreds thronged his home after the news of his death spread.