J&K: Line between civilians and militants appears to be blurring
A two-day brainstorming session at Srinagar's 15 Corps headquarters offered a rare glimpse of how 'white collar jihadis' are being seen as the biggest hurdle to peace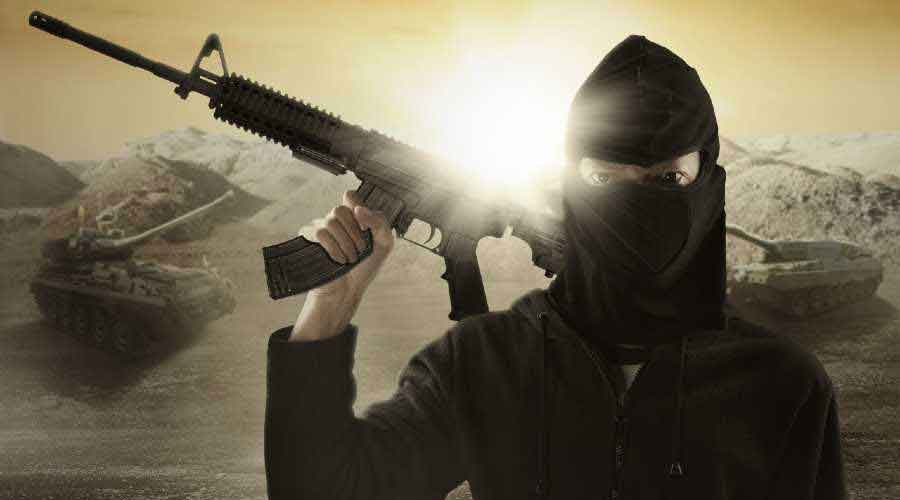 Representational image.
Shutterstock
---
Srinagar
|
Published 04.01.22, 01:52 AM
|
---
The line between civilians and militants appears to be increasingly blurring in Kashmir as security forces are unveiling a new narrative that sees many members of the civil society, and not the militants, as enemies of the State.
For decades, killing militants was deemed fundamental to ending militancy in the Valley, but a two-day brainstorming session at Srinagar's 15 Corps headquarters last week offered a rare glimpse of how "white collar terrorists" or "white collar jihadis"are being seen as the biggest hurdle to peace.
For the army's Valley chief Lt General D.P. Pandey, they are "white collar terrorists" and for J&K police chief Dilbag Singh, they are "white collar jihadis" but both agree that they are the main culprits.
The event was a seminar by the Army Management Studies Board on the theme "The Symbiotic Relationship — Over Ground Workers (OGWs) and Conflict Economy in J&K".
Lt General Subrata Saha, former army deputy chief-turned-BJP politician and one of the speakers, gave credit to J&K police for coining the term OGWs, which he said security forces "picked up" and is "unique to Kashmir". In Lt General D.P. Pandey's own words, the OGWs are well known for arranging "logistics" and "movement support mechanism" for militants.
It seems, the term is being expanded to include many more people — many Kashmiri "prominent civil society members, and their diaspora in particular".
"Just remember that killing expendable terrorists is not the way towards durable peace and prosperity and the life, which you want, free from fear. Neutralising the effects of this curse on the Kashmiri society in the form of over ground workers is the only way forward to ensure peace," Lt General Pandey told the audience.
"I would like you to think about two important players of the network. The first one, which I call white collar terrorists, the ones who are prominent members of civil society, a neighbourhood shopkeeper, a government servant, a person running business… They are the ones who are more like a factory of terrorism."
The officer claimed they identify from the "young gullible youth" the vulnerable ones "who have drug issues" or "no mission" in life and instigate them through "religious lines or lines of separatism or the most common factor called victimhood".
Lt General Pandey said the other layer were members of the Kashmiri diaspora who are allegedly "supported by an army of networks" and "well paid through the ISI".
The army officer called them distant "radicalisation groups" and claimed they were "adequately supported by well-read educated members, at times doctors, professionals, people in teaching jobs, educationist, businessmen, who in Kashmir, have got all privileges available to them in the world" and they "continue to poison the minds of youth".
Lt General Pandey claimed militants involved in a spate of recent killings, including those of non-locals, were instigated by the members of civil society, although police have offered no evidence so far.
The officer said the word "terrorism" was a combination of two words "terror" and "ism" and while terror was being tackled through "kinetic means" it was the "ism" part that needed to be tackled.
Lt General A.K. Bhatt (retired), former 15 corps chief, said since India was a democracy, the OGWs take advantage of a "thin line" between them and militants.
Lt General Saha called it ironic that people who support militants are called OGWs but not the ones who support the cause of militancy — in this case apparently the proponents of azaadi. But he said the issue was much more complicated and offered a flip side of the narrative.
"In this gathering, where you find, almost 50 per cent are from security forces, let us also be candid and upright in accepting that a whole lot of OGWs are our sources (informers)," Lt General Saha, who also served as 15 corps chief, said.
"Within the circles of security forces, it is often said that if we start arresting OGWs, we will probably bring down terrorism by 70-80 per cent. Although said in a lighter vein, there is a sense in what is being said."
The former army commander said there was a "fair amount of white collar" in the Valley's legal fraternity who are "there to make sure that if you make a strong enough prosecution case" against OGWs, it is met "with so much of resistance" that cases do not reach a logical conclusion.