Libraries on Delhi streets
Books pile up, readers grow at CAA protest sites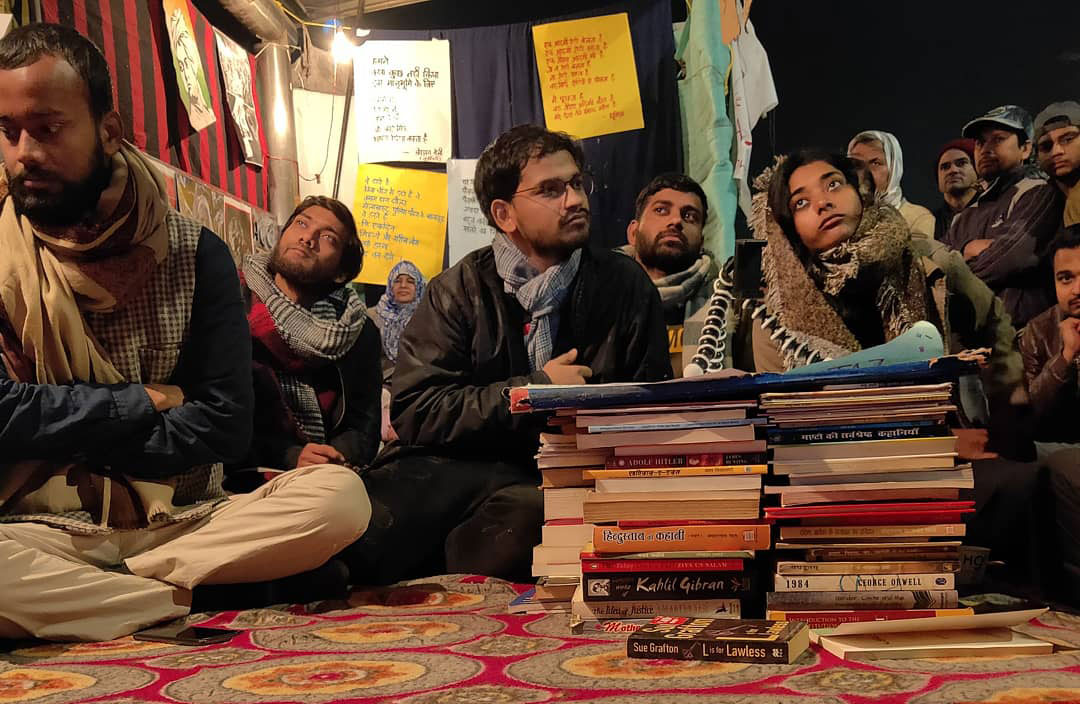 Mohammed Asif, a student of Persian at the Indira Gandhi National Open University, who runs the library, said the Fatima Sheikh-Savitribai Phule Library itself is a protest.
(Picture from Twitter: @FatimaPhule)
---
New Delhi
|
Published 09.02.20, 08:46 PM
|
---
Amidst the speeches, slogans, fear of police or right-wing raids, and even an incident of firing, the Fatima Sheikh-Savitribai Phule Library continues to attract new readers at Shaheen Bagh.
Sheikh and Phule had started the first Indian-run school for girls at Pune in 1848. The library at the longest-running campaign against the citizenship law, also led by women, was started on January 17. It was the fourth anniversary of the suicide of Hyderabad University scholar Rohith Vemula, who had taken his life after he was suspended following a clash with the Akhil Bharatiya Vidyarthi Parishad.
Mohammed Asif, a student of Persian at the Indira Gandhi National Open University, who runs the library, said this itself is a protest.
"There is no registration fee charged here. Education is for all, privatisation of education denies access to those who can't pay…. Universities are attacked because education gives strength to question the establishment," he said.
Asif added: "Shaheen Bagh is a struggle against the ideology which wants to break the Constitution…. Most readers ask for copies of the Constitution in English, Hindi and Urdu, (journalist) Ravish Kumar's Bolna Hee Hai and poems of Faiz Ahmed Faiz. Youngsters ask for works of Bhagat Singh, and the elderly ask for Gandhi's books and Nehru's Discovery of India."
Asif started with 50 books of his own, and now the number is 10-fold, with contributions. Only women are allowed to borrow, and men read at the makeshift library under a bus shelter — now not in use as the road is blocked. There are some books in Bengali and Punjabi too.
Asif has started another smaller library with the same name at the anti-CAA protest in south Delhi's Hauz Rani. There are around 15 anti-CAA sit-ins in the capital, all led by women, with the largest in Shaheen Bagh.
Students of four varsities in the capital are on a drive to collect books for libraries at protest sites in northeast Delhi. Amartyajyoti Basu, a student of MA in history at Ambedkar University who has started a library at the Mustafabad sit-in, told this paper that their priority is children's books.
"The protests are sites of transformation where children and women who rarely come out of their homes are sloganeering. This signifies a social churning that challenges the social setting we live in…
"We learn from books as well as our surroundings and we wanted to do something for the children who come there. Hence, we are collecting books and plan to set up libraries at two other protest sites as well," Basu said.
The "Read For Revolution" library outside Jamia Millia Islamia has run the longest —from December 24.
One of its founders, Sahil Ahmed, who is pursuing an MA in Peace and Conflict Studies, said this library was set up as a reaction to the police rampage on the varsity's library reading halls on December 15. One of the donors is author Arundhati Roy.
"Every fascist ruler begins by destroying libraries because they give a narrative to society and readers become torchbearers of change. We started the library at the protest site to remove irrationality promoted by the government… We used to get a lot of schoolchildren before the winter break," he said.
"The Constitution, copies of the CAA, and books on citizenship and Occupy movements are in demand. Some of us are teaching reading and writing here to kids in the neighbourhood who don't go to school."
All the librarians are prepared for the worst, and know this is not permanent. "These are volatile times," said Basu.
"Small scale skirmishes with right-wingers take place routinely… Libraries are not only a cultural repository but also an engagement to change certain ideas we may have not questioned before."