Court to deliver verdict by September 2
Let Bhushan off with a reprimand: Venugopal
'It is a fit case to forgive him. Give him a warning and let him go'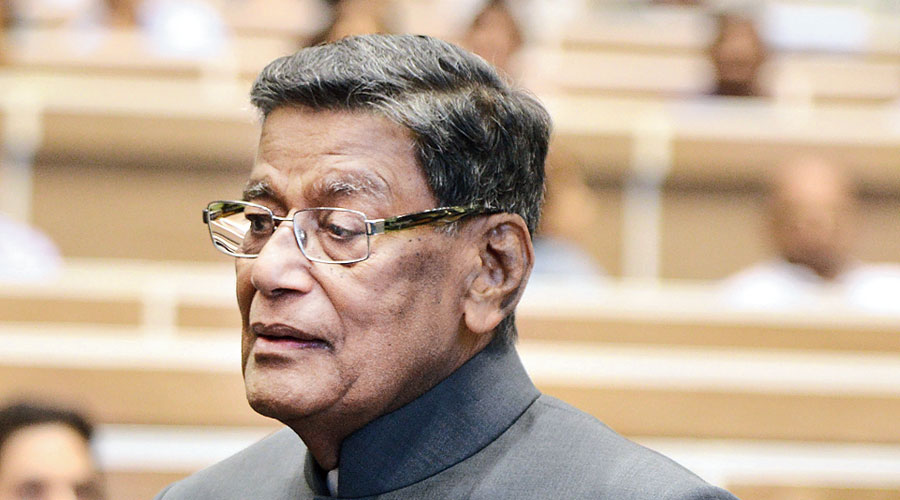 KK Venugopal
File picture
---
New Delhi
|
Published 26.08.20, 03:18 AM
|
---
Attorney-general K.K. Venugopal on Tuesday urged the Supreme Court to display "statesmanship" and let off advocate Prashant Bhushan with a "reprimand" or "warning" instead of sending him to jail for two tweets for which he has been convicted of criminal contempt.
"Let this court show statesmanship and not use the powers of the contempt…," Venugopal told the court.
Venugopal, who had earlier clarified that he was appearing as attorney-general of India and not as the top law officer for the Centre, was responding to the court that had sought his opinion.
On Monday, Bhushan had filed a supplementary statement, saying "an insincere apology… in my eyes would amount to the contempt of my conscience and of an institution that I hold in highest esteem".
The three-judge bench of Justices Arun Mishra, B.R. Gavai and Krishna Murari reserved its verdict on Tuesday. It will be delivered by September 2, when Justice Mishra, who is heading the bench, is scheduled to retire.
On Tuesday, at the commencement of the proceedings, Justice Mishra told the attorney-general: "Tell us what is to be done. We expected a different statement."
Venugopal, reading out from notes, submitted that several sitting and retired judges had over the years commented on corruption in the higher judiciary.
Justice Mishra: "That matter, we already adjourned earlier and sent it to an appropriate bench."
The judge was referring to another contempt case — the events of which took place in 2009 — against Bhushan, which will be sent to another bench now.
Venugopal: "The statements (by Bhushan) were perhaps only to tell the court about the facts and ask for reforms. It is a fit case to forgive him. Give him a warning and let him go."
Justice Mishra: "We shouldn't be getting influenced by media reports (on the statements by the former judges). We will rather hear what the AG has to say. What, in your opinion should be the punishment to him?"
Venugopal: "A warning to tell him 'please don't repeat this in future'."
Justice Mishra: "There is a positive part of the statement by Mr Prashant Bhushan in which he says he has faith in this institution. But at the same time, he says he won't apologise since he hasn't made any mistake. Everyone makes mistakes but the person must also realise it. What to do now?
"If a person says he didn't make a mistake and he won't apologise for it despite repeated opportunities, what will be the purpose of saying 'don't do it again'? It is not about us or him. It is about the institution after all."
Venugopal: "I myself wanted to file a contempt case against Mr Prashant Bhushan when two CBI officers were fighting (in 2018) and he said I fabricated documents. But after he expressed regret, I withdrew. Let democracy follow in this case when he has exercised his free speech. It will be tremendously appreciated if the court leaves it at that. Even if he says he hasn't done anything wrong, this court should take a compassionate view. I speak for the Bar also." (Venugopal is one of the senior-most members of the Bar.)
Justice Mishra: "If he (Bhushan) believes he has done no wrong, what's the purpose of this warning?"
Justice Gavai: "Mr AG, you too filed a contempt (case) against Mr Bhushan and withdrew it only after he expressed regret. But that's not the case here."
Justice Mishra: "He has made several disparaging remarks against this institution, judges of this court. Even in the Ramjanmabhoomi case, only one judge has retired, the rest of them are still in this court."
Venugopal: "He won't do this again."
Justice Mishra: "Let him say this. It was so simple. The case was about two tweets but he later added colours to these tweets…."
The AG suggested the court can ignore Bhushan's iteration and forgive him.
Justice Mishra: "How can we? Everyone is criticising us that we haven't considered his response, which, according to us, is even more derogatory. Now if we remove it, we will be blamed we deleted this on our own."
Venugopal said that since Bhushan had expressed his regret in the 2009 contempt case, he can do the same in the present case too. "Let him say this in the present matter too and say he expresses regret. That will be the statesmanship."
The bench: "Learned attorney-general, please read his reply. See what he has said, 'the Supreme Court has collapsed.' Isn't that objectionable?"
Venugopal: "I agree that the Supreme Court has done so much for the poor, undertrials and various other sections of the society. But this wasn't the subject matter of the case against him. Let him express regret."
Justice Gavai: "And for that, we had given him three days."
Justice Mishra pointed out that Bhushan, rather than expressing regret, had dared the court to consider his defence.
Venugopal: "Although it is too late for him to go back on what he has said, he can still express regret."
The court also pointed out that Bhushan in his reply had alleged that the court was becoming executive-minded.
Venugopal: "The question is what will be the purpose of inflicting punishment. Let them (Bhushan) withdraw this affidavit.… Let this court show statesmanship and not use the powers of the contempt because of this affidavit."
Justice Mishra: "For that, they will have to withdraw it."