Lesson Rahul Gandhi and party have missed: Amethi shows that Congress habits die hard
Several party workers said they were disappointed as Rahul went about the meeting the way he would in the past & did not rebuke campaign managers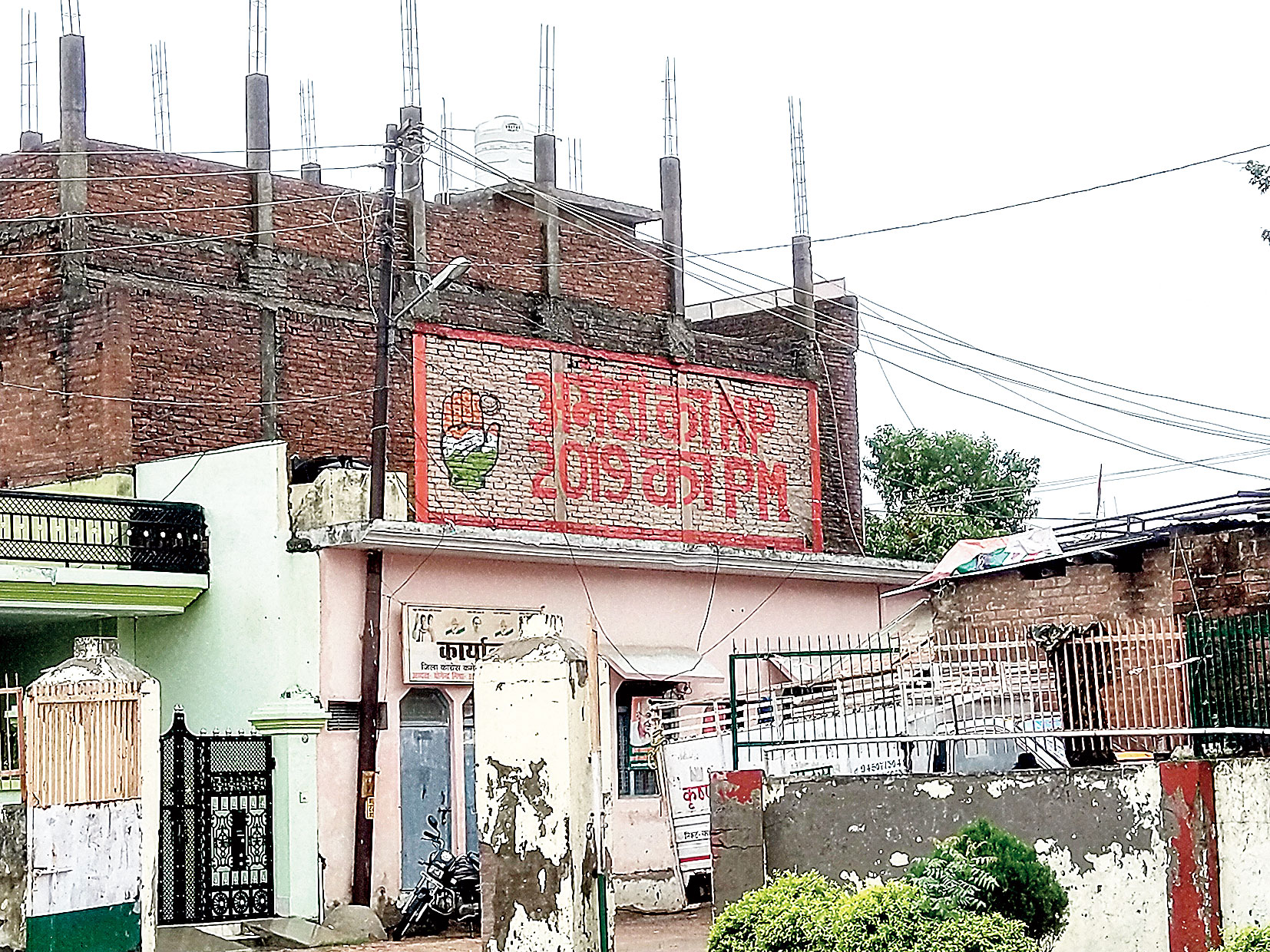 The slogan 'Amethi ka MP, 2019 ka PM' on a wall in front of Rahul Gandhi's office in Gauriganj in Uttar Pradesh survives the election result.
Picture by Piyush Srivastava
---
Amethi
|
Published 12.07.19, 01:43 AM
|
---
When Congress workers in Amethi learnt that Rahul Gandhi would hold an election review meeting on Wednesday, many of them thought he would rebuke his campaign managers publicly for the defeat, drop his "sycophants" and induct "sincere grassroots activists" into his team.
But, several party workers told The Telegraph, they were disappointed right from the beginning as Rahul went about the meeting exactly the way he would in the past.
He allowed his old "core team" to pick the participants and the speakers. As usual, party workers were warned at the outset not to criticise any local leader on pain of expulsion, several among the Congress faithful told this newspaper.
Like always, several hundred among the invited workers were not allowed to enter the venue because of alleged mismanagement by Rahul's local team.
Some 1,400 had been issued with printed I-cards for the meeting but the local leaders, who were supposed to be at the gates to identify each delegate by face, had abandoned their post and gone inside early, the party workers said.
"They couldn't wait to show their faces to Rahul," was the consensus.
By then only 950 had been able to get in. As the rest stood outside and screamed their protest in driving rain, another 100 or so were let in.
The others left after waiting an hour, but not before chanting abusive slogans against the local Congress leaders.
Many of those who attended the meeting — where several workers publicly blamed themselves for Rahul's defeat, saying they should have worked harder, and apologised — were disappointed that Rahul didn't pull up his local aides.
This correspondent met some of those who were returning from the meeting, declaring they wouldn't help the Congress in future elections because "Rahul is still unable to realise he lost because of his own stooges".
"These sycophants wrote a slogan on a wall in front of Rahul's office in Gauriganj before the elections to make him happy and left for Delhi to hang around with him instead of staying back and campaigning for him in Amethi," said A.K. Mishra, a Congress worker.
He pointed to the wall that still carried the slogan: "Amethi ka MP, 2019 ka PM (The Amethi MP will be PM in 2019)."
Rahul's behaviour since the election rout for the Congress has convinced many loyalists in Amethi that he hasn't the fight in him to turn things around like his grandmother Indira Gandhi did after her stunning defeat in the post-Emergency election of 1977.
Two Congress workers who attended Wednesday's meeting told this newspaper a parable and an anecdote to explain their view of Rahul's style of leadership, while asking not to be identified.
The parable goes like this: An old astrologer patronised by a king brought his son along to the court one day. He told the king he wanted to retire and would like his son to be his successor.
The astrologer knew his son was not very clever, so he had got him to memorise everything he had taught him. Deciding to test the son, the king hid a diamond ring in his palm and asked him to identify it.
"It's round," the son began. "It's made of metal and stone. It has a hole…" he continued, advancing step by step as he had been taught. An impatient king shouted: "Now tell me what the object is."
"It's a chakki (quern or hand mill)," the flustered son answered hastily, not realising that a quern cannot be hidden in a palm.
The anecdote the other Congress worker narrated related to Rahul's father and former Prime Minister Rajiv Gandhi, under whom the Congress lost the Lok Sabha elections in December 1989.
While visiting Amethi, his constituency, in early 1990, Rajiv had turned towards the reporters covering the trip and invited them to ask him whatever they wanted.
The first question, which turned out to be the last, came from a Hindi journalist who cited how Indira, arrested in 1977, had "taken to the streets" to portray herself as a victim and regain public sympathy.
"You are facing corruption charges over Bofors. Will you fight back the way she had?" the reporter asked.
Perhaps some or other word the reporter had used had offended Rajiv. He snapped back: "What do you mean? Why should I? Do you think I should engage in street-fighting? What kind of question is this?"
Whether and how Rajiv would have fought back remains unknown since he was assassinated mid-election in May 1991. The purported "sympathy wave" still left the Congress far short of majority but it was able to form a coalition government.
Ram Manohar Pandey, a political observer from the adjoining Rae Bareli constituency who was present during Wednesday's conversation, gave his own interpretation of the parable and the anecdote.
"Rahul is like the astrologer's son, who hadn't the wisdom of his father, and his father Rajiv, who lacked the desire to step out of his comfort zone and fight back the way his mother did," Pandey said.
"I don't think Rahul wants to be proactive to try and win back power. He will wait for anti-incumbency sentiments against Prime Minister Narendra Modi and his party to grow to a level when the voters would by themselves throw them out and reinstate the Congress."