Adverse legal opinion behind delay in releasing Varavara Rao's book
Last October, Penguin Random House India had announced that an english translation of his Telegu poems would be published under its Vintage imprint in 2021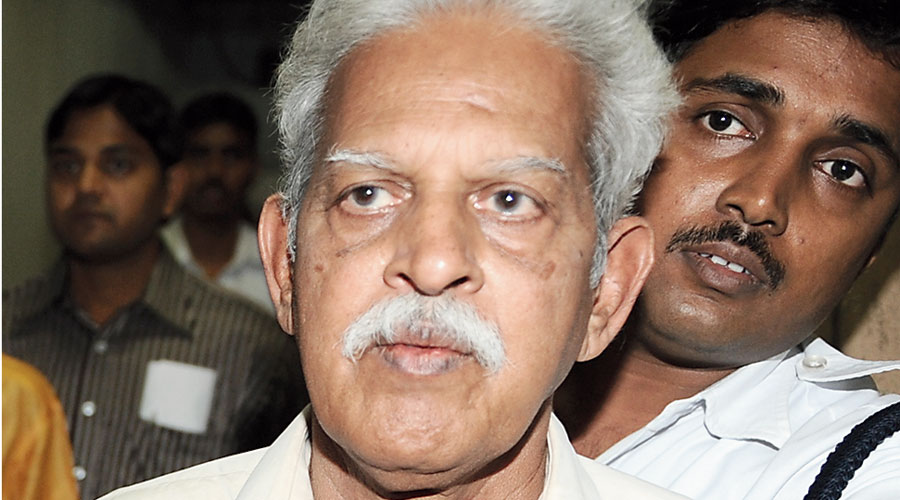 Varavara Rao
File picture
---
New Delhi
|
Published 11.11.21, 02:22 AM
|
---
The publication of the English translation of a collection of Telugu poems by P. Varavara Rao, the Hyderabad activist facing trial in the Elgar Parishad "terrorism" case, has been delayed because of adverse legal opinion the publisher is said to have received.
Rao, 81, and 15 others were arrested in 2018 and 2020 for alleged links to Maoists who are accused of involvement in the Ambedkarite event in Pune on December 31, 2017, that was followed by caste clashes the next day in which one person died.
In a statement, the editors of Varavara Rao: India's Revolutionary Poet — Telugu journalist and Rao's nephew N. Venugopal, and London-based author Meena Kandasamy — said they were awaiting a "favourable, second legal opinion".
Last October, Penguin Random House India had announced that the book, an anthology of poems on a wide range of subjects including repression and incarceration, would be published under its Vintage imprint this year.
Venugopal and Kandasamy said in their statement on Tuesday night that they "reiterate our trust in Penguin Random House India, and await a favourable, second legal opinion…. We have hope that this book will be published in the near future."
Their statement was in response to a report on The Quint web portal on Tuesday that "Penguin Random House has stalled the publication of a collection of his (Rao's) poems, citing its concerns about the 'nature of charges' levelled against him".
Neither Penguin Random House India nor its subsidiaries Ebury Publishing and Vintage responded to queries emailed by The Telegraph.
Elizabeth Kuruvilla, the executive editor of Ebury and Vintage, has retweeted Kandasamy's tweet of the statement.
Kuruvilla had been quoted by The Quint as saying that the book was still in the "publication schedule".
"It is not the only book in our list whose publication has been delayed in the past pandemic year, as it is undergoing the same rigorous processes we follow for all the books we publish," Kuruvilla was quoted as saying.
Venugopal told this newspaper that the contract with the publisher requires the book to be published before October next year.
"We (initially) submitted 65 poems. Three of these poems were written after this (Bhima Koregaon) case…. They have all been published in Telugu magazines and one of them has been translated into Hindi and published in Dastak (a magazine). We dropped the three poems as a precaution to avoid any legal hassle although there is no legal ban on them. Our deadline was last December, within which time we submitted the work that has 62 poems which are now under consideration," Venugopal said.
He added: "It seems the legal opinion of this publisher (Penguin Random House India) said there may be problems with some poems…. They have not indicated what these (problems) are. What they indicated was that some of the poems have to be deleted because of this legal opinion, but anyway we will go for second opinion."
Venugopal, also editor of the Telugu monthly Veekshanam, said he was told about the unfavourable legal opinion by Penguin Random House India between March and April this year and that the legal vetting process was still on.
In 2010, Penguin had published Captive Imagination, an English translation of Rao's letters from solitary confinement in Secunderabad prison between 1985 and 1989.
The 62 poems for the upcoming book include some from his collection of poetries from 1979 to 1985, Bhavishyatthu Chitrapatam (Portrait of the Future). The poems about repression and his time in police custody were published by Samudram Mudranalu in 1986 and banned by the government of undivided Andhra Pradesh from 1987 to 1990 while Rao was in jail in two Maoist cases. The first case was withdrawn and he was acquitted in the second.
In the Elgar case, Rao and the others were booked under the Unlawful Activities Prevention Act (UAPA), a law used to deal with terrorism. The eldest accused, Father Stan Swamy, an 84-year-old Jesuit priest and tribal rights activist from Ranchi, died awaiting bail in custody four months ago.
Rao, who has multiple ailments and had been hospitalised with Covid during his latest incarceration, is on medical bail but his movements have been restricted to Mumbai. He is due for surgery related to appendicitis and hernia.
Despite demands from internationally renowned human rights activists every few weeks in the last three years, the National Investigation Agency and the Maharashtra government have consistently opposed bail pleas in the Elgar Parishad case. Forensic analysis of devices of the accused by an American firm has indicated planting of evidence on the computers of two of them.