Leadership crisis: Kapil Sibal's call triggers anger in Congress
Even G-23 is silent on his advice to Gandhi family to step aside and let someone else lead the party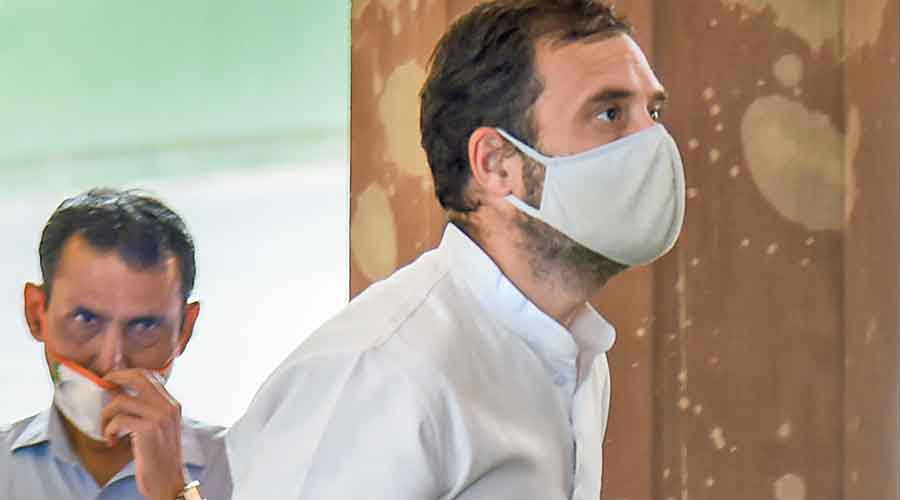 Rahul Gandhi at Parliament on Tuesday.
PTI Photo
---
New Delhi
|
Published 16.03.22, 01:29 AM
|
---
Senior Congress leader Kapil Sibal's call for the Gandhi family to step aside and let someone else lead the party hasn't found favour with even the G-23, which he belongs to, while other leaders are seething with rage over his utterances.
Asked if they endorsed Sibal's view, key G-23 member Anand Sharma told The Telegraph: "We are party to the resolution passed by the Congress Working Committee. I have nothing more to say." G-23 is the name given to the group of leaders who had come together and raised concerns over the state of the party.
The CWC not only expressed full confidence in Sonia Gandhi's leadership, Sharma and Ghulam Nabi Azad, who too is part of the G-23, said at the meeting that they had nothing against the family.
Some other members didn't want to talk about the issue. One leader said on condition of anonymity: "Sibal is free to have his personal views but he certainly doesn't speak for all of us."
Outside the G-23, while some leaders are furious and want Sibal expelled, others argued that he was prescribing the wrong medicine for a serious malaise.
One party MP said: "Rahul Gandhi is indisputably the only acceptable leader and has pan-India appeal. He will win hands down in an internal contest. What is required is a strong team to back him, which he has failed to build."
While many leaders said they don't want to get into a verbal duel with Sibal because that will only escalate the ugly controversy, Congress leader of Lok Sabha Adhir Chowdhary said: "Sibal is ehsaan faramosh (ungrateful man). He is attacking the family after enjoying fruits of power thanks to the blessings of the Gandhi family. He built his political career on the strength of support from Sonia Gandhi. Probably our leaders committed a blunder by nurturing such a man who would betray them when the party is weak."
Chowdhary added: "Gandhis are not merely a family. They represent the Congress's identity. They are a symbol of a political philosophy that is antithetical to the RSS worldview. That's why the BJP always conspires to defame them.
"People like Sibal are aiding that conspiracy. Their rants strengthen the BJP's propaganda and weaken the Congress. The Congress is fighting the Modi juggernaut, which is not an easy battle. At this critical juncture, the likes of Sibal have weakened the Congress. He is an opportunist, a betrayer, an ehsaan faramosh."
Manickam Tagore, who is an MP from Tamil Nadu and is in charge of Telangana, tweeted: "Why RSS & BJP wants Nehru-Gandhi's out of the leadership? Because without Gandhi's leadership, the Congress will become the Janata Party. It's easy to kill Congress, and then it's easy to destroy the idea of India. Kapil Sibal knows it but why is he speaking the language of RSS/BJP?"
Why RSS & BJP wants Nehru-Gandhi's out of the leadership? Because without Gandhi's leadership congress will be become Janata party . It's easy to kill congress then it's easy to destroy the idea of India . @KapilSibal knows it but why he is speaking the language of RSS/BJP ? pic.twitter.com/kDDcqo2PFO

— Manickam Tagore .Bமாணிக்கம் தாகூர்.ப (@manickamtagore) March 15, 2022
Younger leaders believe that every resource should be deployed to rebuild the party to be able to create a strong political resistance to the BJP and all the habitual dissenters should be kicked out.
"There has to be a line beyond which nobody should step out unless we are encouraging the leaders to wantonly violate party discipline. Where is the party's Disciplinary Action Committee? Why has the Delhi Congress Committee not passed a resolution for his expulsion from the party?" said a young office-bearer.
Sibal had said in an interview on Tuesday that while leaders prefer "Ghar ki Congress", he prefers "Sab Ki Congress", in a clear reference to the control of the Gandhi family on the party. Arguing that the Gandhi family should voluntarily step aside, he said: "The people in the CWC, the prominent leaders of our party in the CWC barring a few exceptions, feel maybe genuinely, that without the Gandhi family, it is not possible for the Congress to survive. That's a possible point of view. It is not a point of view that many of us share."
Chhattisgarh chief minister Bhupesh Baghel said those who were hiding at home are lecturing those who were fighting on the ground. They should have come to Uttar Pradesh to understand how difficult the struggle on the ground was and under what circumstances they were fighting, he added.
Responding to Sibal's barb about "Ghar ki Congress", Baghel said the Congress indeed belonged to every household but some people wanted to reduce it to a Congress of "dinner meetings" in bungalows. Those who wanted to finish off the Congress would be wiped out themselves, he said.