Lawyers lock up courts in Delhi
The council has a section which is considered close to the ruling dispensation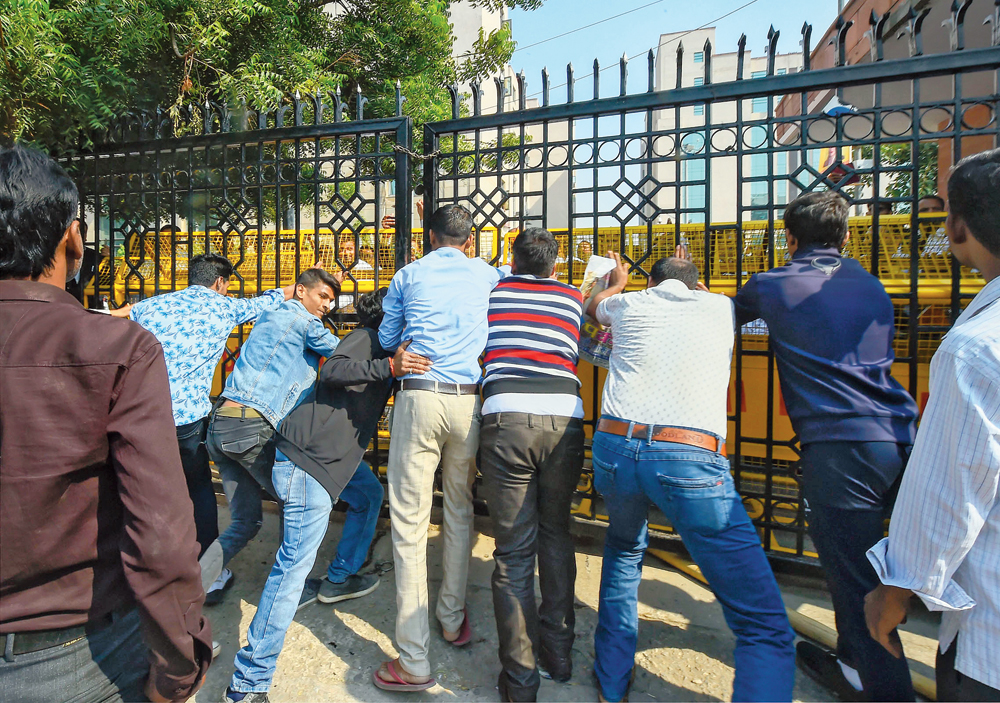 People try to push open the main gate of the Saket district court complex in New Delhi on Wednesday after it was locked by lawyers on strike
(PTI photo)
---
New Delhi
|
Published 06.11.19, 08:51 PM
|
---
Lawyers locked the gates of two key district courts in Delhi and hundreds of them stayed away from the remaining four courts on a day the Bar Council of India described the protests by Delhi police on Tuesday as "politically motivated" and "the darkest day in the history of independent India".
The council, a section of which is considered close to the ruling dispensation, urged Union home minister Amit Shah "to take this issue seriously". But Shah had not broken his silence on the issue till Wednesday evening.
The lawyers are seeking action against police for a lathi-charge on Saturday in the Tis Hazari court complex following a parking brawl. Hundreds of Delhi police personnel had besieged their headquarters on Tuesday for 10 hours after some lawyers beat up two policemen.
On Wednesday, the lawyers locked the main gates of the Saket court complex and Patiala House, shutting out litigants.
But they held the police responsible for the shutdown. "There are no police officers inside the complex to check the litigants. There may be some criminals among them. We cannot take a risk and allow everyone inside without security checks," said advocate Dhir Singh Kasana, the general secretary of the coordination committee of all district court Bar associations in Delhi.
At the Rohini district court, a lawyer took off his clothes, poured kerosene on his body and vowed to immolate himself while another climbed atop the court building and threatened to jump. Both were dissuaded.
The Bar Council of India urged the advocates to resume work from Thursday and suspend the ongoing stir for 10 days, by when it sought the arrest of the police personnel responsible for Saturday's clampdown.
In a statement, the Bar Council, the regulatory body for advocates in the country, said Tuesday's protests by the police were nothing but a threat to the judiciary, lawyers and the government.
"We have seen the media reports on yesterday's unruly mob, protests and filthy slogans by Delhi police. In our view it was the darkest day in the history of independent India. Certainly it seems to be a politically managed move and it is very sad," said a statement issued by Bar Council chairman Manan Kumar Mishra and co-chairman Ved Prakash Sharma.
The council urged the courts not to allow the police to file any complaints against the lawyers.