Law for blanket exemption from workers' rights
State right to grant unconditional exemptions to any new industry against unspecified conditions that they 'think fit' prompts academics and labour unions to voice fears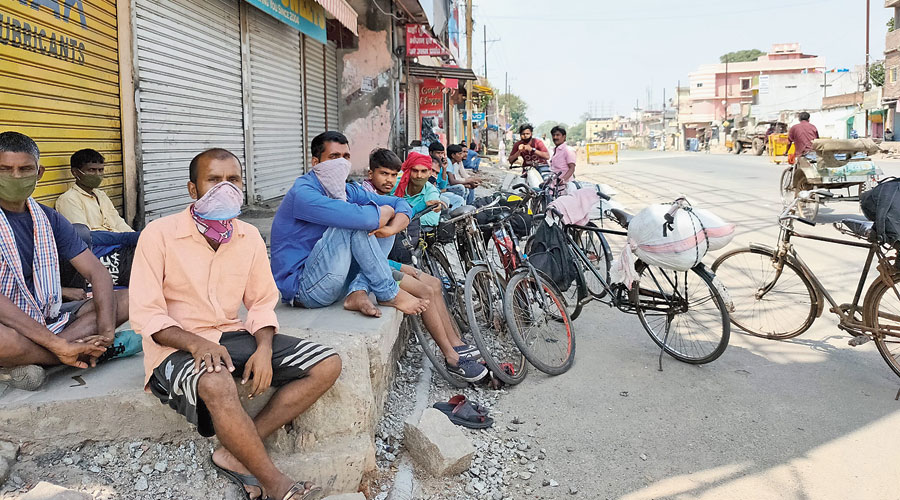 ---
---
A bill on industrial workers' rights passed on Wednesday empowers the states to grant unconditional exemptions to any new industry, prompting academics and labour unions to voice fears for the future of labour rights.
Another bill, also passed on Wednesday and dealing with workers' health, safety, death compensation and working conditions, allows the states to grant exemptions to industries against unspecified conditions that they "think fit".
Labour economists said the bill should have specified the conditions.
The first bill, the Industrial Relations (IR) Code — dealing with matters such as safeguards against arbitrary dismissal or punishment, or discrimination in promotion — not only automatically exempts every factory with less than 300 employees but allows state governments to exempt any new factory irrespective of worker strength.
Under the old laws it subsumes, such automatic exemption accrued to factories with less than 100 employees. New industries could be granted exemption only if they had an adequate in-house mechanism to protect workers' trade union and individual rights.
That is, only if the government trusted the employer not to violate workers' rights could it relax the bureaucratic and legal control as an incentive.
Clause 96(2) of the IR Code makes the exemption unconditional, saying: "Where the appropriate government is satisfied in relation to any new industrial establishment or new undertaking or class of new industrial establishments or new undertakings that it is necessary in the public interest so to do, it may, by notification, exempt, conditionally or unconditionally, any such new establishment or new undertaking or class of new establishments or new undertakings from all or any of the provisions of this Code."
RSS affiliate Bharatiya Mazdoor Sangh on Wednesday joined the Left and Congress labour arms in opposing the provision for blanket exemption. "It's not advisable; we don't agree with such exemption," its general secretary Virjesh Upadhyay said.
The second bill, the Occupational Safety, Health and Working Conditions Code, deals with subjects such as the health and safety of workers, their work hours, holidays, leave, and compensation for death or injury.
Clause 127 of the code allows the states to grant exemptions from the entire legislation to any industry or group of industries, imposing conditions to be decided by the Centre and the states.
Labour economists said the states tended to grant employers exemptions from regulations on labour rights or working conditions in the name of promoting industry, and that laws allowing blanket exemptions could end up defeating the objective of having workers' rights.
"Clause 96 of the IR Code is a very dangerous clause. The whole purpose of protection will be defeated," Shyam Sundar, professor of human resource management at XLRI, Xavier School of Management, Jamshedpur, said.
He said the occupational safety bill should have spelled out the conditions under which exemptions can be granted, "instead of leaving it to the bureaucracy".
Not defining the conditions is "dangerous", given the regular industrial accidents, he said. "The code deals with sensitive and critical issues of the workers' safety and health."
Labour economist Amitabh Kundu said: "The general thinking of the state governments is that if they permit exemptions in labour laws, industrialisation and employment generation will get a boost."
But such measures in the last seven years in Rajasthan and Andhra Pradesh "did not lead to an increase in investment while Gujarat attracted capital-intensive industries which did not increase employment in any significant manner", he said.
"This is against the general expectation that relaxations in labour laws would lead to the growth of labour-intensive industries," Kundu said.
He said that relaxing labour laws temporarily because of the Covid-and-lockdown-induced economic crisis could be acceptable, but the relaxations should not be allowed permanently and need to be reviewed periodically.
The Supreme Court had in January 2017 (Krishna Kumar Singh v State of Bihar) recognised the states' powers to issue ordinances but argued that these pieces of legislation were subject to judicial challenge and could be struck down on constitutional grounds.
Both the IR Code and the bill on occupational safety had cleared the Lok Sabha before their passage in the Rajya Sabha on Wednesday.
The occupational safety code has several new worker-friendly features, such as the mandatory issuance of appointment letters and mandatory annual health check-ups for all the workers