Laureates oppose Modi award
The foundation says it still plans to present Modi with the Goalkeepers Global Goals Award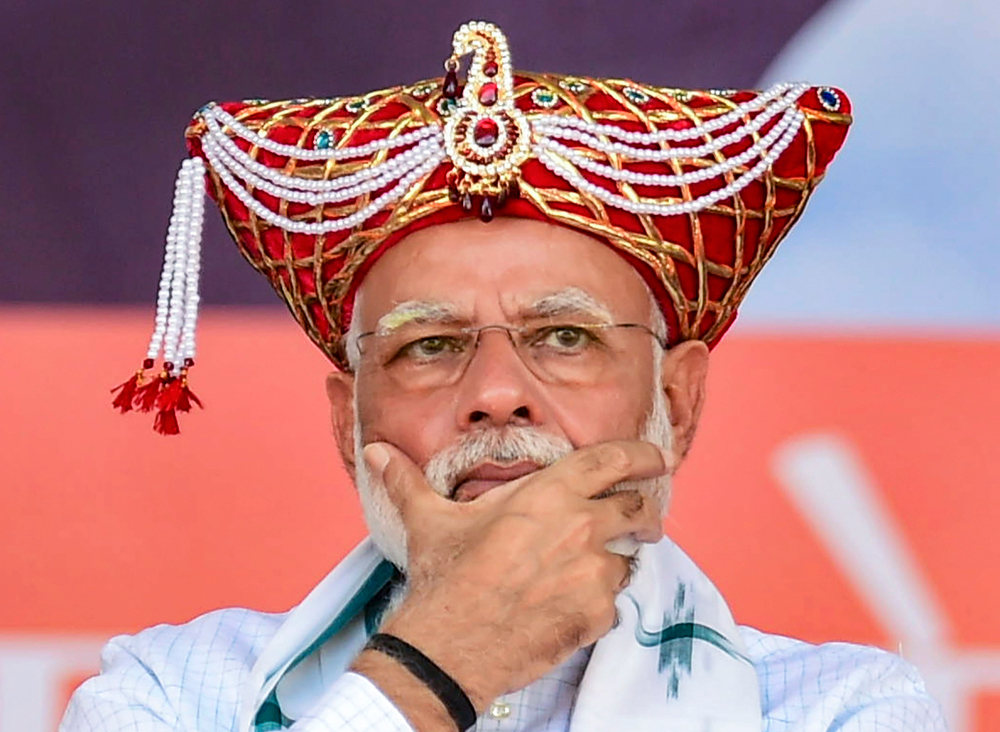 Prime Minister Narendra Modi during the Vijay Sankalp Rally in Nashik on Septemebr 19, 2019.
(PTI)
---
New Delhi
|
Published 21.09.19, 08:40 PM
|
---
Three Nobel Peace Prize winners have added their voice to criticism of the Bill and Melinda Gates Foundation for its plan to bestow a prestigious award upon Prime Minister Narendra Modi next week during his US visit.
The Nobel laureates sent a letter to the Gates Foundation stating that under Modi's leadership, "India has descended into dangerous and deadly chaos that has consistently undermined human rights, democracy," The New York Times reported.
"This is particularly troubling to us as the stated mission of your foundation is to preserve life and fight inequity," said the letter signed by Mairead Maguire, a peace activist from Northern Ireland; Tawakkol Abdel-Salam Karman, a Yemeni journalist and politician; and Shirin Ebadi, an Iranian lawyer and political activist.
The Telegraph had reported on September 14 that a group of South Asian Americans had asked the Bill and Melinda Gates Foundation to drop its plan to give the award to Modi, saying it is inconsistent with the foundation's principle of "equal value in all lives".
The controversy threatens to cast a shadow over Modi's much anticipated visit to the US, The New York Times reported.
The letter by the Nobel laureates expressed concern about the state of education in Kashmir, which has been severely hampered by the security measures. Most schools have been closed for more than a month and Indian officials have been at a loss to say when students will return.
"As one of your organization's goals is to 'ensure that young people survive and thrive,' please consider this statistic: In 2016 (the year the most recent data has been available), schools in Kashmir were open for only four months out of the year," the letter stated.
An Indian government spokesman would not comment for this article. But Indian officials have defended Modi's actions on Kashmir, saying that the area has been plagued with conflict and bloodshed for decades and that the new arrangement will promote peace.
The Gates Foundation, which focuses on health and anti-poverty programs, is honouring Modi for his ambitious Swachh Bharat campaign. The US newspaper added that "no one can dispute that Mr. Modi has done more than any other Indian prime minister, or perhaps any other world leader, when it comes to building toilets".
The foundation says it still plans to present Modi with the Goalkeepers Global Goals Award at a ceremony in New York on Tuesday. The award is designed to celebrate an elected official who has promoted sustainable development goals, the foundation says.
In response to the mounting questions, the Gates Foundation released a statement explaining its decision.
"Globally, sanitation-related diseases kill nearly 500,000 children under the age of 5 every year", it said. "Yet despite its importance, sanitation has not received significant attention. A lot of governments are not willing to talk about it, in part because there are not easy solutions.''
British actor and model Jameela Jamil and the rapper and actor Riz Ahmed, both of whom pulled out of participating in the awards ceremony, as confirmed by the Gates Foundation. Neither have provided public statements on their reasons for it.
Additional reporting from New York Times News Service