Landslide near Munnar wipes out colony
15 dead, many missing as 40 houses of tea garden workers are buried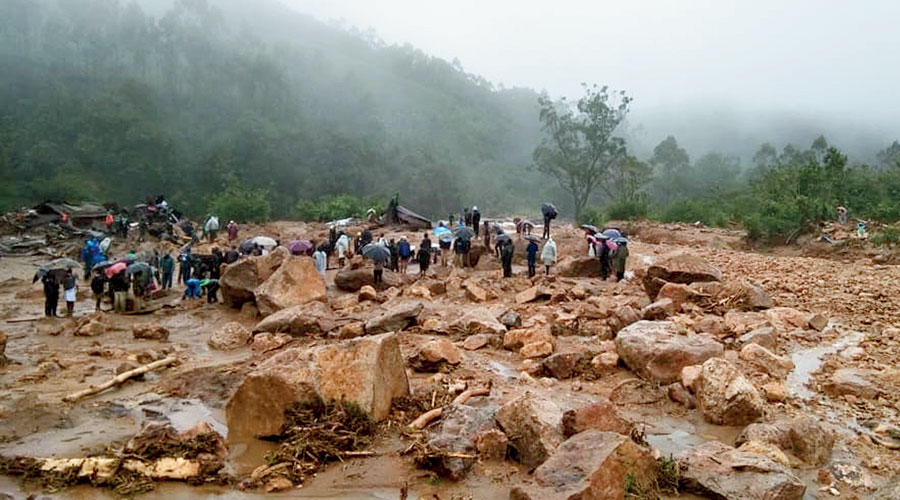 ---
---
At least 15 persons were killed when a rain-triggered massive landslide swept down a small residential colony at Pettimudi near the picturesque hill station of Munnar in Kerala late on Thursday night, trapping under debris around 78 residents most of whom are tea garden workers.
Fifteen persons have been rescued while around 50 people were still trapped under piles of stones and loose mud over 19 hours after the landslide.
Mainly plantation workers from Tamil Nadu, the victims had no time to react when the massive landslip from the Rajamala hills crashed onto their row houses and church at Pettimudi around 10.30pm on Thursday. Located 19km from Munnar, Pettimudi is one of the divisions of the Kannan Devan Hills Plantations.
According to emergency services, the Pettimudi colony had 40 houses in four rows, all of which have been wiped out. Southern India's highest peak, the Anamudi that stands at 8,841ft above sea level, is located at Rajamala, 5km from Pettimudi.
Even those in neighbouring villages who heard the thundering sound of the landslide could not inform the authorities due to poor mobile connectivity in the area, which has been witnessing heavy rain for the past 10 days that has also disrupted power supply.
The incident came to light early on Friday when a watchman informed the authorities.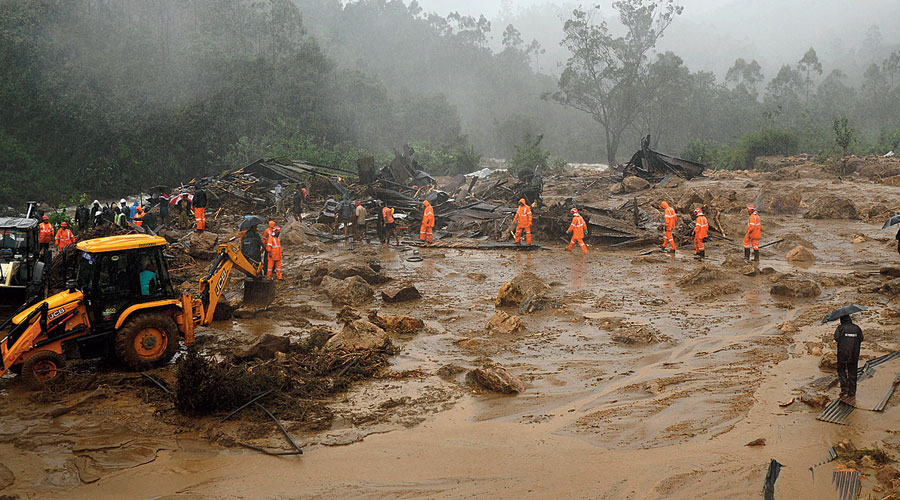 A youngster who has been rescued and taken to Tata Hospital in Munnar told reporters in Tamil that he had lost his entire family. "Everything was over by the time some of us heard a sound like a thunder roll. I don't know how many will survive," he said, crying uncontrollably.
An aged man told reporters that Pettimudi was not habitable anymore. "My family is under mud. No one can stay in this place anymore," he said in between sobs.
Rescue workers comprising the fire and emergency services, police and volunteers had to surmount a major impediment in reaching the accident site since the only bridge that connected the two banks of a river had been washed away in the 2018 floods that had wreaked havoc in Kerala.
Although the state government had started building another bridge, work had to be stopped just before completion when the pandemic-induced lockdown began.
The emergency services brought an excavator that worked non-stop until about 3pm to put up a girder and make a temporary pathway for vehicles with stones and mud.
Before the bridge patchwork was done and emergency vehicles could move, the rescue workers had to take a detour of about 60km on foot through forests and tea plantations to reach Pettimudi as the Kanniyar river was in spate and could not be crossed.
Sources said the vehicles were taking at least two hours to reach the accident spot after crossing the Periyavara bridge. Rescue workers from the National Disaster Response Force could move their heavy equipment only after the bridge opened.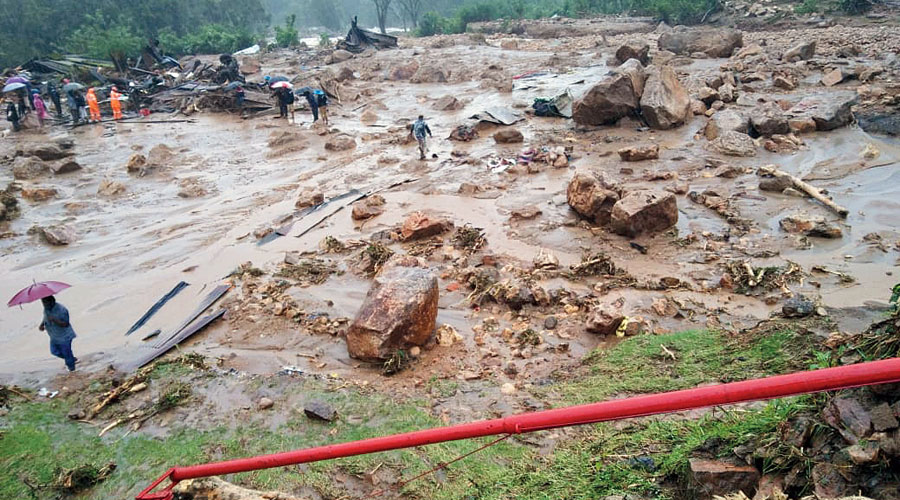 The inclement weather did not allow the government to deploy helicopters to airlift the injured to better-equipped hospitals in nearby towns and cities.
Revenue minister E. Chandrashekaran told reporters that the government had contacted the air force for helicopters. "But air force officials said it would be extremely dangerous to operate in such weather," he said.
That left only ambulances to ferry the rescued to Tata Hospital at Munnar town in Idukki district. The government said several other hospitals had also geared up to treat the injured. The health department has dispatched 15 ambulances and a special medical team.
Power minister M.M. Mani, who hails from Idukki district, said there would be no shortage of resources to treat the injured.
"Our priority at the moment is to rescue as many people as possible. The weather has been hampering the rescue operations. But I am going there anyway," he told reporters.
The India Meteorological Department sounded a red alert for Idukki on Friday, warning of extremely heavy rain.
Munnar MLA S. Rajendran said: "At least 200-300 people live there (Pettimudi). There are many lanes and a canteen at the location."
Chief minister Pinarayi Vijayan said: "The National Disaster Response Force has been deployed for the rescue operations in Idukki. The team was already stationed in the district. Another NDRF team is also being moved to Idukki."
Vijayan announced an ex gratia payment of Rs 5 lakh each to the kin of the deceased and said all the injured would be treated for free.
Prime Minister Narendra Modi expressed anguish at the loss of lives. The Prime Minister's Office said in a tweet that an ex-gratia of Rs 2 lakh each from the Prime Minister's National Relief Fund would be given to the next of kin of those killed in the landslide. Those injured will get Rs 50,000 each.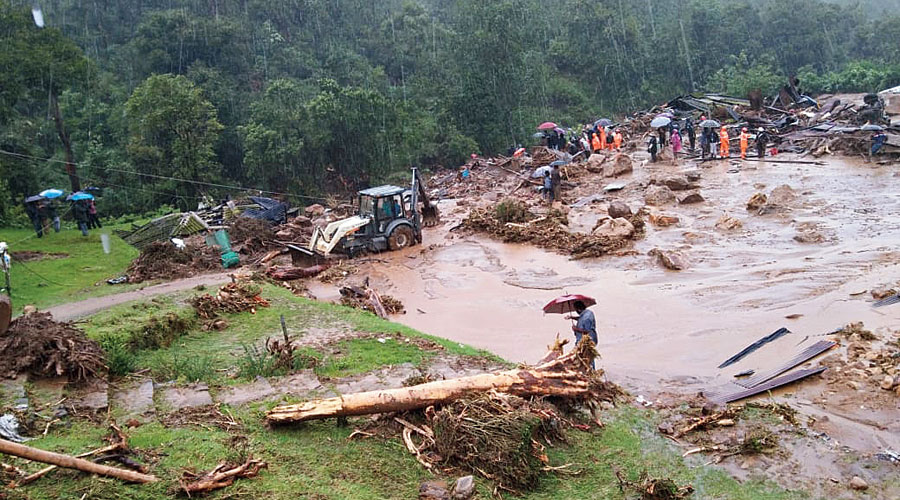 The landslide has come at a time Kerala is bracing for another year of floods. Water levels have started rising in several dams that draw water from the Western Ghats.
One of the worst affected district in the last two years of flooding, Pathanamthitta, is posed for another deluge as overflowing rivers have submerged roads and public places. Water levels have been rising even in remote areas of Kozhikode district.
Nilambur in Malappuram district has witnessed flooding in the past few days as adjoining areas of Tamil Nadu have been lashed by heavy rain.
The Kerala government has directed the districts' administration to identify buildings that can be converted into relief camps, should there be a flood like in 2018 and 2019.
Close to 500 people had died in the 2018 floods while about 120 perished the following year.
Authorities in Ernakulam, Thrissur, Kottayam and Pathanamthitta have sounded alerts with excess water being released from dams built across the rivers in these districts.
Incessant rain in the hilly areas has caused a sudden rise in the water levels of the Periyar and Muvattupuzha rivers flowing through Ernakulam district.
Taking precautionary measures, the Ernakulam administration has opened camps at Aluva and Muvattupuzha. Several families have been shifted to the camps after floodwaters entered residential areas in Muvattupuzha, Kothamangalam, Kochi and Parvur of Ernakulam district.
Additional reporting by PTI