Lakhimpur violence: Callousness spreads to autopsy reports, too
Pawan Kashyap, brother of a journalist killed along with four farmers on October 3, alleged the administration had issued the illegible copies 'deliberately'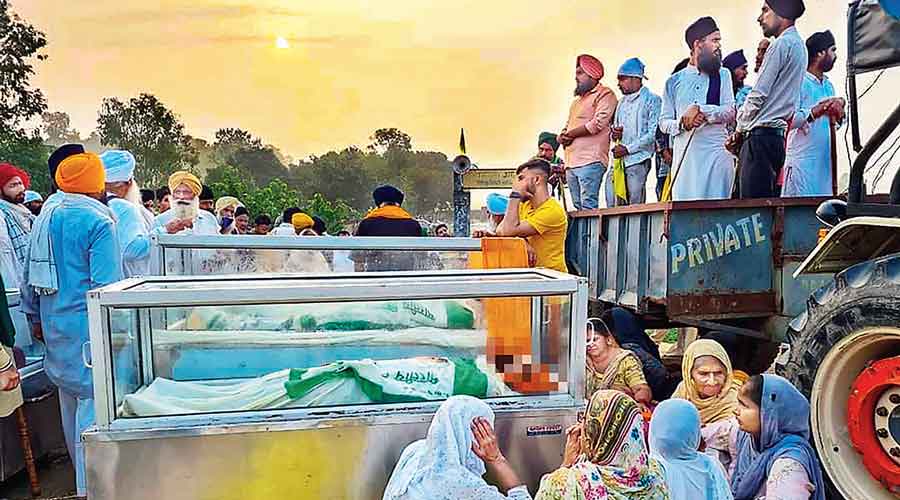 ---
Lucknow
|
Published 10.10.21, 01:36 AM
|
---
Families of the Lakhimpur Kheri victims have alleged that the post-mortem reports they have been given are carbon copies that are too faint to read, and that protests to the authorities have brought no redress.
Pawan Kashyap, brother of Raman Kashyap, a journalist killed along with four farmers by a Thar jeep belonging to Union minister Ajay Mishra Teni on October 3, alleged the administration had issued the illegible copies "deliberately".
"Clearly, everybody is under pressure from the government. This could be why they have given us a carbon copy of my brother's post-mortem report that neither the doctors nor the lawyers among my friends can read," he told The Telegraph.
"All I understand is that the report says Raman died of injuries. A post-mortem report must mention the nature of injury, but it's so indistinct that we cannot make out whether it has this information."
Pawan said he had received the copy on Wednesday and requested the sub-divisional magistrate, who has been coordinating between the police and the families, to provide a clearer copy.
"Despite my repeated requests, they are not giving me a clearly written post-mortem report. This shows something very serious is still going on in the administration," he said.
Puran Singh, a cousin of Gurvinder Singh of Bahraich — one of the four farmers killed in the incident involving the Thar, which was allegedly carrying Teni's son Ashis "Monu" Mishra — made the same complaint.
Some eyewitnesses have said Gurvinder was shot dead by Ashis. In the Supreme Court on Friday, the state government counsel had said Ashis had not yet been arrested because the post-mortem did not show a bullet injury.
"The first post-mortem report that we received on Wednesday was unclear. All we understood was that he (Gurvinder) died of injuries. Since some eyewitnesses have said he was killed by a bullet fired by Monu, we refused to receive the first post-mortem report," Puran told reporters.
"Then the local administration agreed to have a second post-mortem. It's report, given to us on Friday, too was illegible. All we were able to glean from it, again, was that Gurvinder had died of injuries."
A senior criminal lawyer in Lucknow, Umesh Kumar Singh, said it's normal practice to provide families with carbon copies of handwritten post-mortem reports but if the families apply, they can be given typed reports. He said the carbon copies are normally expected to be legible.
The additional chief medical officer of Lakhimpur Kheri, Ashwini Kumar, said: "They should immediately submit a request with the CMO (chief medical officer) for a clear or typed report. They have every right to have a clear copy."
Prashant Kumar, additional director-general of police, said: "We will hear every issue raised by the victims' families and sort them out gradually."
Teni has claimed his son was not in the Thar but 4km away at their village of Banvirpur. But Pawan said some people had told him that when Ashis heard of farmers sloganeering against his father in the neighbourhood, he decided to go and see for himself.
He quoted a source at Banvirpur as saying: "I was not on the spot but I heard from someone who was that Monu said, 'Let's go and see how these people have had the audacity to enter my area and protest against us'."
Samajwadi Party president and former chief minister Akhilesh Yadav accused the government of protecting Teni and his son.
"They first crushed the farmers and a journalist and then by denying them justice, they crushed the law of the land. Now the BJP government is crushing democracy by allowing a criminal to remain a Union minister," he said.