Lakhimpur Kheri: Under shadow of fear, deceased journalist's kin vote
Raman Kashyap's father is first in the family to vote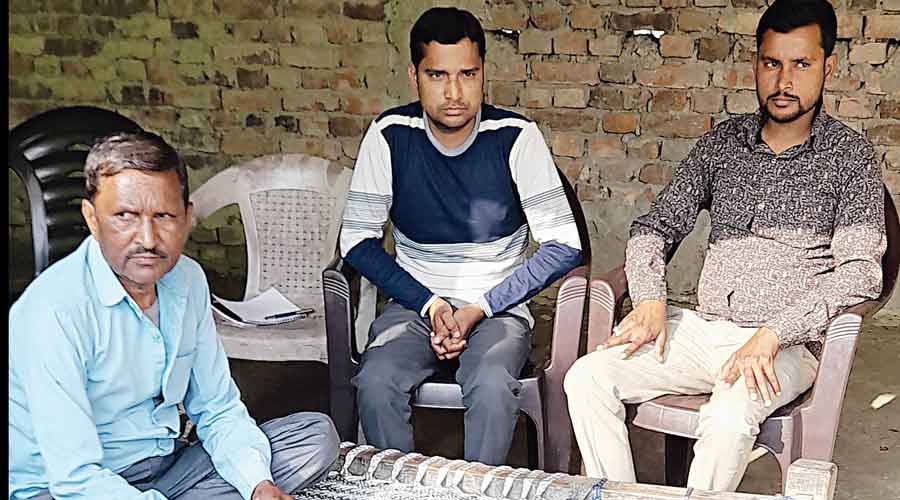 Ramdulari Kashyap, father of Raman Kashyap who was killed in the Lakhimpur Kheri violence last year, with sons Pawan and Rajat .
Telegraph photo.
---
Lakhimpur Kheri (UP)
|
Published 24.02.22, 02:43 AM
|
---
Raman Kashyap's two babies titter and play at the door of their modest home here, oblivious to the tragedy that has befallen the family and the undercurrent of fear around them.
As the eight constituencies of Lakhimpur Kheri voted in the fourth phase of the Uttar Pradesh Assembly elections on Wednesday, the atrocity that claimed Raman's life and the strongman whose name has got entwined with it loomed large.
Union minister and BJP leader Ajay Mishra Teni's men are everywhere in Nighasan, keeping a watch on voters, most of whom are too scared to speak openly against him. There is no violence but the tension is palpable, none dare cross Teni.
It was in Tikunia, around 15km from Nighasan village, that Teni's Thar jeep had on October 3 last year mowed down four farmers and journalist Raman when a group of peasants were returning from a protest against the Union junior home minister for threatening to "fix" them. Teni's son Ashis was allegedly in the jeep.
As Raman's family members make their way to the booth on Wednesday, they are escorted by the two policemen, rifles slung across their shoulders, the district administration has deployed for their security.
The first in the family to vote is Ramdulari Kashyap, 58, Raman's father. He is followed by Raman's younger brothers Pawan and Rajat and other family members.
"Many villagers saw Ashis in the car that mowed down the farmers.
They also saw him fire from the speeding car (as it tried to make a getaway). Many of them have recorded their statements before the police and the court. But Ashis got bail. We are fighting for justice but it doesn't seem to be happening with Teni remaining in power and protecting his son," Pawan says.
Raman's family and the families of the farmers have challenged Ashis's bail in the Supreme Court. Lakhimpur Kheri MP Teni's removal from the ministry was one of the key demands of the farmers when they withdrew their yearlong agitation against the three now-repealed farm laws. However, the Narendra Modi government has not taken any action against him.
A cool breeze from the river Sharda and the mountains of the nearby Kumaun range (in Uttarakhand) and Nepal blows across Nighasan. But the voters feel hot under the collar.
"Teni has deployed his men to keep a close watch on voters. He has one man to keep vigil on every 25-30 voters in Nighasan. They have eyes on the booths, they will know who voted for whom.… His clout has only increased and he is establishing his son's sway over Nighasan," says Dipendra Singh, a social activist and farmer in the village.
"Teni is to Lakhimpur Kheri what Raja Bhaiya (Raguraj Pratap Singh) is to Kunda and Mukhtar Ansari is to Mau," Dipendra says, referring to the allegations against the three politicians.
Dipendra's status of an activist and the fact that he belongs to the powerful Jat community has emboldened him to speak openly against Teni. Many others out to vote concur with him in private but prefer silence.
"We voted the BJP election after election since the 90s. So did the other farmers. It's hard for us to think why Teni and his son targeted us," Ramdulari says.
Teni was listed as a history-sheeter in police records but the tag was dropped in the early 2000s when the BJP was in power in Uttar Pradesh, police sources said.
But Teni still appears to relish the "gangster" tag. "You know what I was before becoming a minister. Sudhar jao nahin toh hum sudhar denge (Mend your ways or I will fix you)," he had threatened the protesting farmers at a public meeting in Lakhimpur Kheri a few days before the five persons were run over. Teni called the farmers "Khalistanis" and "mawali" (goons). He was later caught on camera charging at a journalist when asked about his son's role in the October 3 incident.
This correspondent called Teni on his cellphone on Wednesday and also sent an email to him asking about his version of the incident, but received no response.
"We are farmers. My son (Raman) too was a farmer but he loved journalism and worked for the local Sadhana channel. His only crime was he had covered the farmers' agitation. He had friends among the farmers," Ramdulari says.
Villagers of Nighasan largely feel that had Modi dropped Teni from his ministry, it would have given confidence to the people and somewhat curtailed the satrap's reign of terror.
Ramdulari's family has developed a deep affection for Congress leaders Priyanka Gandhi Vadra and Rahul Gandhi.
"The police stopped and arrested her (Priyanka) at Sitapur on her way to our home. Still she was the first to reach us. Rahul Gandhi, Navjot Singh Sidhu and the chief ministers of Punjab and Chhattisgarh also called on us. The two chief ministers (Charanjit Singh Channi and Bhupesh Baghel) gave us Rs 50 lakh each from government funds. Priyankaji was the first to join us in our grief," Ramdulari says.
Pawan also expresses his gratitude to "Rahul-Priyanka". 
"They repeatedly offered us a party ticket for the elections. But we refused it to focus on our battle for justice," Pawan says.
He also thanks Samajwadi Party leader Akhilesh Yadav, who too had visited the family and given them Rs 5 lakh from his party's fund, assuring them of a government job if he came to power.
But no BJP minister has met the family so far. "We wanted chief minister Yogi Adityanath to at least give us a call. A police officer had told us that Baba (Adityanath) would call, but he never did," Pawan says.
One reason could be that Teni  is a Brahmin. The BJP does not want to antagonise the community, whose size is not insignificant in Lakhimpur Kheri. The eight Assembly seats in the district have about one lakh Sikh and Jat farmers and a good number of OBC Mauryas, Kushwahas, Kashyaps and Yadavs, besides Muslims.
The sugarcane-rich region has a cluster of relatively new settlements with people from Punjab buying land for farming. The government headed by Govind Ballabh Pant, Uttar Pradesh's first chief minister, had settled many landless castes and families in the 1950s and 60s and allotted land to them for farming.
  The BJP had won all eight Assembly seats of Lakhimpur Kheri in 2017.
"The general atmosphere is against the BJP this time. The Samajwadi Party has emerged as the BJP's main rival across Uttar Pradesh and should do well in Lakhimpur Kheri too," said Sudhir Panwar, a professor at Lucknow University and former member of the Planning Commission who is now a Samajwadi Party ideologue.