Kolam, laddu and crackers for Kamala Harris
Thulasendirapuram had been the home of Harris's maternal grandfather PV Gopalan, a distinguished civil servant during British rule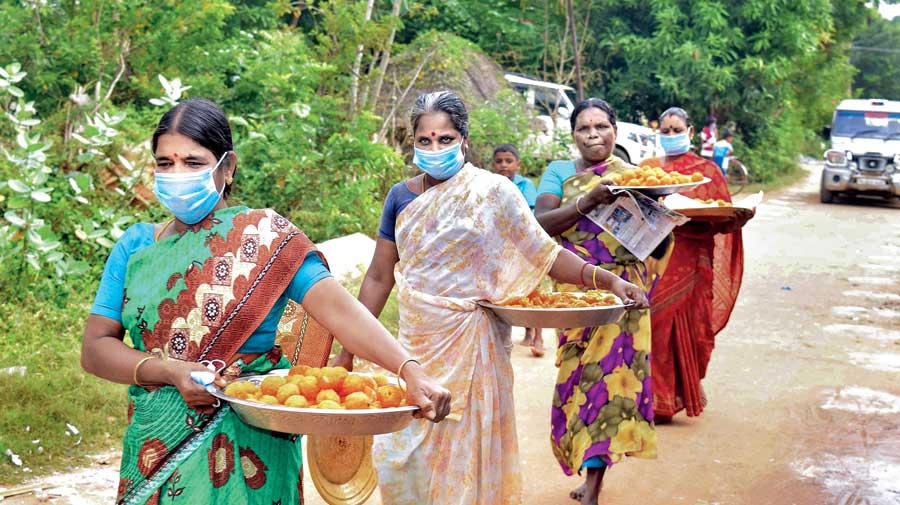 ---
|
Chennai
|
Published 09.11.20, 01:11 AM
---
The hours of suspense ended at 10.30pm on Saturday, causing J. Sudhakar to jump out of his seat.
"We were all praying for it and expecting it, but the official word had to come," the headman of Thulasendirapuram-Painganadu village in Tamil Nadu's Tiruvarur district grinned.
The ancestral village of Kamala Harris, the first woman to be elected America's Vice-President, had been conducting special prayers for her victory at the local Dharma Sastha temple since a day before the November 3 polls. But the uncertainty 8,000km away in Washington DC had begun telling on nerves.
"It was around 10.30 last night that we first heard on television that Joe Biden had been elected US President, which meant that a woman with roots in our village would be Vice-President. I can't say how pleased we are," Sudhakar told The Telegraph on Sunday from Thulasendirapuram, about 340km south of Chennai near Mannargudi in the heart of the Cauvery delta.
Tension over, the village celebrated as though Diwali had come early.
Women woke up early on Sunday morning, Sudhakar said, to draw colourful kolams (rangoli or alpana) outside their homes. "Congratulations Kamala Harris: Pride of our village, Vanakkam America," they wrote with rice paste.
Laddus were distributed and crackers burst. Banners and placards were put up. "People pooled their funds for the celebrations," Sudhakar said.
A special "Abishekam" was performed at the village temple, where the deity was bathed in milk. Kamala's relatives from Chennai keep visiting the temple during festivals, and its records show a donation made on behalf of a Kamala Harris.
Thulasendirapuram had been the home of Kamala's maternal grandfather P.V. Gopalan, a distinguished civil servant during British rule.
Kamala, 56, who visited the village when she was 5, has often recalled walks with her maternal grandfather on Chennai's beaches during annual trips from the US.
Those conversations with her grandfather, a freedom-fighter, had left a profound impact, she had said in a 2018 speech. Kamala has been in close touch with her relatives in India.
"Three generations have gone by since Kamala's grandparents left the village, but their ancestral home is still there," said panchayat president Purushottaman.
"Kamala's mother (Dr Shyamala Gopalan) went to the US (in 1958) to pursue higher studies. Kamala was born (to Shyamala and a Jamaican father) and brought up there," Kamala's octogenarian uncle G. Balachandran, a leading defence scholar and Delhi resident, told a TV channel.
"I'm very, very happy. Kamala spoke to me on November 4 and I told her she would win."
Four years down the line, Americans could well see her running for the Presidency, he said.
Balachandran told ANI at his home in New Delhi that he planned to attend the inauguration in January.
Kamala had, while accepting the vice-presidential nomination in August, praised the way her mother had slogged "around the clock" to make life easier for her and stressed the importance of family.
"My mother instilled in my sister Maya and me the values that would chart the course of our lives. She raised us to be proud, strong Black women, and she raised us to know and be proud of our Indian heritage," she said.
"She taught us to put family first — the family you're born into, and the family you choose. Family is my husband, Doug, who I met on a blind date set up by my best friend. Family is our beautiful children, Cole and Ella, who call me "Momala". Family is my sister. Family is my best friend, my nieces, and my godchildren. Family is my uncles, my aunts, and my chittis (aunts).
One of those chittis, the Chennai-based Dr Sarala Gopalan, said she couldn't speak to her niece on Saturday.
"I was waiting for the announcement till late in the night.... I felt tired and had to retire for the night," the senior consultant at the Voluntary Health Services here said.
"Hopefully," was her response when asked if she would attend the swearing-in ceremony in the US.
A few years ago, after Kamala had called her with a request, Dr Gopalan had broken 108 coconuts at the Varasiddhi Vinayagar temple here to bring good luck.
A rural development officer in Tiruvarur, who did not want to be named, saw a deeper significance to Kamala's feat.
"For the villagers here, the US is far away. But Kamala Harris's success opens up fresh expectations about what education can do for women," the official told this newspaper.
Sudhakar agreed: "She has become a role model for girls from our village in the cause of women's education. We want her to visit our village at least once."
Purushottaman reckoned that with Kamala's achievement bringing the village global recognition of sorts, Thulasendirapuram stood a good chance of bagging the "special panchayat" status, which ensures more infrastructure development funds.
"We shall certainly consider passing a resolution at our panchayat urging the state government and the Centre to grant us the special status," he said.
The entire political spectrum in Tamil Nadu barring the BJP congratulated Biden and Kamala.
"I am extremely glad.... she has made Tamil Nadu proud with this astounding victory," tweeted AIADMK chief minister E.K. Palaniswami.
His deputy O. Panneerselvam said Kamala's success reflected the "strength of Tamil women".
"A woman hailing from this small village now holds one of the highest positions in the US. It's a proud moment," said R. Kamaraj, state food minister, who had joined in the celebrations at the village.
"Especially pleased that American people have chosen a woman with Tamil heritage as their next Vice-President," DMK president M.K. Stalin tweeted.
In Mumbai, people shot off fireworks and a group of artists painted a portrait of Biden and Harris.
Dozens of prominent Indians and Americans of Indian origin took to social media to congratulate Harris, including actors Priyanka Chopra Jonas and Mindy Kaling.
Kaling tweeted images of Harris and wrote: "Crying and holding my daughter, 'look baby, she looks like us'."
Additional reporting by Reuters and PTI