Kin of G.N. Saibaba approach Maharashtra govt for fresh parole
The former Delhi university professor is paralysed below his waist due to polio and was admitted to hospital in February after getting infected with Covid-19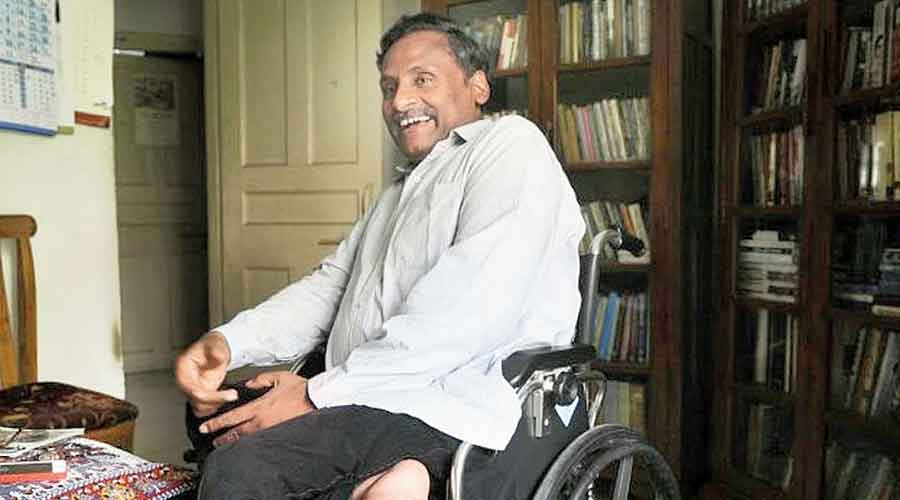 G.N. Saibaba
File picture
---
New Delhi
|
Published 08.05.21, 01:26 AM
|
---
The wife and brother of jailed professor G.N. Saibaba have again approached the Maharashtra government for parole, or at least caregivers to be deployed for the wheelchair-bound man.
The 53-year-old former Delhi university professor, who was arrested in 2014, is serving a life sentence in Nagpur prison for links to the banned CPI(Maoist). He is paralysed below his waist due to polio and was admitted to hospital in February after getting infected with Covid-19.
In a letter to Maharashtra home minister Anil Deshmukh, his wife A.S. Vasantha Kumari and brother G. Ramadevudu said that two co-accused caregivers are now reluctant to help him as they were affected by the coronavirus.
They said in their letter: "His left hand is not functioning due to traumatic brachial plexopathy and his right hand is also slowly becoming non-functional. It is very difficult for Prof. Saibaba to shift himself from the wheelchair to the bed and back without the assistance of caretakers.
"He is also frequently falling unconscious during the daytime as well as night-time. He requires at least two caretakers for his movements on the wheelchair for daily chores such as using toilet, brushing. taking bath, eating food etc."
His parole was rejected twice last year, and his kin said that despite assurances to Bombay High Court by the jail authorities, none have been given to him now.
They added: "Tens and hundreds of prisoners are suffering with Covid-19 in the jails of Maharashtra also. In the last year, Maharashtra government released prisoners on parole from the jails. We request your highness to release Prof. G.N. Saibaba who is wheelchair bound and cannot walk with his 90% physical disability at least on parole.
"Under this critical situation, We request your highness to look into the matter sympathetically on humanitarian grounds and instruct the authorities concerned to provide at least two caretakers to him in the jail for executing his daily routine works."